About twenty some years ago I bought a professional door making router bit set made by Freud. Included in the set, which I still own and use even after making hundreds of doors with it, was plans for a router fence.
I bought the set for the first set of raised panel doors I made. The doors were for another contractor, and he needed them pretty quickly.
After seeing the plans I realized I could make good use of a fence like that. It had the same adjustments as a shaper fence. The left and right fences could be moved in and out as well as be adjusted sideways to allow for different width bits. The fence parts were fitted to the base using dados and provided very strong and dependable settings.
I also didn't have a router table to install it on.
So I bought a counter blank made from glued up pine, about 1 1/8" thick, and was pre laminated with Formica.
I built a quick and dirty Router table on the side walk in front of the job, (no shop in those days, and no real professional woodworking experiences).
I could see the contractor was a bit nervous after seeing me build this outside the project, but he knew my work from some construction projects, so he approached it with the idea I could probably do it.
This quick and dirty set up ended up being used for about twenty years. And with the original 3 H.P. Hitachi router it was fitted with, it did a considerable amount of work in addition to the doors.
It worked very well except the dust it created made it impractical for indoor use. So I designed a dust collection box consisting of three parts, which fit around the independent fences. Since some router bits remove wood from the entire thickness of an edge, the independent fences are necessary. It also meant the dust collection parts had to work independently of each other had to be independent of the fence itself.
The resulting dust collection chamber worked extremely well, removing about 90% of the airborne dust.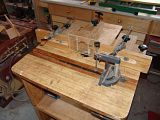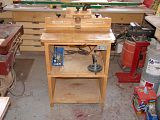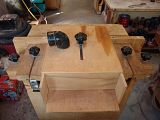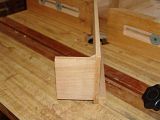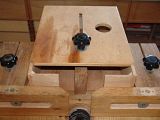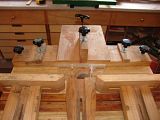 -- by Lee A. Jesberger http://www.prowoodworkingtips.com http://www.ezee-feed.com
---