We did a floor a few years ago for my sister in law.
She has expensive taste, and wanted a floor that was somewhat different than the norm.
We spent a lot of time a showrooms looking for a floor she was happy with. She narrowed it down to 3/4" hardwood, and was having trouble with choosing between Maple and Brazilian Cherry.
I suggested mixing the two, by using the darker Cherry as a border. Since she is Greek it seemed liked a good idea to do Greek keys in the corners.
We also wanted to do something in the middle section to break up the large field.
We used blue painters tape over her existing wall to wall carpet to show her the exact design we would use. We would leave it for a few days for her to get used to the design, then change it a little and leave it again. After a few tries, we came up with a design she liked, and worked with the furniture in the space, regarding size and layout.
Since the floor is tongue and groove, all of the changes in direction meant milling a groove, or adding a tongue.
The Greek keys and small pieces in the field decoration required a fair amount or work, which we did in the shop.
The floor was drawn on the computer, and printed out. Then we colored coded the border pieces to keep track of which piece was which.
After milling the parts in the shop we painted the backs of the parts to correspond with the colored drawing. Once we started the installation this color coding really helped speed things up. We were able to tell where each part was for without measuring anything.
Lesson learned here: German guy's have trouble with Greek keys!
It did come out good though and she was very happy with it.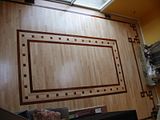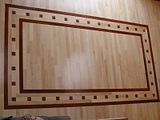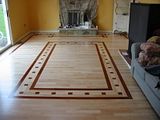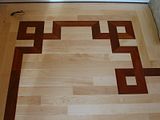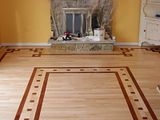 Lee
-- by Lee A. Jesberger http://www.prowoodworkingtips.com http://www.ezee-feed.com
---