When my step daughter wanted to upgrade the fireplace mantle in her family room, we worked from a picture in a magazine she had, to come up with a design that was similar but would work in her room. We also added some crown molding and then repainted the room.
Since all work was to be painted, we were able to fill screw holes and the saw kerfs we used to curve the crown molding. For filler we used Bondo, which while designed for the automotive industry, it is a great product for woodworkers to use. It's easy to work with, tough, and permanent.
I'll try to get some more pictures showing the finished mantle from a closer position. I keep forgetting to get them.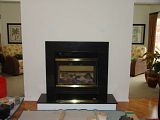 Making the mitered pilasters, using blue painters' tape. This is an excellent way to make long miter joints easily. This is surprisingly effective, and very dependable in getting perfect results.




When laying out the flutes try to use odd numbers of flutes. The same holds true for many woodworking designs, including building entertainment centers, an odd number of components looks best, carving shells and much more. I used to know why that holds true, but at the moment, I can't recall. I'll probably wake up at two in the morning with the reason.




Dry fitting the upper mantle is a good idea as it allows you to make changes as you work. If you don't like something about how it's starting to look, you still have the opportunity to make changes without too much trouble.


Notice the saw kerfs on the crown molding. The molding was cut almost completely through to allow for bending. This was done with a chop saw and thin kerf blade. All of the kerfs were easy to hide with the bondo.
Hope you enjoyed this post.
Lee
-- by Lee A. Jesberger http://www.prowoodworkingtips.com http://www.ezee-feed.com
---