Not a woodworking project, but interesting, I think.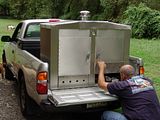 I made jigs for these also.
One of the businesses I'm a partner in is a couple of Pizza Stores. My Brother in law (the one I made the table for) is my partner. He ordered a custom oven for a delivery truck that cost 3,000.00
When I saw it I told him I could build a nicer over than that, for less money. He told me I couldn't build an oven.
The one he bought would hold about five pizzas. It also had room for one propane tank. It was either on or off, and had no temperature control. It also had no insulation between the inner and outer walls.
The ones I built, (10 of them), would hold about twenty pizzas. It had a pilot light, a temperature control, and held three propane tanks. They are made out of textured stainless steel, and are insulated. The cost of the materials was $ 900.00
The one in the photo is ten years old, and looks new.
Hope you enjoy this post!
Lee
-- by Lee A. Jesberger http://www.prowoodworkingtips.com http://www.ezee-feed.com
---