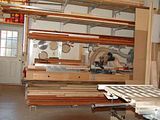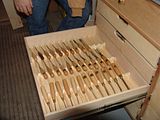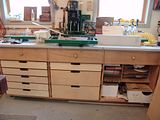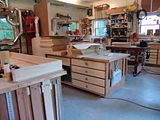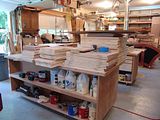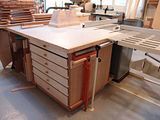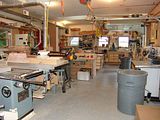 When designing the shop I tried to anticipate the type of work we would be doing. Looking back, I wasn't even close.
However, in spite of that, the work flow is very much the same for many woodworking projects. Our shop is laid out considering that work flow.
Our entrance door is where we unload both sheet goods and solid lumber. We stack the lumber on stickers, prior to use, and the plywood is placed on a drywall cart.
We place lumber on the chop saw station, which is just past the tool room. It has shelves above it, and a fair amount of storage below it. We cross cut the lumber to rough length prior to machining it.
Directly across from the chop saw station is the table saw. It is positioned so the plywood is ready to be loaded onto our ezee-feed device, and ripped to width. The ripped parts are then moved to the assembly tables.
They sit about four feet apart and the side facing each other have a couple banks of drawers, loaded with often used hand tools. The back sides of these have shelves to house glue,screw guns, and screws. It has an assortment of biscuits as well. Everything needed to complete assembling cabinets or furniture.
Above them, we have brad nailers and pin nailers. We also have task lighting above them.
The assembly benches are about four feet away from the work bench. This makes using the bench, along with the vises and vacuum system convenient. an additional four feet puts us at the back wall of the shop, which has another set of drawers, also loaded with tools used at the bench.
The assembly benches serve double duty as finishing stations.
This set up works out very well, and is condusive to completing projects in a timely fashion.
Too bad it's not larger though.
Lee
-- by Lee A. Jesberger http://www.prowoodworkingtips.com http://www.ezee-feed.com
---