TOOT TOOT TOOTORIAL TWO
This time, we're going to turn a whistle on a lathe. I will be including some beginner level information since a few of the people who showed an interest in this project are novices. Besides, I think it is a great beginner project; it requires no parts or kits, just a chunk of wood, your lathe, your tools, and you. Please use all safety precautions you have available!
I can't think of any good stories to start with this time, so let's get right toot it.
This is a scrap of wood from my firewood pile. If anyone can identify the species, that would be terrific! The caramel and cream colors are really pretty. This piece is approximately 6-1/2 long by about 1" square.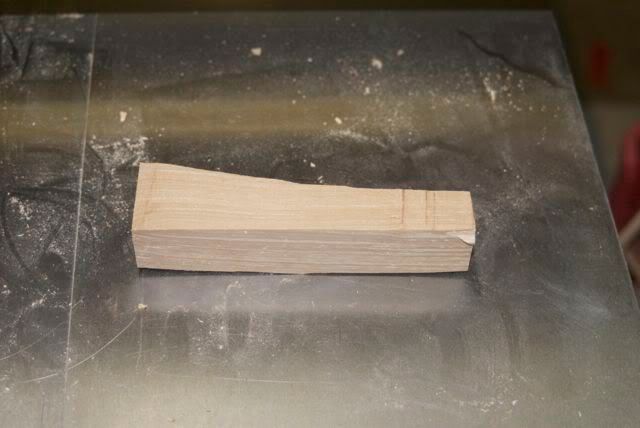 ——-
I like to start out between centers and get my stock roughly round first.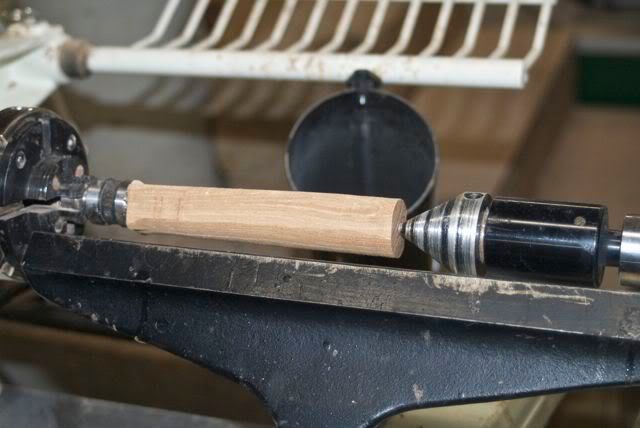 ———
Then I choose which end will be the mouthpiece and put the other end in the chuck in preparation for drilling. If you turned between centers, you'll have a good centering mark for your drill bit. I use a Jacob's Chuck on the tailstock of the lathe because I have one and it is convenient to do everything at the lathe. A drill press also works well if you have a vice or some other way to hold it upright and steady.
Here is my whistle blank being drilled with a 3/8" bit.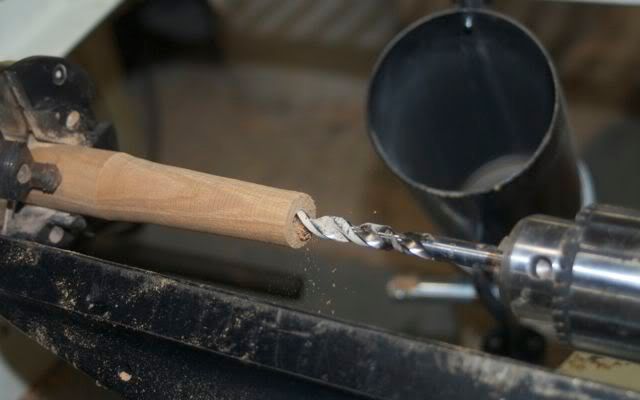 ————
Take your time and drill slowly, pulling the bit out often to clear away chips. Although I was an honorary Boy Scout for a while, this is not intended to be a lesson on how to start a fire with a lathe. Try to avoid scenes like this one done for demo purposes only. ;) :
————
I usually drill as deep as the bit will go as long as the blank allows it. Here is what the process looks like without all the smoke: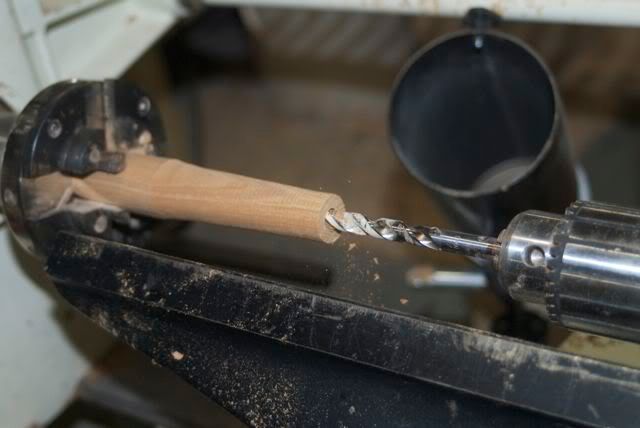 ————
Remove your blank from the lathe, and get a depth measurement of the hole you drilled. I usually just hold it up against the drill and eyeball it, but since I was making this tutorial, I decided to use my calipers and take a photo that doesn't really show you anything. Most calipers have depth gauge you can use. Sticking a pencil in the hole and marking it with your thumb works fine, too. It doesn't have to be terribly precise—we're building a whistle here, not a watch!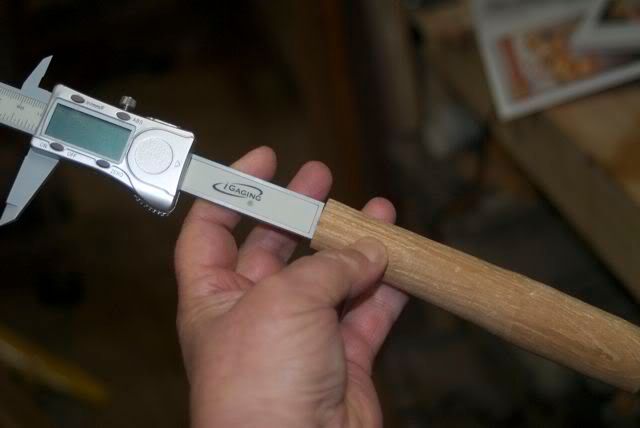 Anyway, figure out the depth of the hole and mark it on the outside of your whistle.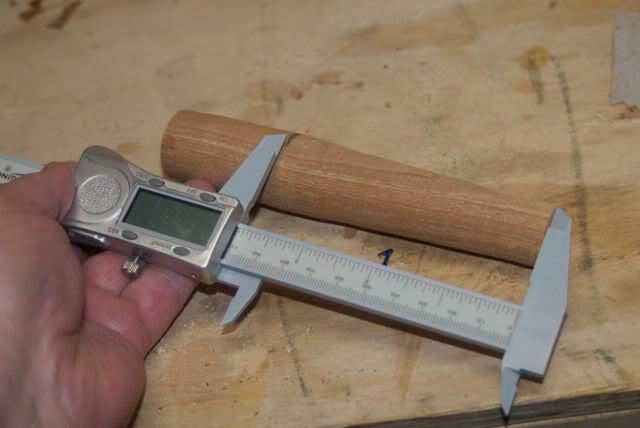 ———-
Now we need a piece of stock about 1/2" in diameter. A 1/2" hardwood dowel works great if you have one handy. I decided to use this little cut off of blood wood from an earlier project.

———-
The length isn't too critical; just make sure you have enough for your chuck jaws to grip with about an inch protruding.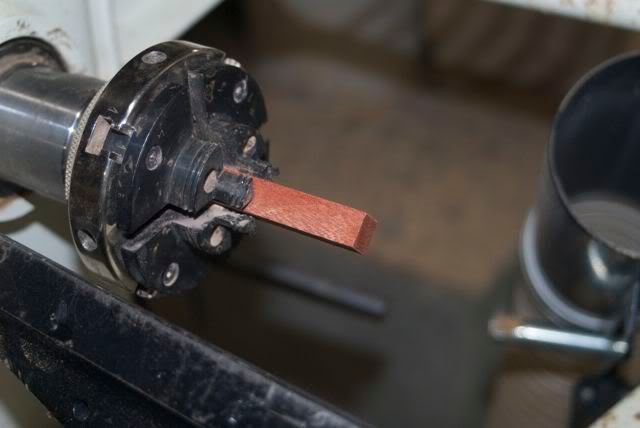 ———
Turn the first half inch so that you get a snug fit when you slide your whistle on it. You want a pretty tight fit, but not so tight that it will cause your whistle to crack when you put pressure on it with your tailstock. Just sneak up on the fit. Or get fancy with the calipers again if you want. When you have your diameter figured out, make a nice, square shoulder for your blank to rest against. This will help stabilize it while you are turning.
———
Once I have the whistle back on the lathe, I like to make a groove with my parting tool where I marked the drill depth. The pencil mark can too easily get lost or erased with one touch of a turning tool.
————
While you are marking things, now is a good time to mark off about an inch for the mouthpiece. Turn that section down to around 3/4". I like to put my first bead right on that line.
Then go ahead and turn the rest of your whistle—you can draw out a design on paper first if you want, but I like to just relax and practice my technique, such as it is. A captive ring is a fun feature to add, as are "burn lines" and chatterwork, or coloring with a felt pen as the lathe spins. Let your imagination be your guide! I've kept mine fairly simple for demonstration purposes and my sanity (if you think walking and chewing gum is a challenge, try turning and remembering to take pictures.) Just make sure you work your way past the groove marking the depth of the drilled hole! Your whistle won't work if there is a hole in the end.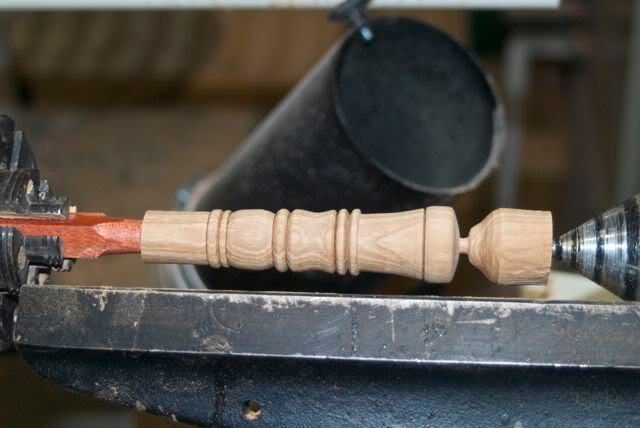 ———-
Now comes to cutting the notch that makes it toot!
Measure in about 1/2" from the end and make a vertical cut with a hacksaw, coping saw, or one of those neat Japanese saws the name of which I can never properly recall. Just like on the Stick Whistle in the previous blog, make the cut to about halfway through the hole. Then make an angled cut from the first bead to the bottom of the first cut. I like to cut the notch so it lines up with the pattern of the grain.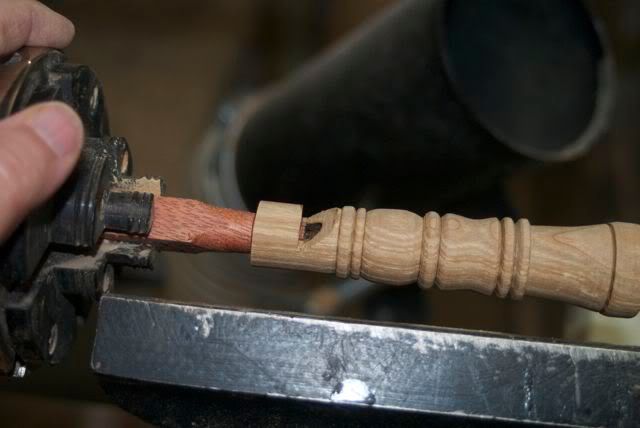 ———-
OPTIONAL STEP
This next step is recommended only for those who have a wide vocabulary of cuss words and enjoy crawling on hands and knees to find small fragments of wood amid piles of shavings. ;)
I only did this for demo purposes. LOL
The rest of you, please feel free to skip it and put on your preferred finish then part it off.
I like a coat of BLO (Boiled Linseed Oil) followed by an application of Renaissance Wax.
———-
We're almost there! Turn or sand the shoulder off your dowel to give you have a little bit of "wiggle room" so it can easily be pulled out of the whistle and it reaches slightly into the opening created by the notch you sawed. Be sure to leave yourself a little "handle" on it as we did with the Stick Whistle project.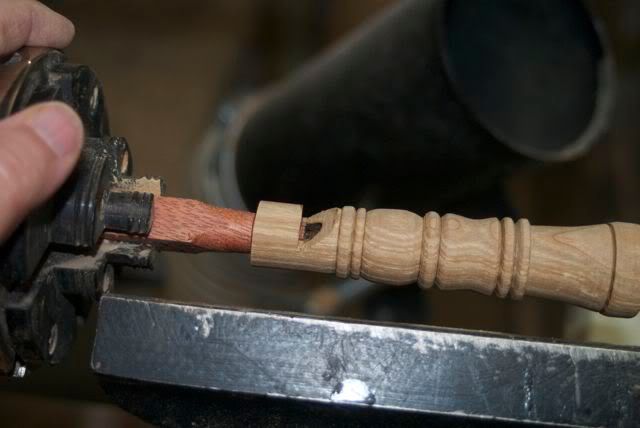 ———
You want to put a slight "flat" on the plug that will fit into the mouthpiece of your whistle. Sorry, I forgot to take a photo. There is one on the Stick Whistle blog if you need to see what I am talking about.
It is difficult to explain how much the flat needs to be sanded—it works based on the relationship between it and how deep you made the notch—make it somewhere between 1/32" and 1/8". Trust me, it does not have to be all that exact. Sand a little, insert the plug -flat side up- in your whistle, give it a gentle blow, and see how it sounds. The plug end should approximately line up with the vertical cut in the notch.
If it is too airy or doesn't sound at all, try adjusting the plug in and out by a fraction until you get a sound. If that doesn't work, you might need to sand the flat a tad more. There is a bit of trial and error to it. An airy sound usually means you need to tighten things up; either the notch is too deep or the flat is sanded down too far.
———-
When you have a good, clear TOOT, it is a good idea to use a pencil to mark the plug's position for glue up. Add a couple of drops of CA (Super Glue) inside the tube and hold the plug in place for a few seconds, giving the glue time to dry.
I will add the same caution here as I did in the last blog: Do NOT put your lips anywhere near your whistle until you are POSITIVE the glue is dry!! You could spend a very uncomfortable time in the Emergency Room waiting for the doctor to stop laughing. Safety First! I usually give it a little spritz of CA accelerator before testing it and finishing.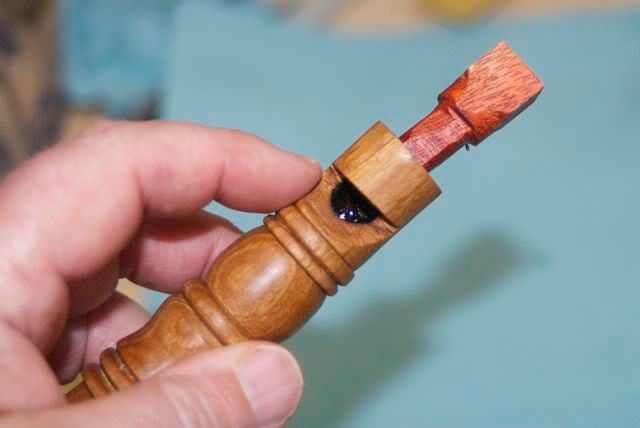 ————-
Trim off your little handle, sand the end flat, and shape the mouthpiece at an angle with sandpaper or electric sander. And you are done!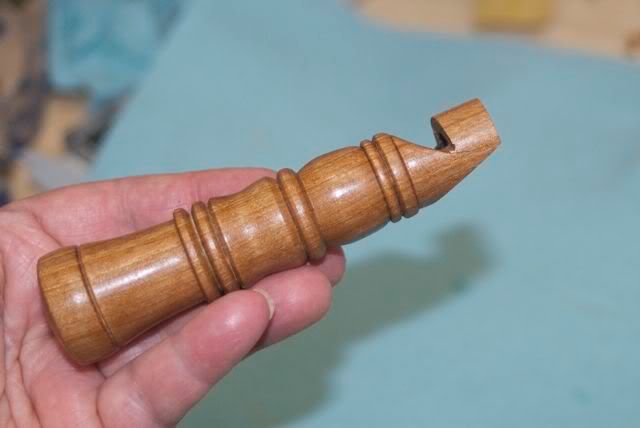 ———-
I look forward to seeing YOUR creations. Thank you for reading and following along. I hope you had fun. And I hope you give the gift of a whistle and a smile to the kids (of all ages) around you.
I know I have no control over what anyone does with this project, but if you must make them to sell, I hope you will consider donating at least some of the proceeds to the battered women's shelter in your town or other child friendly charity. Maybe give them some whistles, too.
Thanks!
Next up, the router table whistle for all you "squares" without a lathe. :)
You know how impatient turners can be!
---