Whistle Tutorial #1: History and Prehistory
TURNED WHISTLES TUTORIAL CAN BE FOUND HERE.

ROUTED WHISTLES TUTORIALS COMING SOON
———————————————————————————————————————————————-
My first blog post.
Please bear with me as start it with a little story.
Everyone knows that prehistoric whistles have been discovered that were made from hollowed sticks or bird bones. Although I don't go back as far as prehistory, my first whistle was also made from a hollow stick. I kind of like the thought of how long people have been making and using whistles.
I vividly remember the day I got my first wooden whistle – which means I probably imagined most of it. I was about 4 years old, and we were off on a family vacation visiting my grandparents' farm. My brothers were out loading the hay wagon with Grandpa, and my dad, being the smart man that he was, decided it would be a good day to teach me, his youngest, how to fish. While my brothers were out laboring and sweating in the hot summer sun, Dad and I relaxed in the cool shade on the creek bank not catching fish. After a time, Dad reached into his pocket, drew out his knife, and went to work on a stick. Moments later, he handed me my very first wooden whistle. I can still see his smile now. Can you imagine the awe I felt when I blew into it and heard its sweet little toot? Probably about the same as any kid throughout history or prehistory who was given such a cool gift. My old man was a magic making god that day! I miss my Dad.
———————-
On to the tutorial:
This won't be quite like the whistle Dad made for me, mostly because I have no idea how he hollowed the stick with just his pocket knife. I suspect it had something to do with the species of tree and it being a very green branch. Besides, I am a modern woman with Power Tools and technology.
First, I needed to fetch a stick. I couldn't get the idea across to any of my dogs, so I wandered outside and Googled the yard for what I needed. This looked like a likely candidate.

———-
I brought the branch inside and cut it to a suitable length for a whistle. About 4" for this one. 5" or 6" probably would have been better. Short = shrill.

——-
I used the drill press with a 3/8" bit and drilled down about 3". You can use whatever method you have at hand to make the hole. It doesn't have to be straight or centered; just get it at least 3" deep for a good tone. The important thing is not to drill all the way through.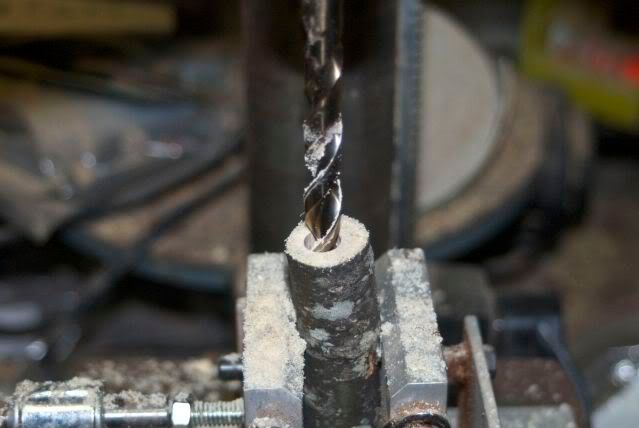 ———
I sawed a notch to reach to about half, or a little less, the diameter of the hole I drilled. I made it about 1/2" from the end. The cut nearest the end should be vertical, and the other cut angled into it from about 1/2" away. I'll bet one of those Japanese saws would work better than my little hacksaw. A bandsaw also works well.

———
Next, I rounded down a piece of dowel on my belt sander, sizing it down so it was a snug fit in the hole drilled in the stick. (It doesn't have to be a dowel, just a piece of wood. And there are lots of ways you can do this; you could even whittle it.) It only needs to reach in as far as the notch. After I got a good fit, I sanded one side flat a little longer than the length it would reach inside the whistle. It is difficult to explain how much the flat needs to be sanded—it works based on the relationship between it and how deep you made the notch—somewhere between 1/32" and 1/8". Trust me, it does not have to be all that exact. Start with only a little flat and sand it down further if necessary when you test it. I also recommend leaving a little extra length to use as a handle for glue up.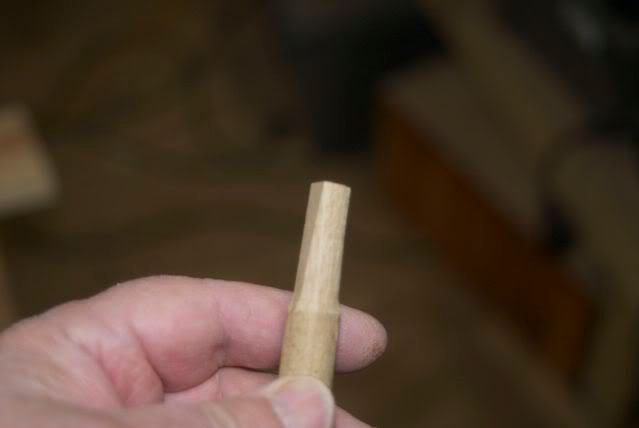 ———-
Now you get to test it. It is a little bit awkward with the "handle" on there, but the dowel (we'll call it a "plug" from now on for confusion's sake) gets pressed into the "tube" of the whistle. The flat side goes up and the inside end of the plug should line up with the vertical cut on the notch. Give yours a try! Blow through it and see what kind of sound you get. If it is too airy sounding or doesn't sound at all, try adjusting the plug in and out by a fraction until you get a sound. If that doesn't work, you might need to sand the flat a tad more. There is a bit of trial and error to it. An airy sound usually means you need to tighten things up; either the notch is too deep or the flat is sanded down too far.
We're almost there. Once you get the placement of the plug that produces the best tone, pull it out and put a drop or two of CA (super glue) on the plug and hold it in place for a few seconds for the glue to set. Don't use more than a couple of drops or it will clog the airway. Also, don't get in a hurry to test it again. Do NOT put your lips anywhere near it until the glue is completely dry!! Trust me on this; you'll either end up with a very painful lesson on glue or give the ER doc a good laugh as your lips are being surgically separated from a stick—possibly both!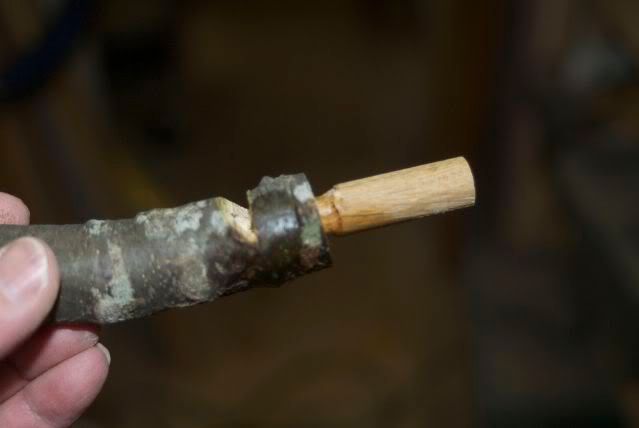 ———
All that is left is cutting off the handle and you have a whistle! You can whittle down on the bottom side of the mouthpiece or carve a heart and initials in it if you want. Whatever makes you happy. :)

————
Have a good time! Go on a toot!!
———————-
That was fun for me; I hope it was for you. Most important, I hope you can figure out how to make a whistle from these instructions. I'll get busy on the other Toots shortly. Maybe even with precise measurements next time. And who knows, possibly a video.
This is dedicated to my dad and all the other men and women who take the time to share some magic moments with a kid that will be a happy memory they can carry with them forever.
Thank you
---