My Dad and Grandma came out this weekend. We spent most of the day Saturday looking at baby stuff. You know how Grandma's eat that up. Consequently, we did not get the crib done this weekend. Oh well, we still had fun.
The Inlay – my biggest fear. It wasn't too bad and was completely horrible all at the same time. I "cheated" on my inlay. I was planning on using Mark's method and do a lot of the cutting by hand. However, in the interest of time and for the opportunity to try a new tool, I used a router for most of it. I did get out the chisels for some though.
I bought an inlay bit and bushing for the router awhile back and this seemed a great opportunity to try it out. Maybe I'll write a review on it later, but it seemed to work pretty decent for what I needed. The inlay bit is not meant to "hog" out material though. I used it to cut the outline, and then used a combination of chisels and a 1/2" router bit to "hog" out the remaining material. My letters are about 4.25" tall.
My wife just loves it, me I think it will work at best. I am not very happy with the way the letters turned out, but I have no one to blame but myself. Hurry up = poorer quality every time. The problem was not with the technique or the tools, it was in the design. The first attempt was with a template made from "Word" printed letters. That didn't account for the thickness of the bearing, so the letters were really skinny. Then I decided to draw the letters by hand, sitting in the shop at midnight with a ruler and a circle template. Those are the ones we ended up using, but I would reshape them a bit if I was going to do it again.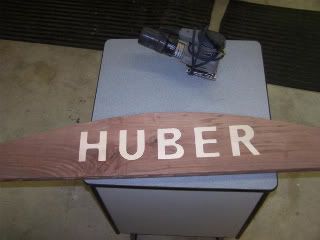 The router inlay kit does produce a nice tight fit.
For my template, I used a piece of laminate flooring. It is hard, stable, and flat. Worked great. I would recommend it to anyone. Best of all, it is slick. We used a combination of double sided tape and clamps to hold it in place. I used the back up since it was smoother.
It was so hot that I did a lot of the work outside under the shade tree.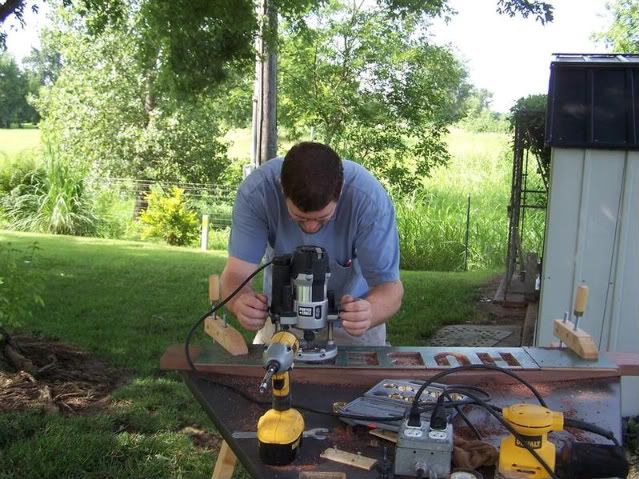 While Dad and I were "playing" with the letters and a few odds and ends that needed finishing. My wife and Grandma were putting water based polyurethane on the walnut pieces of the crib. My wife had already finished the sycamore slats. We decided to try and finish all the pieces prior to assembly and then do one final coat after it is all together. Hopefully this works.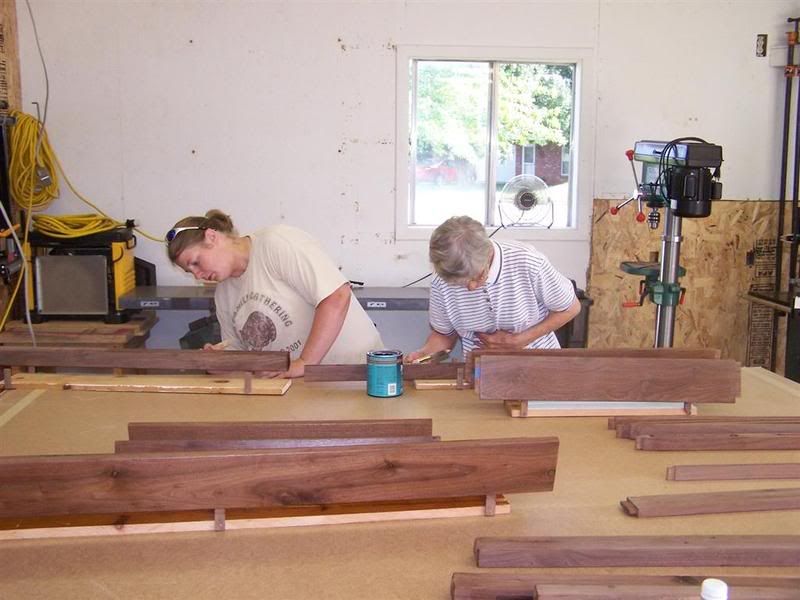 With threaded inserts in legs.

Supervising. Yeah right, do you think I'd try tell my Grandma how to finish something. Heck no. She has finished more wood than I have ever seen probably. It was so much fun having her there. She would do something and say "Now this is how Ken (Grandpa) would have me do it." Her and Grandpa are the reason I am trying to get back into woodworking. Still brings a tear to my eye when I think about the time I spent in his garage building stuff. Wish he could be here to help us with this one.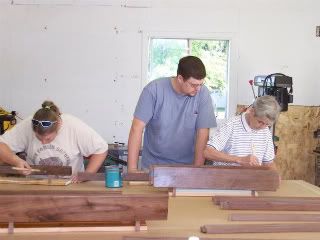 -- Kevin, Wichita, Kansas
---