I want to send out a special thank you to Randy for sending me a set of plans.
But, I chose to do things the hard way and design my own crib. I did use Randy's plans for the critical dimensions, but other than that, it is pretty much my own design.
I used SketchUp for the design. I think this crib will be a little unique. I wanted a crib that would be easy for my wife to change the sheets, adjustable mattress height, and an adjustable front slide gate. The crib will be made mostly out of Walnut, but the slats in the back, sides, and front will be Sycamore. The wood is from the lumber we got from my wife's Uncle's sawmill. My Dad and I are building it together. I hope that it will be something that we can pass down to our kids someday.
Back to the design. The front gate will have hidden hardware in it, the right side and back will be stationary. The left side will consist of a frame and a gate in it. The gate will allow the mattress to be slid out so the sheets can be changed easily.
Here it is.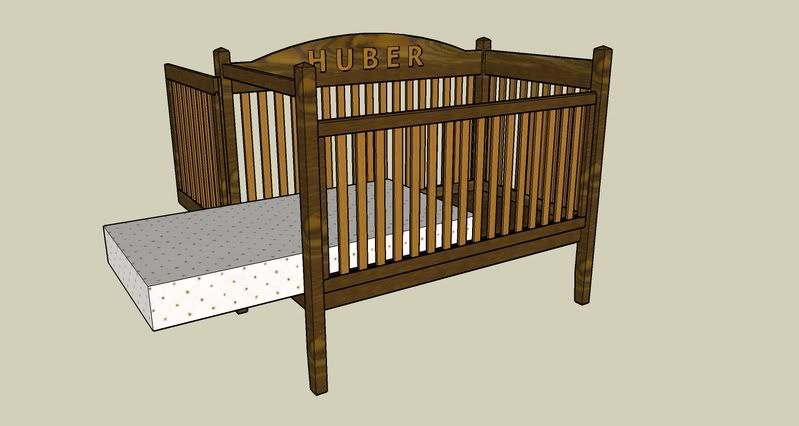 The design has changed a little in the fact that the mattress will be supported on springs and adjustable metal hardware more like a typical crib.
-- Kevin, Wichita, Kansas
---