Well,
I finally sat down last night night and drew up the shop. This was the first attempt, so it may change some. Also most of the tools/cabinets are very rough or borrowed. I'll try to get them better when gets closer to constructing them.
I'll start you out on the East wall. Most of this is already set in stone you might say. I am planning on putting a pipe rack over the double garage door. May get used for dimensional lumber storage as well. On the left is my double stainless sink, water heater, furnace, and bathroom. The cabinet under the sink will be discussed later.
The OSB box looking thing is the rough size of my rolling lumber cart. This will still get used for sheet goods and project specific lumber storage.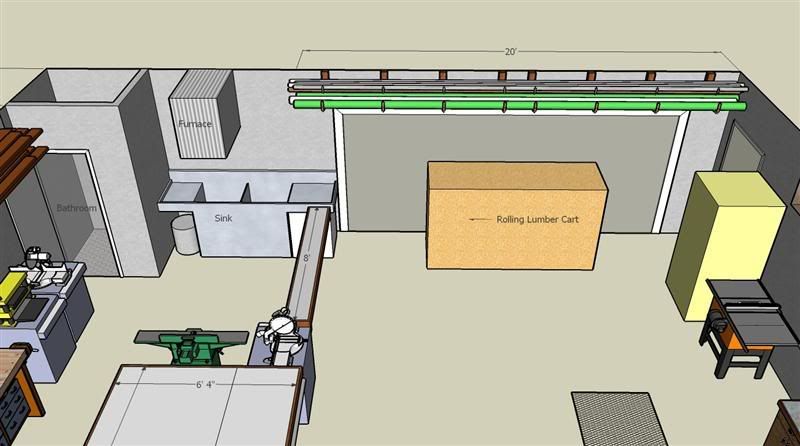 The the South wall. There is a fridge, blank space for my Ridgid table saw and any new purchases, two rolling carts under the window, the metal box looking thing is actually a stainless steel open wire rolling rack like you might see in restaurants (too lazy to draw it correctly), then a cabinet on the end that will house paint, stain, automotive stuff, and what ever else I can stuff into it. Above the window you have a 16" x 16" shelf along the wall. All of my cabinets and shelves will have some type of door. I used transparent material in Sketchup for visual aid.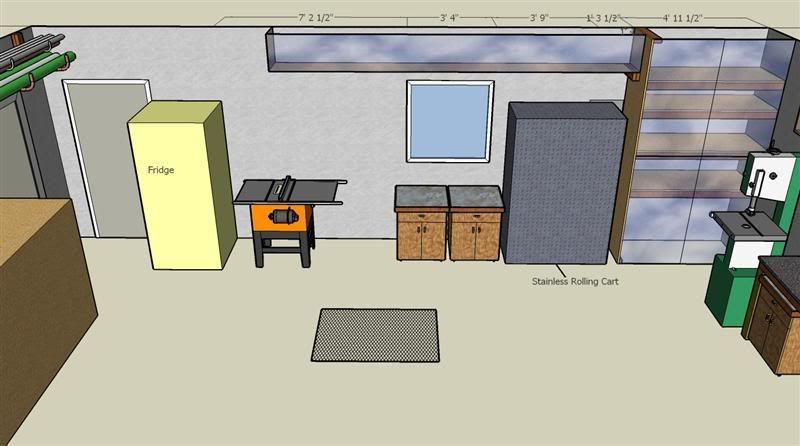 The West wall. The paint cabinet on the left, followed by bandsaw storage area (I plan to put it on a rolling base), followed by my 18' of workbench, and finally a closet housing the air compressor and dust collection system. The bench is NOT my woodworking bench for those that are worried. This will be for assembly, project storage, bench top tools (grinder, metal vise, drill press, ...), and misc garage type work. Under it will house more rolling carts, a file cabinet, and this is also where I will sit and ponder. Over it is a couple shallow cabinets for tool storage. Over that is a 18' long shelf for rarely used items like concrete, sheet rock, and tile tools, may also house some dimensional lumber.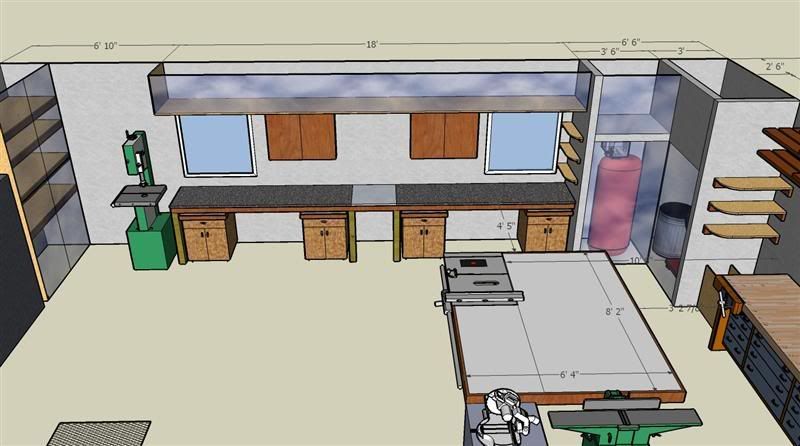 The North wall. On the far left is the dust collector cabinet, a 2'x2' cutoff bin follows with the woodworking workbench next to it. This one I will have out in the open part of the garage most of the time. Over it is a cabinet for hand tool storage. To the right is a spot for the planer and miter saw to rest when not in use. They will both be on rolling carts (discussed later).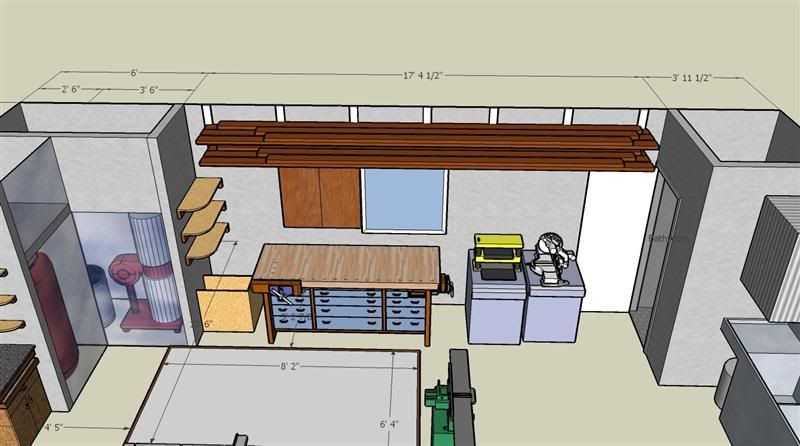 Finally the center piece. I plan to put my Unisaw in an outfeed table/assembly station. This will allow me to cut full sheets of plywood with no problem. My router is in a cast iron wing on the Unisaw. Under the top will be cabinets. To the right either the miter saw or the planer will be parked while in use. This will give me 8' of feed to the left and let me use the Unifence as a miter stop. To the right is a removable plank that will stretch over to the cabinet under the sink. This will provide 8' to the right for support for both the miter saw and planer. Behind this removable top is the jointer.
Any thoughts, ideas, or concerns are welcome. Like I said I threw this together last night and so the detail and accuracy may not be the best, but right now I just need a starting point. I have a lot of work ahead of me, but will thoroughly enjoy it. I have to run new electrical first and re-paint all the walls white.
FYI: All workbenches and stationary saws will have their tops at the same level to provide ends supporting options.
Thank you guys.
-- Kevin, Wichita, Kansas
---