As you can easily see, there are a lot of parts to this bed. As shown in the first of the series, I had to glue up quite a few pieces before I really got into anything that resembled a bed. Now I want you to see the pieces, and how some of them are prepped. So far, the order doesn't make a lot of difference, and to be honest, I'm not sure I even remember what order I did some of this. Each part of each section obviously must be made before the section is assembled. Again, keep in mind this project was made from a picture of another bed. Mine is not identical, but is pretty close in a lot of ways. All the proportions were done by eye, based on the picture.
One of the more challenging parts was the top rail on the end sections. After laminating my thickness. I started to shape it. It is coved on the inside toward the mattress, and rounded over, top and bottom. Evidently, I missed taking a picture of the table was set up. You are probably familiar with a cove cutting jig on a table saw. That was the method I used. Basically, you clamp a fence at an angle to the blade, and run the workpiece across the blade. I did this in increments, as it's not safe to take that big a bite in one pass. If you are not clear on this method, and are interested, just tell me. I could recreate that set up and take a picture.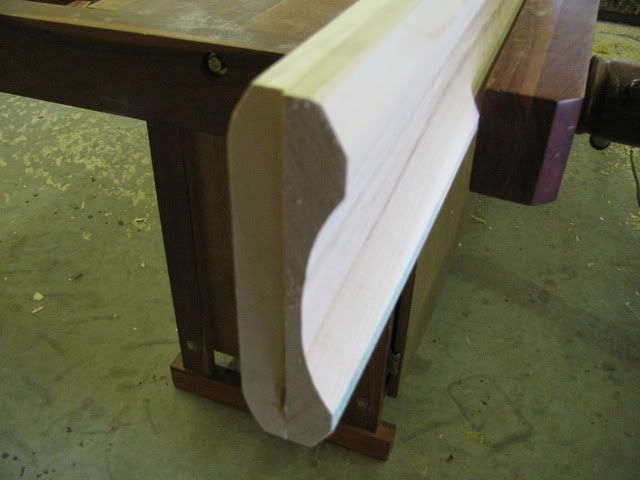 I began to round over the top and bottom by running all four sides over an angled blade on the table saw.
Then I began to shape by hand. This is a pretty inexpensive wooden hand plane I ordered from one of the catalogs. No, all my tools are not high end. I have always loved using this plane since I learned to set it up and use it.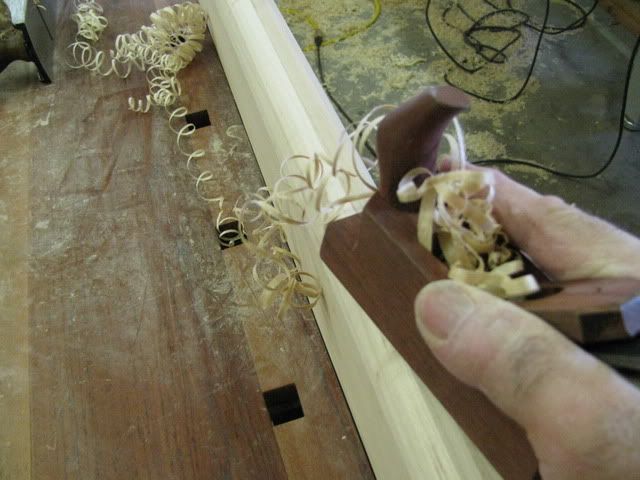 I actually used other planes also, I just didn't take pictures. I'm not too sure at this point that it matters much what kind of plane you shape this with. It was then finished up with sandpaper until it was refined to the point I needed it. There was also an extensive amount of shaping and sanding on the cove that was cut on the table saw. Of course there were saw marks as well as burns. This whole process took quite a bit of time, but I felt the shape really contributed to the overall look of the bed. The roundover could have been done with a router or shaper, but it would be an awefully big bit, so the cost might not have been worth the time saved. This is an instance where hand tools are an excellent way to go. Round scrapers are helpful too.
That's it for now. Be back shortly!
-- http://shepherdtoolandsupply.com/
---