Last time I showed a wooden moulding plane I have. Now I want to share how I tuned it up. Keep in mind, while I am a professional woodworker, I am not a long time experienced plane user. I have seen some guys doing videos that really know their stuff. I have seen other guys do videos that think they know their stuff. I simply want to share what has worked for me in my short career in hand plane use. Since I don't have a video camera, this will have to do for now.
First, I disassembled the plane. Hold it like this and rap sharply on the back side. Since I was taking the picture while holding the plane, the picture is not exactly accurate. I only have two hands which is a real handicap in woodworking. You will have to use your imagination. This is the proper method for any type wooden plane.

Sharpening methods are just like for any plane iron, except for for the profile. As usual, lap the back. This one was in pretty bad shape. It is a very old plane, and had a lot of rust that had to be removed. This time I stared with 100x sandpaper. At this point, I don't think it matters much what type sandpaper you start with. It gets more critical in the finer grits. There are several sharpening methods. There are many more opinions on which is best. Since I haven't done this long, I haven't yet become anal in my choice of methods. I like to use several different types of stones and sandpaper, even on the same tool. Sometimes that is dictated simply by what I have on hand. For this I start with the abrasive on a piece of 1/4" glass. Granite works well also. I have glued wet or dry sandpaper onto the glass with spray adhesive. I bought mine at Lowes, but it is readily available elsewhere. The grits once again depend on what you need to do. My glass is large enough to put two pieces on each side. When using coarse paper I lay it on top of the paper glued there. It will stay in place without gluing. This shows the wet or dry paper. I didn't take one of the coarse paper, but you get the "picture". The glass is not made by Senco—It's just a pad I had that works well to keep the glass in place.
I use water to lubricate the wet or dry paper,


I began on sandpaper, working through several grits, then progressed to my diamond stone, which has finer grits. This stone has two sides so you can flip sides in the same holder.
You only need to do the end of the iron. I would prefer that it be all nice and shiney on the entire surface, but that's not important. Typically I clean the back up more every time I sharpen, just because I'm picky about looks, as well as sharpness. This one is taking lots of work.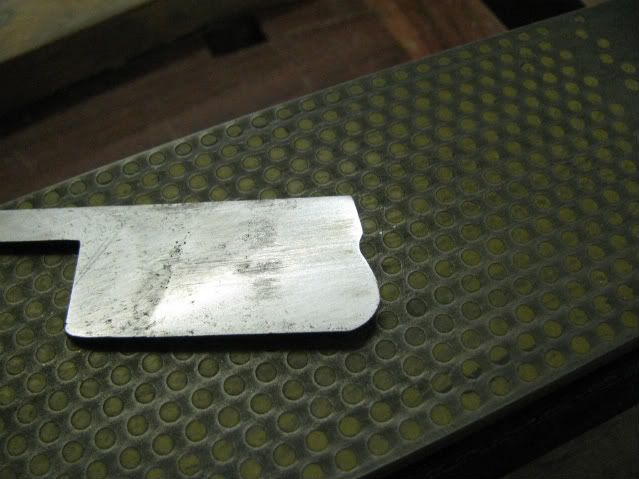 Then the tricky part—The profile. I start on the diamond stone to get what I can. Follow the curve on the iron as you push through the stone. This will be like a gouge for carving or turning. The small dip will need to be done with a rounded stone.


I finished the back on a small, very fine diamond stone.


And finally, hone the iron on a leather strop. I use a honing compound on mine. Do both sides.


Since this blog has gotten so long, I will show how to set up and adjust the plane next time. I have probably already put you to sleep. Thanks for hanging out with me. I'm sure I left out a lot. It's impossible to know what you need to share without overdoing it. Just ask—I'll make something up.
Like the TV news people always say—I"ll see you next time. ——Makes a lot of sense doesn't it.
-- http://shepherdtoolandsupply.com/
---