As we progress to step 4, I do hope you're finding this worthwhile. Even if you never make a "Spiral End Mallet", maybe the principals here might be useful in other projects. If I see you adapting some of these ideas, then I will feel like I actually accomplished something with the blog. I've not done a blog like this before, so your input is important to me. Now—-lets see how to band the medallion. This is much simpler to explain than the last part.
First you need to clean up the edge. The hole saw does OK, but it might need a little touch-up.Here's the process. These pictures are somewhat misleading—I forgot to photogragh before I glued the band on. That's OK, because The process is the same. Picture 3 shows a sanding block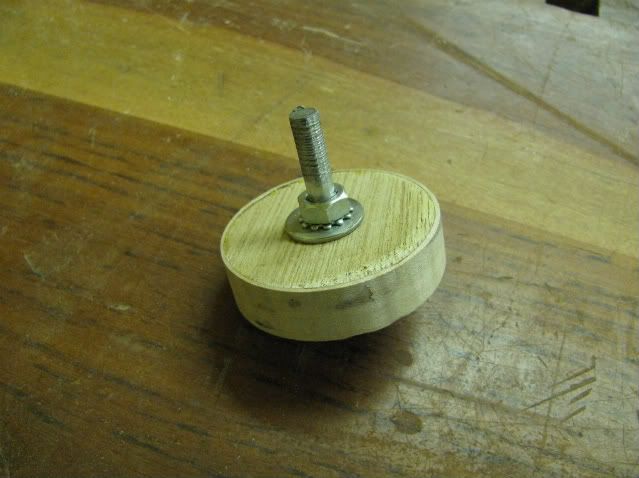 Cut strips about 1/16" thick, a little wider than the width of the medallion. They should be longer than the outside perimeter of the medallion. Soak in water for 15 or 20 minutes. I found it helped to pre-bend the strips
on a jig made frome a scrap cut with the same hole saw that was used to cut the medallion.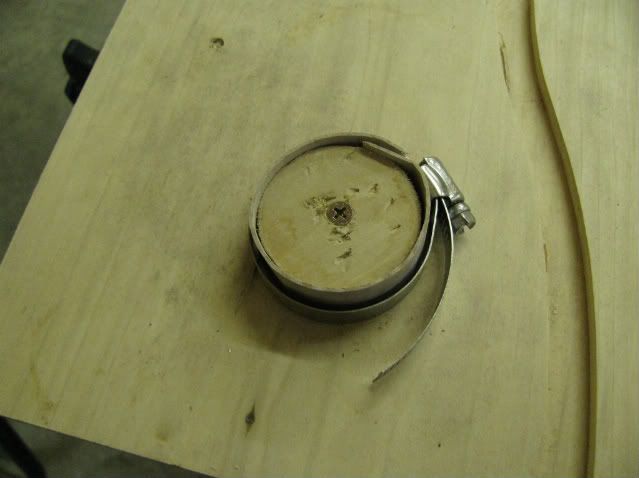 You will trim the length before glue-up. I left this overnight. Now it will be easier to fit and glue. Carefully fit the length to precisely fit around the medallion. Glue and clamp with the appropriate size hose clamp. Allow to dry overnight.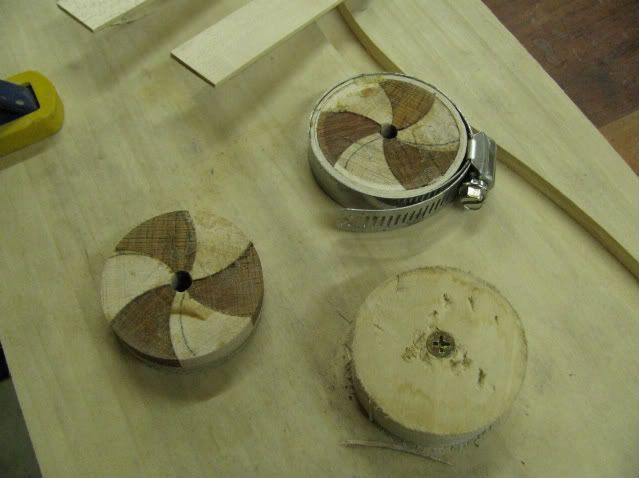 Clean-up again on the lathe. You may put 2 or 3 bands on the medallion. You could alternate woods for a different effect. Clean-up on your lathe between every band to keep everything round and neat. I showed using the sanding block first. A straight scraper works well on the band.


Drill a hole in a scrap with the fortsner bit you will use on the end of your mallet. Use this to check the fit of the medallion. Trim as needed on the lathe.

Now we are ready to begin the mallet itself. Part 5 on the way, SOON
-- http://shepherdtoolandsupply.com/
---