OK, here's the second of our series. We left off showing the bottom side of the jig. I have drilled a hole for the T-bolt in the jig. distance is not critical, but the hole will be about a third from the end in the clamping piece itself. On the underside of the jig, countersink for the head of the t-bolt. I did this with a forstner bit on my drill press, drilling about 3 holes side to side, then cleaning it up with a chisel. This doesn't need to be precise, just make room for the bolt head. You're ready for the clamp itself. It's really pretty simple. Just take a scrap about an inch or so wide, and about 3/8" thick. I used Bubinga (Larry) Actually for 2 reasons. I had the scraps laying there and I really wanted something very strong. after all, it is a clamp. a soft wood would have too much give to it, so you would loose clamping pressure. One picture is worth a thousand words, so I'll shut up and show you now!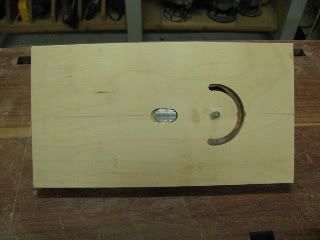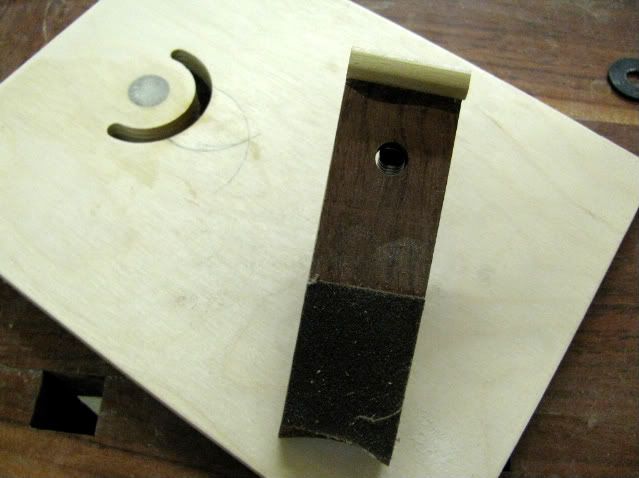 Notice a 1/4" dowel is glued across the end. This creates the pivot for the clamping pressure, along with the T-bolt and star knob. Driil a hole in the clamp to correspond with the T-bolt in the jig. It should be bigger than the t-bolt to allow free movement. I glued sandpaper to the other end to help keep the workpiece in place. This is just a cheap way to make clamps like the metal ones you can buy. There is also the advantage of being able to get really close to the end the workpiece, thus being more secure. The pressure evenly covers most of the piece you're routing. I then cut rectangles a little bigger than the finished pieces. Size is not critical. You'll see. Place them in the jig and clamp.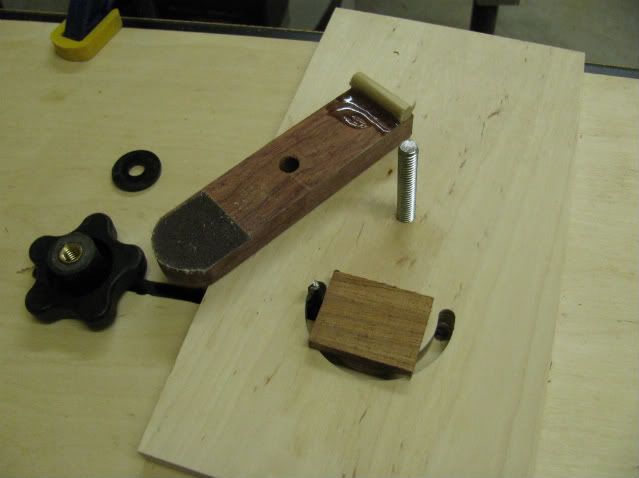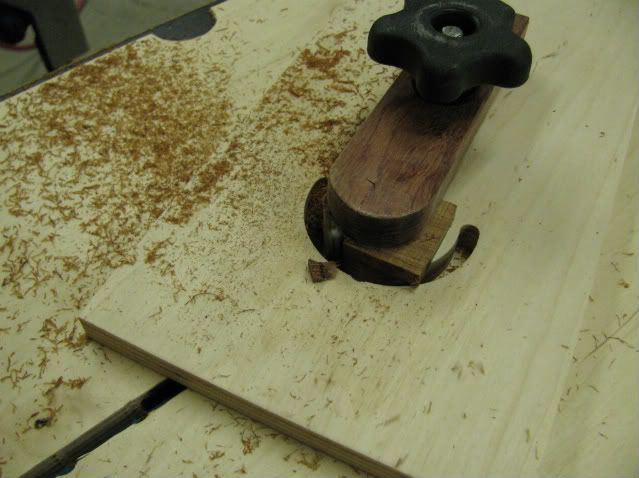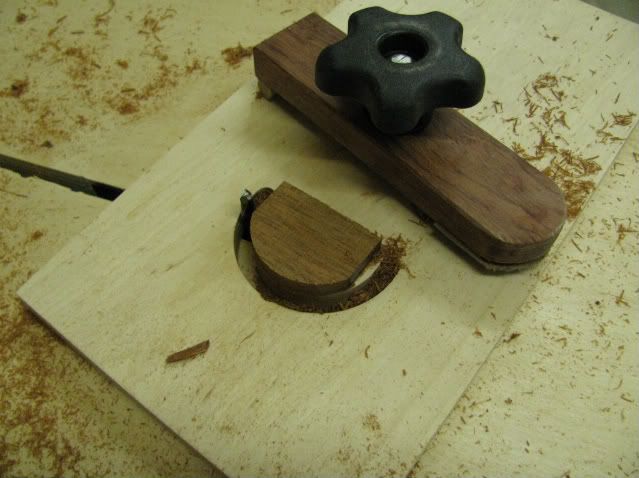 Safety tip——Do not leave the router running while you load and unload pieces. Allow bit to come to a complete stop before touching anything. It would defeat the safety of the clamp system if you do something stupid now, wouldn't it?
Simply pivot the jig into the now running router bit. Go slow and steady. Use normal feed directions, which actually change for the two different jigs. They pivot from opposite sides. I ran the pieces shown first. You may want to do quite a few at a time, because of set-up time for each side. I liked running this side first, but I don't know that it matters. That's it for part 2. It's past my bedtime. More tomorrow. I'll show how I set up for the second cut.
-- http://shepherdtoolandsupply.com/
---