The first item I have started making for the upcoming auction is a cutting board made of curly maple at the center, with walnut in the middle, and cherry at the outer edge.
Here is a picture of the glue-up, using 14-clamps, not all of which are visible here: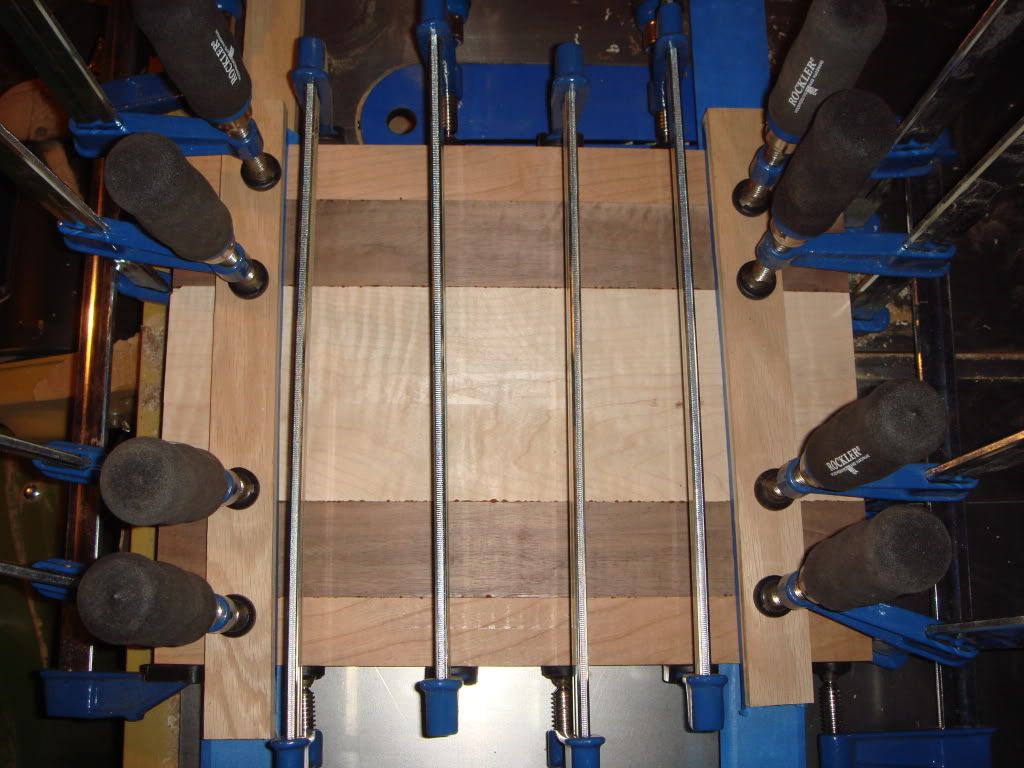 Here's another picture, fresh out of the clamps without anything done to the board:
There are a few things that will be cleaned up before the board is finished. There is a gouge in the curly maple that you may notice. That was a slip on the table saw. I will have to shorten the board by maybe 1/4-3/8" to remove this mistake.
The walnut and cherry were milled to 13/16" at the lumberyard, while the curly maple was milled to 15/16". I don't have a planer yet, so I set the board on edge and ran it through the tablesaw. I accidentally tipped the board on the one pass at the very beginning, hence the gouge. Lots of bad words on that one, I can tell you! I then turned the board 180-degrees and ran the wider section through. So there is a very slight lip that almost looks like a glue-up line in the photo, but I assure you, that is one piece of curly maple, not two. It should look fine once I take the belt sander over the entire surface.
This board will be about 12×16-inches upon completion.
I came up with, what I feel is a catchy name for a series of items I'm going to make for this auction. You'll have to read my next blog post in this series though to discover the theme!
-- Jonathan, Denver, CO "Constructive criticism is welcome and valued as it gives me new perspectives and helps me to advance as a woodworker."
---