So I've spent the few hours per weekend I have to work on this, basically trying to clean up the wood. This has been a big learning experience. There was a lot of grit, dirt, dust, etc, wedged into these boards, as one would expect from 150 year-old barn boards. I also wanted to remove as little wood as possible. Here's the methods I tried that did not work as I hoped:
ROS – did pretty much did nothing on it's own.
Electric hand planer – I could not find that fine line between taking off the top film and not removing too much wood. Plus it left some pretty serious ridges in the boards, but the ROS did a decent job of smoothing those out.
3×21 Belt Sander – Worked OK, but like the planer, was taking off more wood than I wanted. Tried 40, 60, and 80 grit.
Pressure washer – even if you get the pressure settings right so you don't blow right through the wood, there's also the problem that as soon as the boards get wet, they get a lot darker and it's hard to even see the dirt.
Finally in the end, what did the job best to my liking was a 3M abrasive stripping sponge and a little elbow grease. The pads were able to get into all those cracks and crevices easily and absorbed a lot of crap before getting clogged. Plus they cleaned up the exposed splintered areas that didn't protrude to the top, such as inside the nail holes. They somehow don't remove any noticable amount of wood or patina, and yet the surface they left was surprisingly smooth. Since this is a relatively rustic project and I'm not looking for much of a sheen, I didn't do any real sanding, just switched to a medium synthetic steel wool pad and ran it over the boards once or twice.
Since this is just a simple farmhouse table I'm building, it took all of about an hour to cut the boards into shape on the table saw, and I went ahead and added the first coat of finish, pure tung oil. The pic's were taken after the tung. So here's how the boards look now.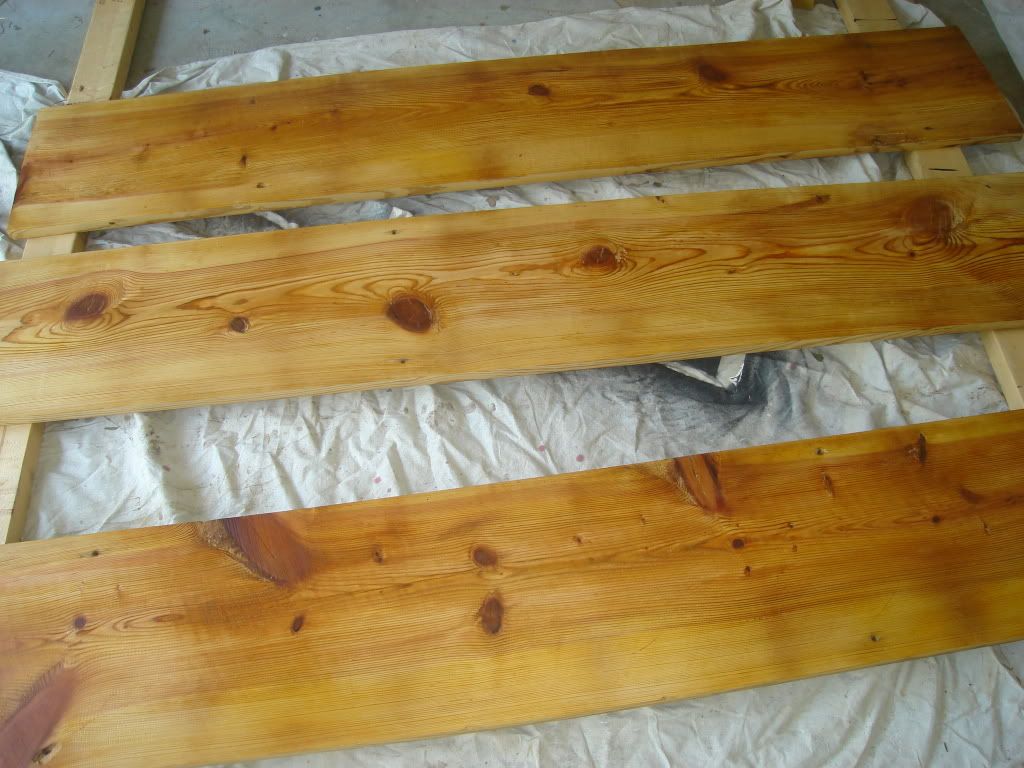 ---