I have been spending most of my time learning by making some small boxes, cutting boards, shop jigs, blanket chests so far. My goal for later this year is to redo an area upstairs in my house and add a desk with shelves and cabinets. The plan is to do small projects that allow me to pick up a skill to be applied to the later project. So for my next learning experience I am building my first end table. I am starting this blog partway through the process and will cover what has been done so far.
While I was browsing the projects page here, and a tableDavid Larch built really caught my eye. Maybe it was his ultra clean lines, or the way the grain wrapped the table, or just the great pics he got with his nice camera. I copied his and started planning my own with my dimensions.
After a short trip to my local lumber yard, I picked out three quarter sawn 4/4 walnut boards. I have really started to enjoy working with walnut. Hopefully the figure in the boards will keep the eye away from any mistakes I make and cannot properly cover up.
Progress so far: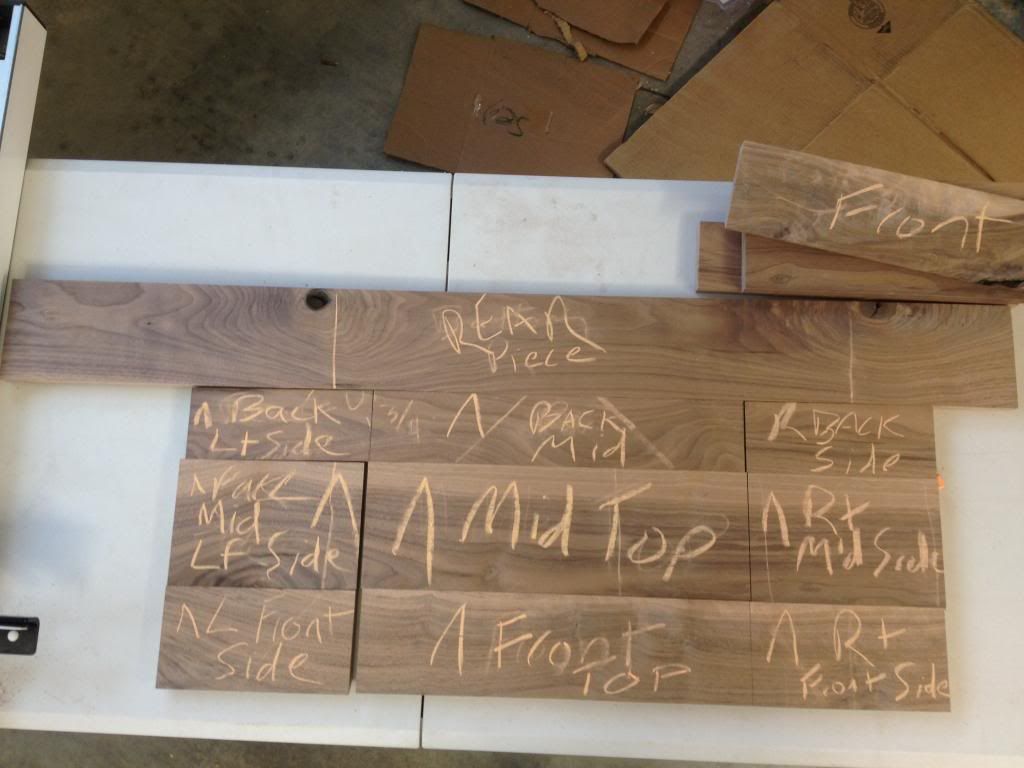 Laid the boards and marked them. Like David's, I wanted to keep the grain continuity on three sides.
Cut the boards to rough length, leaving enough to accommodate for any snipe issues.
Borrowed my dad's joiner and put it to good use. There were the slightest of a bow in a couple boards that came out quit easily. Joiner is definitely my next tool purchase!
Planed the boards to ¾ " thickness. Did not end up with too much of a snipe issue, however I really need to get a proper stand for my planner.

I took the board I selected for the front part of the table and added a partially beveled edge to it. As I am starting to do more and more, I ran a test on some scrap to get the look I wanted. No more jumping in head first.
The top, sides, back, and bottom where glued up with some new pipe clamps I got for Christmas. I also used cauls to help keep them level. They turned out great, and with minimum scraping the seams are not noticeable to the touch.
All the boards were mitered on the table saw. I really really need to make a sled for my mitered joints. Maybe I will turn my current sled into one after I upgrade to a new one. To see how it looked, I taped the joints and put it together.

Figuring it is easier to sand now, I went ahead and worked them from 80-220 with a couple grits in the middle.
At this junction I was wondering if glued mitered joints were going to be strong enough. I reached out to David and he was gracious enough to reply very quickly that he used biscuits. Seeing as I do not have a biscuit joiner, I did what I have done on some of my boxes and decided to go with a hidden spline. I got my jig that I use on my boxes and routed out the dados.

So this is as far as I have gotten. I need to figure out what wood and joint to use for my drawer. Until then, thanks for looking.
Jeremy
-- Joining two of my passions, beer and woodworking, https://www.halfyankeeworkshop.com
---