I have to say setting up a wood shop is just as much work and cash, if not more, then setting up a steel shop. Luckily a few of the steel tools are useful and will come in handy to the wood shop. I have also a few tools from a set of cedar drafting drawers I built oh, 5 years back. It was a one time thing and at the time living in an apartment, dust was every where. All I really had was a Dewalt biscuit joiner and a random orbital sander, that was it.
A pic of the cedar drawers, mmmm they smell good!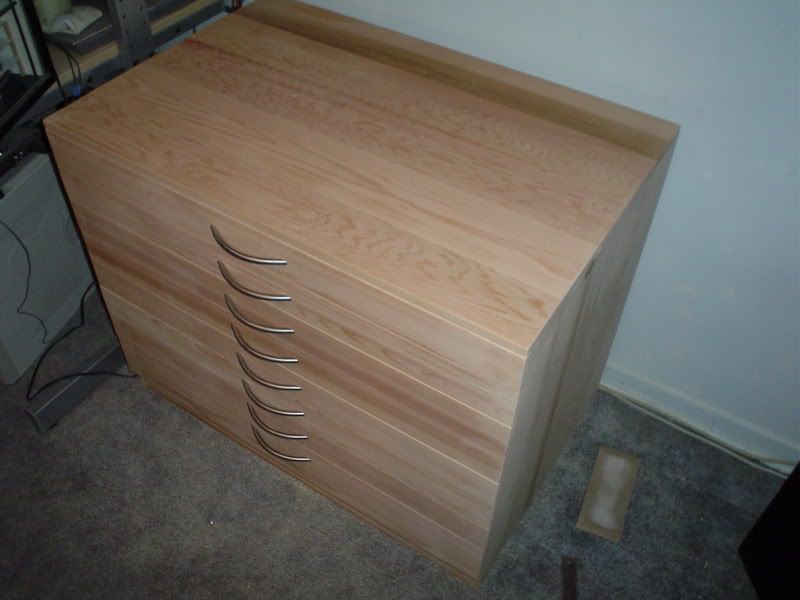 Seeing that Nara and I will finally be leaving the nest and have our own space has open the possibility to have a well set up metal and wood shop. The garage will house the Hot Rod (under construction) and all the steel tools wile the basement will house the wood shop.
A pic in the metal shop, me in the ol 1930 Ford, under construction…

On the hunt for tools:
The very first tool to find a home in the new shop (and don't ask me why first) was the Leigh D4R 24" dovetail jig. I have plans to build all kinds of furniture with drawers and what better way to assemble them then with a dovetail! This is an awesome tool (No I haven't used it yet, but I have a good feeling!) Ok so now I need a router, right? Well I asked around and looked up the forums and the Triton came up allot. Well I bought the Mastercraft Maximum 2hp set up, hey it was on sale for $125,,,, well, I brought it back, change of heart I guess. The triton has allot more features plus it came with a selection of guide bushings and the neat winder so you can adjust it if you have it under a router table, bonus! Sooooo, Nara and I went for a drive to Busy Bee today and picked up the Triton 2 1/4hp kit, router for $200 smackers. I also picked up a Dewalt 13" 735 Planner and a digital read out, hey what can I say. Reading the last post here on planners, you all sold me one before I even got to the store =)
Well I haven't set up the temporary shop yet, something to last until next December when we move, but I will soon. The last thing I'm shopping for is a jointer, I'd like to go with an eight inch set up, but I'm not sure if Nara will go for that, hmmmm, I'll have to get her that purse she's been talking about I guess?? I'll let you know how that goes.
Thanks for reading, until next time, Jason Wheeler
-- www.wheelersstudio.com
---