Alright, I have decided that I would like to build my own patio furniture instead of buying a set from "the big box stores." I took the design idea from a table I saw at one of those stores, but it is slightly different, also I didn't like the chairs that they had with the set, those are still in design phase.
here is the table's design that I have drawn using google's sketch up: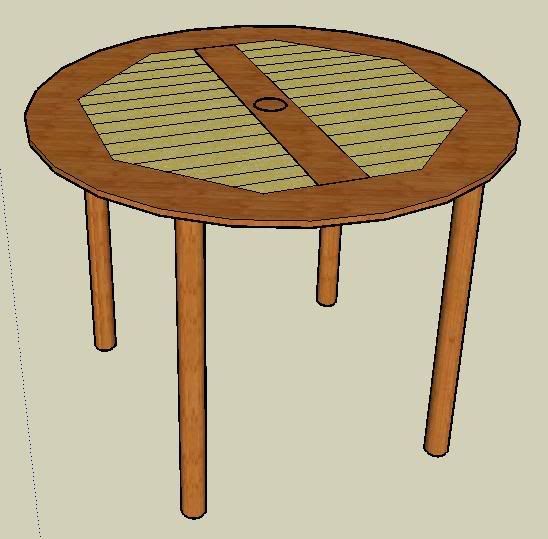 I'll continue to work on the chair designs, but I was sort of interested in Adirondack chairs:
I just don't think they would be very comfortable at the table, if anyone reads this, can you suggest something? also, need some suggestions on type of wood for outdoor furniture.
EDIT: I just realized that I forgot to list the dimensions of that table (this is a big difference I'm sure). The table, as drawn, is 5' across the top (60" diameter), the hexagon is 48" at its widest point, 6" from edge at its widest point as well, the slats are 3" wide each, and the hole in the center is 1 1/2" wide for an umbrella. the table is 42" in height (3 1/2') with each leg measuring 3" in diameter. This is to be the main outdoor table, not to be confused with the side table pictured in the photo of the adirondack chair. Sorry for the confusion.
-- Ike, Houston,Tx
---