I took a short break from wood today since I will quickly run out of things to do until my new Tenon Saw arrives. One thing that needs to get done is to make some dowel nuts for the bolts that will hold the long stretchers to the leg.

There are a couple of reasons I wanted/needed them to be custom. 1st was that I couldn't find any that were sold separately from the bolts. Most of the "bench bolts" I have seen for sale are only 6 inches long and I needed 8 inch bolts since they have to go through a 5 inch leg. Next, none of the nuts I saw had fine threads on them. Fine threads have a better grip on them and are less likely to unthread themselves but you don't see them very often because most people use coarse threads. Lastly, I needed 7 nuts in total. 4 nuts will hold the stretchers to the legs and 3 will hold the right end cap on the top of the bench.
So, I purchased a 12" long rod of 1" diameter Ultra Machinable Brass (Alloy 360) from McMaster Carr to make my own. With a 12" rod I could make each nut approximately 1-5/8 long after subtracting the kerf on my tablesaw blade which I planned to use to cut the rod to length.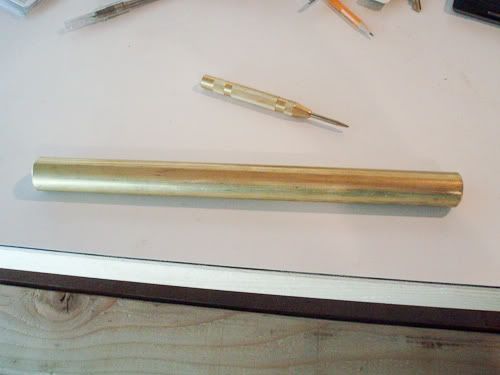 Now I needed a way to hold the rod in place while I drilled it. I don't have any metalworking drill press vises and I didn't want to get one either. My 1st attempt was to quickly chisel out a v-groove in a block of scrap. This would have worked fine if I had used my tablesaw to make two 45° cuts to make a v-groove but I am not good enough with a chisel, so the rod rocked a bit. This would have been the proper way to do it and I shouldnt have been so lazy. I think my holes would have been more perpendicular with this approach as opposed to what I actually used, which proved a little too flexible.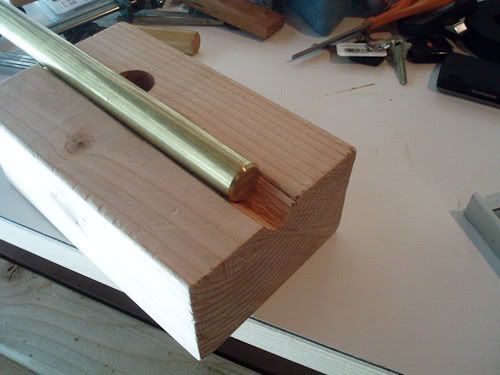 I ended up finding some scrap which had a 3/8" groove cut near one edge and I clamped the rod to that. I also removed the MDF insert in my press table so it wouldn't get soaked with oil and that gave me another convenient place to run a clamp through.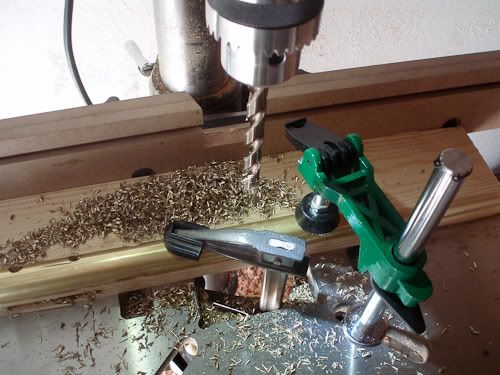 I marked off the length of each of the 7 nuts with a pencil and then punched the locations of the holes with a spring loaded center punch. The pencil ended up being a bad idea because with all the WD-40 I used to drill the holes there was no pencil lines left. It was a good thing I center punched the hole locations or I would never have known where they went.
The pilot drill size for a 1/2-20 thread in brass is 29/64 so I chucked the bit and started drilling. I only had WD-40 to use as a lubricant and I brushed that on the bit and sprayed some into the hole periodically and also kept raising the bit to clear chips once I started getting in deep. Something kept happening that I don't really understand and I am not sure what the cause was. Each time the bit started to break through on the far side of the rod this happened: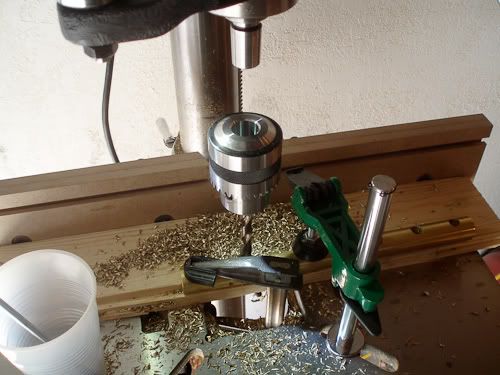 Notice anything wrong? The bit kept grabbing and getting stuck as it tried to break through and the chuck came off its taper. Once I put the chuck back on each time there was no problem finishing the hole but I have no idea why that happened. I was using split point bits and my only guess is that 29/64 was too large a hole to drill without drilling a smaller pilot hole 1st.
After drilling all 7 holes I had a rather warm piece of brass that now needed to be tapped. Unfortunately, I don't own a countersink so the start and finish of the threads is not as clean as it could be. I also did not focus enough on getting the tap perfectly normal to the rod when tapping. In one hole the threads are not really parallel with the axis of the hole. It should still work, it just looks odd.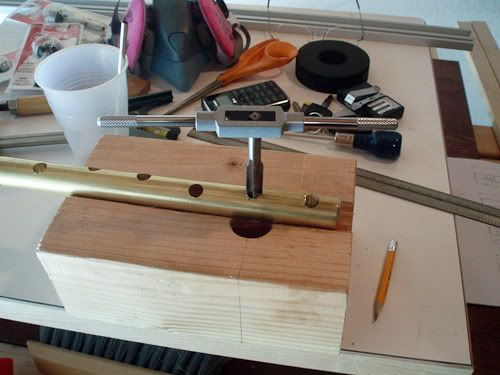 And to make sure that I actually used the right tap I tested out a bolt:

7 tapped holes and 2 sore arms later I had some modern art: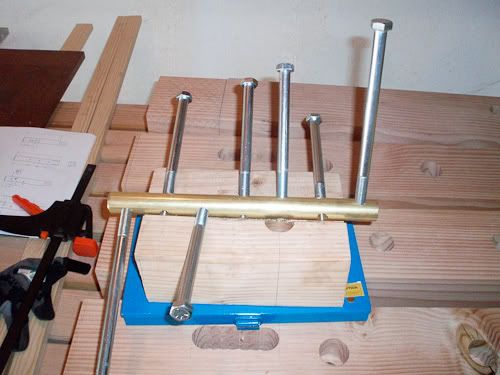 I think a metal working vise, or any vise for that matter, would have really helped on these things. Holding the piece with 1 hand and tapping with the other is tiring and I scraped myself on sharp brass more than a few times. I did all this work before cutting the rod into sections because I figured it would be a lot easier to drill and tap all 7 holes with a nice long rod to hold onto. I think it worked out great.
Next it was time to figure out how to safely cut the rod to length. I found the aluminum angle that used to be the rear fence on my tablesaw and clamped the rod to that. This not only stabilized the rod well but let me support the rod with a clamp so nothing could move around during the cut. I used an 80 tooth carbide tipped blade and it cut beautifully through the brass.

Now I had 7 nuts that didn't look too bad: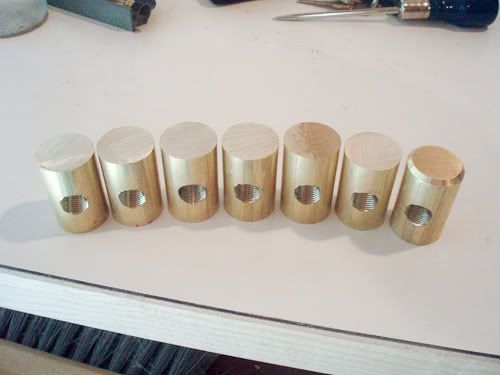 I thought they would look nicer with a chamfer on each end even though this serves no real purpose. In theory I guess it could make it a little easier to insert the nuts into their holes but since I plan to drill the holes 1/16" oversize it's more for looks, which is silly since the nuts will be completely hidden but the shelves once everything is built. I don't have a grinder to I grabbed a double-cut file and put the chamfers on by hand. Now they look more like store bought nuts:

The threads ran a little tighter than I was expecting. It could be that the source I found for the tap drill size was off a little bit or it could be that the threads on the bolts are a little rough in places but I was able to get the nuts on with not too much effort. They certainly were not free spinning. I actually don't mind that they are a little on the tight side because it means they won't be loosening themselves up during use. Here is the complete set on their bolts… The long bolts are 8 inches long for the legs and the shorter ones are 6 inches long for the end cap: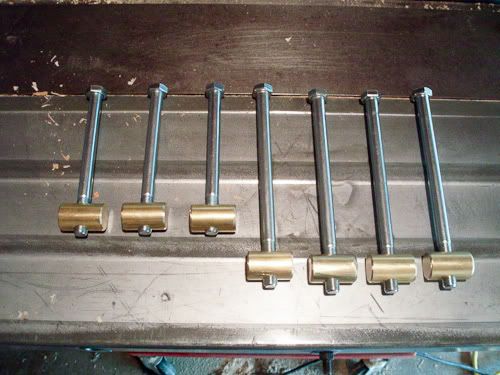 With a little light left outside I decided at this point to finish up the drill press work on the legs. I drilled the 1/2" through hole for the bench bolts as well as the 3/8" holes that will get the drawbore pegs. The drawbore holes are a 4" deep blind holes and will leave a bit of glue space for the pegs which will probably be about 3-3/4" long.

Here you can see the drill going through the mortise (that I still need to clean up with a chisel). I didn't get any tearout on the inside of the mortise so I guess I could have done the chisel work 1st and not worried about the walls of the mortise.

I think that is enough for 1 day. As expected, the long stretchers moved around a bit after I did the rough jointing and planing. After another week or so I will try to take them down to final size and then start cutting the tenons on the ends and see how well these bolts hold everything together.
-- Good Judgement Comes From Experience. Experience Comes From Bad Judgement.
---