I decided in January that I really wanted a wooden screw for my leg vise. I jut like the way they look and they seem to work just the same. So, I placed an order for a screw and nut from Lake Erie Toolworks and they finally arrived yesterday! The screw is beautiful. I assumed there would be some chipping or tearout on the threads but they are perfect. It basically arrived in a condition ready to be finished and installed. I am thinking just some BLO and wax will be the finsih.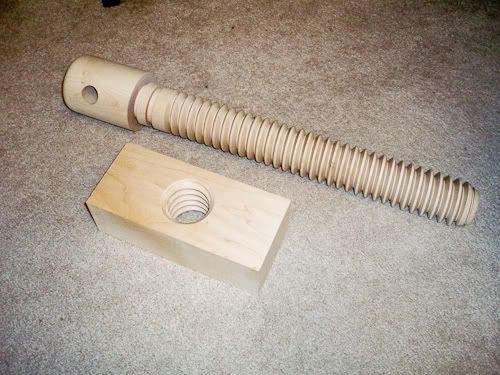 It's perfect timing since I really wanted to start cutting the legs this weekend. I needed to get the screw and nut so I could update the design and update the layout on the leg blank. I updated the design of the bench to remove the old metal screw (that I already own unfortunately) and added the wooden screw:

I plan to make my own handle and garter out of a contrasting wood. I am thinking that the vise chop will be maple to match the screw and nut. I like the way the nut looks horizontal and I think it will just have some chamfers on the ends to give it a finished look.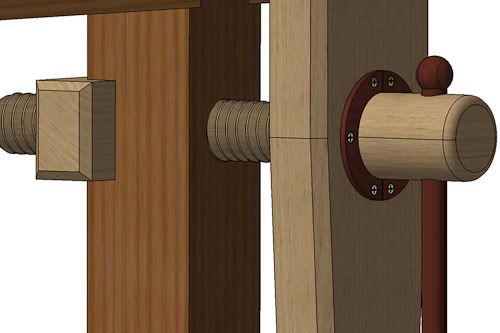 The nut will sit in a recess in the leg that is half the nut thickness. I will counterdrill holes to screw it to the leg. This will let me easily remove the vise someday when I build a new bench.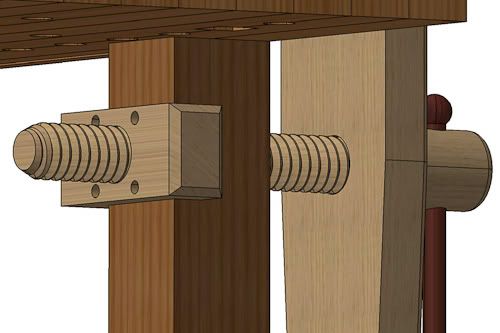 -- Good Judgement Comes From Experience. Experience Comes From Bad Judgement.
---