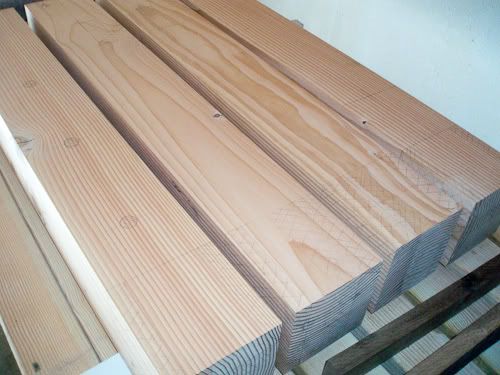 Yesterday I took the leg blanks back to the jointer and the planer and got them down to a hair over 5" x 5". One of them ended up a hair under. I found out during this process that the depth stop on the Makita planer does not handle anything 5 inches thick so it was a little tricky to try to get all 4 pieces exact. All that will be left to do on these is to hit them with a smooth plane to take off the plane tracks, which are barely even visible. It will also fix the "line" sticking up due to a nick in my planer knives.
This morning I measured out all the features on all four legs. It's almost impossible to see in a photo but, trust me, the lines are there. It was the 1st time I used my Veritas marking gauge, which I love. It made the process go much faster and since I needed to make sure that lines on opposite sides of the legs were the same distance from an edge I am guessing it increased my accuracy significantly. After measuring all the legs I stood them up and put them in their place and then mentally placed all the stretchers and the top in place to make sure all the joints were pointed in the right direction. I managed to get through this process with only 1 error, which would have even been correctable had I not caught it before cutting some wood. At this point I was too chicken to start cutting the legs so I decided to break out the pieces that would be the long stretchers and see if I could start on them. My plan is to get all four legs and the two long stretchers made and then move on to the top. Once the top is done I can make the two short stretchers. The reason is that the length of the short stretchers is going to be determined by the final width of the top. The length of the long stretchers isn't based on anything but the mortise and dovetails in the top are based on the length of the long stretcher.
I have had the 4"x6" wood for the stretchers drying for about 2 months, maybe a little longer. They seem pretty dry and when I looked at them one had twisted quite a bit. So much so that I was convinced I wouldn't be able to fix it without the board coming out thinner than I wanted it to so I went to Home Depot to see if I could find a replacement. I swear that there must be someone with a full time job at HD who makes sure that the wood is as wet as humanly possible. Not only are these pieces very heavy and clearly not dry but you can actually feel the moisture in the wood with your hands! In some cases you can see it as different colored areas on the surface of the wood. I realized that I wasn't going to be able to get anything that would let me continue so I headed back home to see what I could do with the twisted piece.
I crosscut the pieces to rough length by hand to practice a little and I was actually quite happy with how I did. I really need to get some decent saws but I was able to hold the line on 2 of the 4 sides and was close on the other two. It was the 1st time I tried sawing on something lower to the ground and I liked it. I think I just might have to build a saw bench and try it out.
Anyway, I tried the twisty wood on my Harbor Freight jointer and was amazed how well it flattened out. I continue to enjoy that jointer although all the wood I use has so much resin in it that I think it's time to wax the table and clean the kinves again. It was a lot easier than I thought it would be and the thickness was fine. I jointed both pieces and then planed them down to about 1/4" thicker than I wanted. I will let them sit like that for a week in case they still have some moving around to do. There were also some extremely large checks on 1 side of each board so I filled them up with epoxy the same way I did to the legs. I probably could have just left the epoxy clear since the sides I filled will be on the inside of the bench but oh well.
I also have to say that as I jointed and planed these boards it revealed some grain and beauty that I wasn't expecting at all. The rough dinged up and cracked surface of the wood betrayed what lay underneath. I am excited to see how some of this looks with some finish on it and I am excited to see how the top looks once I start working on those boards.
-- Good Judgement Comes From Experience. Experience Comes From Bad Judgement.
---