I don't know why but I have S&G stuck in my head, hence the title for this entry.
I started milling the legs! After putting some epoxy on all 4 sides of each leg and then scraping most of it off with a carbide paint scraper, I started jointing the blanks for the legs. Here you can see one of the longer blanks with my two Home Depot push blocks (a.k.a. grout trowels) and my Harbor Freight infeed and Rigid outfeed set up. The Harbor Freight roller stand was only $14 but I have my doubts about whether I like it. It is hard to get tight enough that the weight of these boards doesn't cause it to drop. It really worries me when I get to the 10 foot pieces for the top. And, as you can see, I need to get some darn dust collection!

Aside from some test pieces this will be my 1st experience jointing and planing boards to a specific size for use in a project. In reality, it doesn't matter if my legs are exactly 5"x5" or even if they are all the same size but I am taking the time to try to get them perfect as practice for more important projects. At the jointer, the hardest part so far has been jointing a second side square to the 1st. The wood is so big and heavy and takes up so much space on the jointer that it is very hard to maintain pressure against the fence when there is a slight gap at the bottom. If the gap between the face and the fence is at the top that's easy but due to the grain orientation I can't always choose. All-in-all, I was pretty happy with my jointing effort. I got the sides to come out flat and 3 of the 4 legs are just about perfectly square and the 4th is only off by a hair. I really like my Harbor Frieght jointer so far. I had no problem jointing the epoxy and everything came out nice and smooth.
On that note, if you don't read Chris Schwarz's blog you should check out this entry where he apparently got tired of people asking if the epoxy he used would dull his plane irons. I thought it was hilarious:
Oh Crap! I Guess the Epoxy Was Too Hard
Next, it was on to the planer. Over the holidays I got a Makita 12" planer which I absolutely love so far. However, planing these legs taught some lessons. The 1st one was, unfortunately, what tearout sounds like. I have read it in magazines but until you hear it in person you really don't know what they mean. On the flatsawn faces the grain is really wild and there are also knots in the boards where the grain is wild. I thought I had the depth of cut set for a very slight cut but apparently even that was too much for the wood and I got tearout in places. I am not sure how much I really care if it's there so I don't know what I am going to do about it. In some spots around the knots the tearout is over 1/8" deep so it's not likely I am going to scrape it. I might throw some more epoxy in there and plane it flat by hand or I might just leave it.
The second lesson was what a projectile looks like being ejected from the back end of a planer. I was pretty scared of that happening around some of the knots so when I put the epoxy on I took care to glue in even the knots I knew were going to be cut off later. However, I didn't realize there were other things that the knives could catch and eject. I cut these boards to rough length by hand and so the cuts were very rough. In some places there were sections where the saw started going offline so I backed up, corrected, and kept going. This left an overhanging piece with a kerf cut into it. It's hard to describe and I didn't photograph it beforehand because I didn't think it was an issue. Luckily I wasn't still behind the planer at that point (I was already walking around to get the outfeed) or I would probably have a bruise around my midsection.
Here is an example of what one face looks like where I filled in all the checks with as much epoxy as I could before surfacing the boards. It didn't photograph all that well because I used the flash on my little P&S digital but I love the way it came out:

Here is an example of one of the knots. I was really scared this would rip out during planing and I knew this was going to actually be part of a leg so I tried to glue it in as best I could. It wasn't a loose knot before I added epoxy and everything seems to have gone fine:

This was pretty good practice with the epoxy and I am pretty sure I will do this to sections of the top. Some of the pieces of the top have bretty bad checks in the faces that will be laminated and I am not sure if I will bother there, I might just fill that with yellow glue before laminating.
When I 1st got these boards home there was a lot of sap running out of them but by the time I started milling these that had stopped. I don't have a moisture meter but after 8 months I figured the wood would be dry enough. Even still I only planed it down to about 5 1/4" in case there was any movement after the initial milling. I am not sure if there is yet but I do know that I watched the end grain check right before my eyes and the day after I did all this there was some sap running on the faces again. If this sort of thing happens on the top I am going to worry a bit about the lamination process.
I got all 4 legs cut to length on the table saw and started to figure out where I wanted them based on how they look.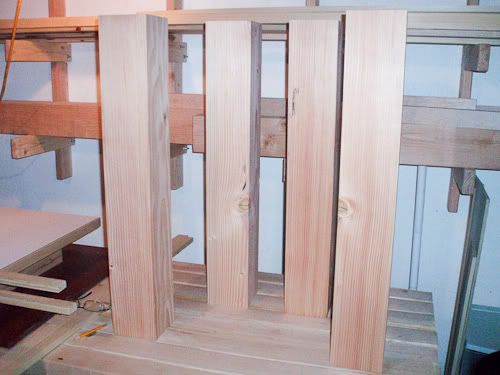 This weekend I will be taking them down to final thickness and start marking off for the mortises for the stretchers and the tenon/dovetail at the top.
-- Good Judgement Comes From Experience. Experience Comes From Bad Judgement.
---