I now have essentially all the wood for the bench, at least the major pieces. I still lack a chop for the leg vise and I am not sure what I want to use for that. The legs have been hanging out for over 6 months and everything else has been around for about 2 months so far.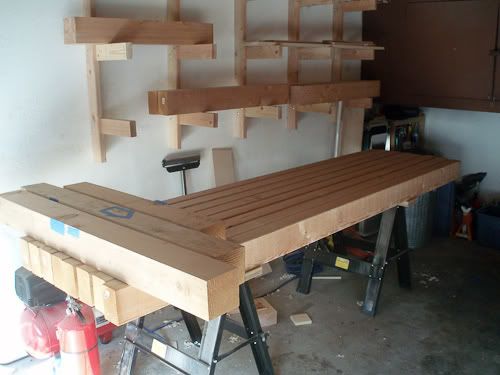 Everything is construction grade Douglas Fir from Home Depot and Lowes. It actually took me a while to gather up all the wood and I feel like I visited just about every store in the Los Angeles area. 1st of all, most places don't carry 6×6 in stock and I wanted a place with stock that I could pick and choose. I found the legs and after about 5 months I realized I chose "poorly". The wood is probably fine but… I thought I was doing good by finding pieces that were quartersawn. While these will be nice and stable and probably remain pretty square I wasn't paying too much attention to the grain pattern. I kind of wish I had gotten some rift sawn boards instead so I had a consistent grain pattern on all 4 sides of the legs.

The main reason it took so long to find boards for the top is that by that time I had started to pay more attention to the grain pattern. At 1st I thought I was going to have to live with a flatsawn looking top, which I don't particularly care for, but then I saw a great piece of rift sawn wood with nice straight grain along the side that would end up being the top/bottom. I also noticed a huge difference in how tight the growth rings were from board to board. Once I realized that some great looking boards were possible I then made it my mission to search the area even if it meant buying 1 piece of wood from each store I went to until I had enough. You can see how tight the grain is in these pieces compared to the 6×6 above.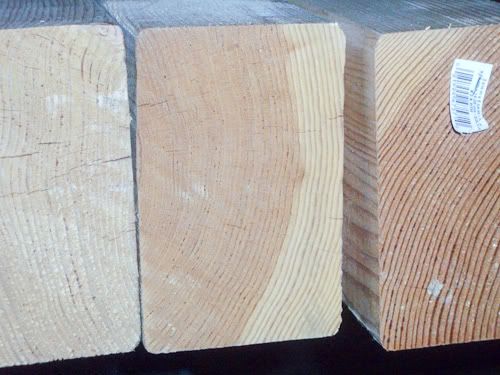 I went with 4×6 boards for the top to minimize on the glue joints as well as the jointing and planing. At 1st I was going to try to find two 6×12 or 6×14 boards so there would only be 1 glue joint. This sounded good and there were lumber yards in the area that stocked them but the price was a little higher and I figured it would be darn near impossible to sort through the pieces to find what I wanted.

The biggest drawback I saw in using large construction grade boards is they had a tendency to check as they dried out. I decided to fill the checks and cracks as well as the knots with epoxy similar to how Chris Schwarz did his last bench. I used some cheap "Lamp Black" oil paint that came in a set of oil colors from Michaels to tint the epoxy black. This is a batch I just let cure in the cup to see if the oil paint would cause any curing problems. It seemed to work just fine.

I masked off different areas and some of it made sense and some of it didn't. It didn't do anything to mask off on the top surface of the boards but it made a huge different along the edges. For example, when filling knots near the edge, the epoxy just ran down the inside of the knot and would have just leaked out the side and all over everything if I hadn't built up some dams on the sides. In the photo, the epoxy is not all black. I started off thinking I could color match to the wood and when that didn't look like it would work I just turned it black and stuck with that for all 4 sides.

I just kept adding more epoxy to the knots until they were full and also poured some along the checks in the faces. The checks ended up drawing in the epoxy into the wood and really sealed it up.
It will be nice to see what the boards look like after I plane them down. I used a carbide paint scraper on some dried epoxy to see how it might plane, fearing that it would be really hard and dull the knives on my jointer and planer, and it was fine. The epoxy didn't cure super hard like I am used, instead, it still felt a tiny bit flexible and scraped off really well. I am not sure if the softness was due to the type of epoxy I used (West Systems with slow hardener) or the fact that I added oil paint to it but it was perfect. It was the 1st time I have used West Systems epoxy in about 10 years so I don't remember how it cured back then.
Stay tuned to see what the jointed and planed legs look like…
-- Good Judgement Comes From Experience. Experience Comes From Bad Judgement.
---