Ok, enough procrastinating! It's time to get on with the workbench. I have a design that I am happy with and while I haven't quite finished the CAD model I think I can safely start cutting some wood.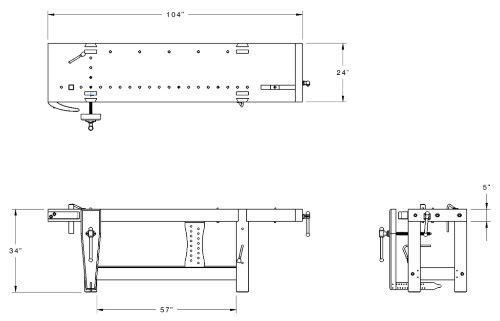 As I stated in previous posts this is a Roubo bench and I used a lot of information from a lot of places. I have purchased all the wood and a good deal of the hardware. The top is going to be made from 10 foot long 4"x6" douglas fir. It should finish out at somewhere around 5 inches thick. The stretchers are also made from 4"x6". The legs are made from 6"x6" douglas fir and they are finishing out about 5"x5". Everything was purchased at the home center and I think the total for all the wood was about $175. The legs have been drying in my garage for about 7 months and the wood for the stretchers and top has been going for about 2 months now.
The bench features a leg vise on the front left leg and a wagon vise on the right side. The leg vise shown uses a metal bench screw that I have but I have ordered a large wooden screw from Lake Erie Toolworks that hasn't arrived yet.
The wagon vise is a refinement of the design I tested in an earlier post. I decided to suck it up and spring for a hand wheel to operate the vise since I feel it will go a lot quicker to be able to turn a hand wheel then if I had to spin a bar. The leg vise screw from Lake Erie is supposed to move pretty fast at only 2 threads per inch so I don't see a need for a wheel there, plus I like the traditional look of a wooden screw.
I tried to get a decent angle on this view showing the guts of the wagon vise. I don't think I described it very well in my other post. I think this will work just fine. If there is still too much slop in the movement my fall back plan is to add a spline between the moviing dog block and the bench top. I figure I should be able to use a router with a slot cutter to add the slot for the spline. You can also see the bolts holding on the breadboard end cap which will make the vise installation easier.
The legs will be drawbored in the short direction and I will use bolts in the long direction so I can knock down the bench for transport when I move out of my rental. I am not sure this is really necessary as it seems just as easy to move the bench in 1 piece but why not.
It's a pretty standard bench from what I have seen. I am a little worried that the fir might be too soft as a bench top. It seems to get scratched and gouged pretty easily but t was so inexpensive I don't think I care. As awesome as a maple top would be I just can't see spending the money for 150 board feet of maple just to make a bench top. I am sure I will decide that was a foolish notion in a few years but by then maybe I will be in a position to buy some maple.
I've got the jointer and planer fired up and the new drill press will be here Friday… it's time to let the chips fly.
-- Good Judgement Comes From Experience. Experience Comes From Bad Judgement.
---