I decided that I have gone long enough without a router table. A lot of the projects I have in mind have small pieces that need to be routed and I think it will be best accomplished using a table. The only problem I have is that I don't have room for a separate table. I have seen some plans for some bench top models that I liked but I don't have storage space for them. Then I saw the idea to replace one of the wings on my table saw with a router table. Brilliant! This would take care of a few things I don't like about my TS. It has stamped steel extension wings which have stiffeners stamped into them so they are not flat. I also wish I had a larger table top. Replacing the right extension will fix that. Plus, I need something that will use up some of my shim stock :)
I only have a vague idea of what I want to do with this project. This is going to be one of those design-it-as-you-go projects. I have enough 3/4" plywood left over to make a 1.5" thick top and I picked up a 4' x 8' sheet of laminate at Lowes for $34 after using a $10 coupon. I found a 6 foot section of 1.5" x 1.5" aluminum square on eBay for a little under $20 shipped. It is surplus from 80/20. It is about the same width as the 1.5" angle that is currently on the saw so the fence should ride just the same only it will be long enough to match the length of the front rail.
I used the front rail that the fence slides along to mark the length

With a metal cutting bit in my jig saw I cut the tube to length

The cut was fairly smooth but there were some sharp edges so I used a small wire wheel on my dremel tool to blend out some of the sharp edges so there was no chance I would cut myself on the edges

Now it was time to take the stock 2-piece rear fence off

I used the old fence to mark the locations for the fastener holes so the new fence would sit in the same position and the same height below the top of the saw.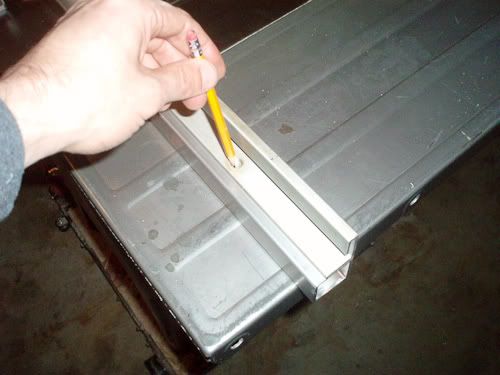 I don't have a center punch so I used a nail to punch the aluminum so my drill bits wouldn't wander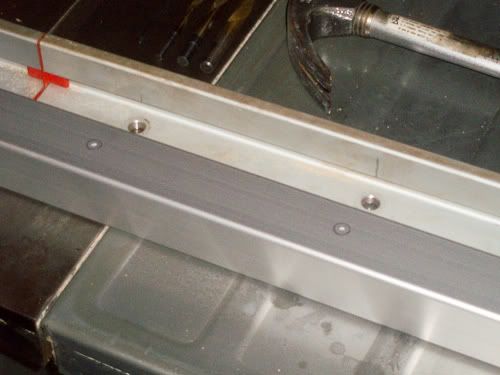 This is yet another project where I wish I had a drill press. I couldn't drill straight enough to drill through the tube so the holes on both sides would line up perfectly so I marked the sides individually and only drilled 1 side at a time. This is where things hit a snag which was not entirely unexpected. I thought I would be able to drill a 1/4" hole on one side and a 1/2" hole on the opposite side of the tube so I could put the fastener inside the tube. Unfortunately, the fasteners and washers are larger than my 1/2" drill bit and I don't have anything larger which will drill metal.
So I will pick up a hole saw tomorrow that will drill a large enough hole and proceed with the project. I dont have a router plate insert yet so I will probably get the table built and installed and cut the opening when I pick up an insert plate. By that time I will decide if I want to try to enclose the router so I can try to hook up some dust collection and also try to figure out if the new extension wing will be too heavy. I can extend my mobile base but I am not sure if I can make it long enough to match the new length of the table in case I decide to add legs to the extension.
-- Good Judgement Comes From Experience. Experience Comes From Bad Judgement.
---