Well, after a VERY long break from actually working on my new bench (and some other projects) I have finished my second Masters degree and can now get back to more important things. Even though I wasn't able to work on anything it didn't keep me from thinking, and dreaming, about my date with Monsieur Roubo. I have had the 6"x6" wood for the legs in the garage for about 6 months so it should be dry enough for me to start on some of the joinery and I purchased 4"x6" wood for the stretchers a couple of weeks ago. I still don't have the wood for the top but I will buy that pretty soon now that my new thickness planer is in the mail and I will be able to process the wood for a laminated top.
I built a prototype for the tail vise today using about $50 in parts from McMaster Carr. It doesn't have a handle yet so the price might go up a little more but so far it works about as well as I thought it would. As all good prototypes do, it taught me a lot of interesting things about the design as well as how difficult making the overall bench might be. Let's just say I am not used to working with 4"x6" pieces of lumber and very few of my tools are really set up to work with it properly. I processed all the individual pieces of the prototype using only hand tools, most of which were unpowered. Some lessons I learned: I probably need to find a mortise chisel somewhere and I am a craptacular sawyer.
The design is loosely based off the vise in Scott Landis' book with some major modifications to account for the fact that I do not have a machine shop in my garage. I would love to just buy a wagon vise from Benchcrafted but I do not have the $300+ to throw down for one so I am trying to go the DIY route and save money. One of the main limitations I have is that I can't really machine steel well, other than drilling it and whatever I can do with a jigsaw or hacksaw. Also, I don't have a drill press, so drilling accurate holes in other materials can be dicey. One of the main reasons for building a mockup was to see if I could perform some of the necessary cuts in steel and if the overall concept was valid.
I looked around for a small machine shop that would do one-off orders but I found none near me so I wasn't able to get a custom ACME rod made the way I wanted. Therefore, I needed to find a way to hold the rod in place and create a garter for the vise without machining the rod. I started with a 3 foot section of left handed 1"-5 ACME rod from McMaster Carr as well as the nut that goes along with it. They are both plain steel so I should be able to work them with the tools I have. I haven't tried to cut the rod yet but I should be able to cut it either using my jig saw or at the very least a hacksaw is my fallback plan. I was able to drill the nut so I could put some #8 wood screws through it and into the moving block. I just used some old pilot point bits I had around and kept everything nicely coated with WD-40 and it went quickly with no broken bits. I was also able to countersink the holes easily enough using an old cheap (~$8) set of countersink drills I have had for years.
SAE 863 Bronze sleeve bushings support the threaded rod in the bench and provide some lubrication as well since they are impregnated with oil. Two-piece clamp-on shaft collars are what hold the ACME rod in place while the rod is turned. I was worried that the collars would not have enough holding power since there is not a lot of surface left after ACME threads are made but they hold great.
The main difference between this vise and the Benchcrafted vise is that I do not have any rails or guides and I rely only on the threaded rod to keep everything in place. In order to keep the vise from drooping when not in use and from lifting up when it is being tightened, I run the ACME rod all the way into a sleeve bushing at the end of the vise cutout. This did a good job supporting everything but it was very difficult to drill the right sized hole in the right place so I ended up resorting to gluing in a separate piece to hold the bushing. This let me adjust the location of the bushing until the rod turned nice and easy. I tried to get away with only drilling a 1 inch hole in the moving block, thinking that the tight clearance to the ACME rod would help keep the block from twisting when you try to tighten the vise but it didn't really work out as well as I had hoped. I will add another bronze bushing to the block since the clearance from the ACME rod to the bushings is almost nothing and I think that will fix that problem.
Probably the most difficult part of this mini-project was drilling the holes. I don't have a drill press nor do I have forstner bits long enough to drill through 3.5 inches of wood so I had to drill from both sides. I also didn't bother to get the wood four-square before I started so it was impossible to drill from opposite sides and get the holes to meet up correctly. The hole-alignment problem should go away when I properly process the lumber for the real bench and have good square edges to measure from. As far as drilling holes perpendicular, I cut the proper sized hole into some MDF for use as a template. Then I drilled a 1" hole with a spade bit while using a try square to keep it as perpendicular as possible. I then broke out my router with a ¾" flush trim bit and used that to route the hole to the proper size. I did that on both faces and then held a forstner bit freehand to connect the two holes. The holes only need to be perfect at the faces so the bushings seat properly. The 1.25" hole is oversize for the rod so if it is off a little in the middle of the board it's ok.
As far as a handle goes, I haven't tried anything yet although I have purchased 3 things I think will all work provided I can cut and drill the ACME rod well enough. I have a schedule 40 PVC Tee fitting, a schedule 80 PVC tee fitting, and an aluminum speed rail connection. It will probably come down to which one looks better painted and will take a larger diameter handle through it. I could also purchase a hand wheel for another $25 from McMaster Carr but I think one of the tee fittings will give me the look and feel I am going for. As nice as I think the hand wheels look, the only one that already had a 1" hole in it was made from zinc and I am not sure it will look nice. If I had a drill press I would probably buy one of the nice satin finish steel wheels but at the moment I don't have a way to drill a 1 inch hole in steel in the correct location so the wheel would spin without a wobble. I think the tee fittings painted a dark gray or black color with a nice maple dowel through it will look and work great and will match the leg vise (once I repaint the leg vise hardware). It will sure beat the pair of vise grips I have been using so far!
I can always swap out hardware later if I want to. Since I am burying some of the ACME rod in the main body of the top I can leave a little extra length in case I choose to add a hand wheel in the future. In fact, this vise will be very easy to uninstall so I can pretty much change any of the hardware later if I choose to do so. I could even change to a coarser or finer thread on the ACME rod if I wanted to by swapping out the rod and nut. Once I start using everything I would get a feel for how I like it. For now, 5 tpi seems to be about standard for vise screws that are in the 1" diameter range.
I have attached a bunch of photos showing the bits and pieces of the vise as well as the vise holding a board flat for planning and vertical so I can learn to dovetail. It should hold a vertical piece of wood ~1.75 thick by 8 or 10 inches wide when the real bench is built.
Holding Stock Flat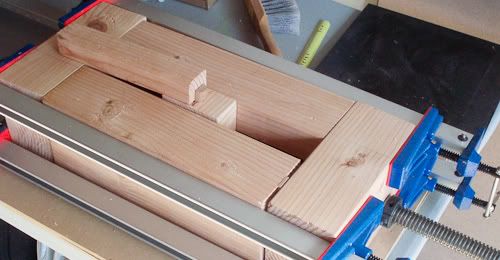 Holding Stock Vertical

Shaft Collar holding the rod in place (The flange from the sleeve bushing is between the wood and the shaft collar)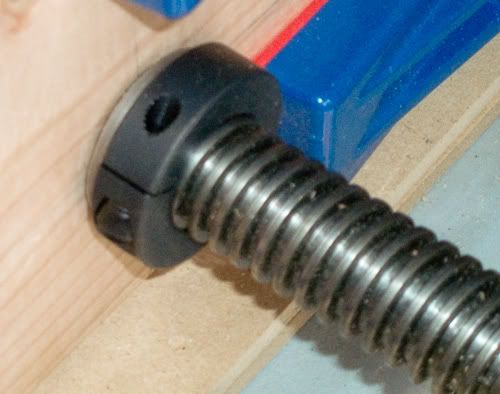 ACME Nut drilled and screwed to moving block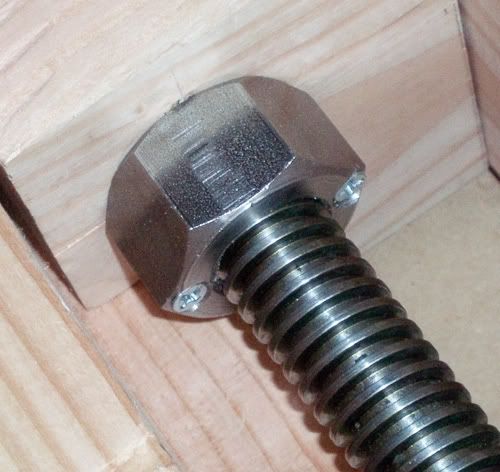 Side piece removed

Looking up from the "bottom"


Schedulle 80 PVC Tee Fitting for possible handle

Aluminum Speed Rail Tee Fitting for possible handle

-- Good Judgement Comes From Experience. Experience Comes From Bad Judgement.
---