Today was a fun day with several new lessons learned. I finally got through the crunch of midterms at school and craziness at work to have a day where I could make some sawdust. The next step on the blanket chest was to clean up some of the joints a little bit and then cut the wood for the panels. Well, over the last couple months we have had a lot of rain and the garage has flooded a bit. I dug out the 1×12s that I bought to make the panels and they were all cupped and twisted to the point where I wouldn't be able to cut the rabbets and fillisters on them. In fact, they wouldn't be useful for anything so I thought about tossing them. They are only construction pine so they are not expensive but it still seemed like a waste. Then I realized that as part of my workbench project I am going to have to do a bit of hand planing so I have been aquiring some planes and trying to learn how to use them. I don't have a jointer or a thickness planer and even if I did, they would not be practical for some of the joints on my workbench.
Since I thought the wood was garbage anyway I figured it presented a good opportunity to mess around with a plane to really try to use it to flatten the boards. I have a Type 4 Stanley Bedrock 605 Jack plane that I got on ebay and I added a Hock blade and chipper to it. I really need to file open the mouth a little bit to fit the thicker replacement blade but otherwise I think I am finally getting the hang of this hand plane stuff. I must admit, it does take some practice. I don't know why I thought it would be easy to teach myself how to do it but everyone else I see in videos makes it look easy. I crosscut and ripped the boards for the panels to about 10.625×10.250 inches (or so I thought). The boards were very straight along the grain but very cupped. I wasn't sure what thickness I would be left with even if I did manage to flatten it.
So I present now, my 1st ever hand planed board:

I did this for both the left and right sides. I got one a lot flatter than the other one using only a jack plane. I have a bailey #4 but I dont have the blade sharpened on it yet. So I set the jack plane for an agressive cut to go across the grain and take down the board thickness then set it for a very fine cut to go with the grain to try to smooth it out a bit. I had problems with plane tracks being left but that's because I am still using the hock blade as it came rather than cambering it. I will camber it but it was so amazingly sharp I didn't want to mess with it until I had to since I still am learning to sharpen blades.
Boy is hand planing tiring. Especially as high as my table saw is. I really can't wait until I get my workbench going so I can have actual planing stops and a top at a working height that would let me get some leverage on some of these tasks. Also, I think I need to learn how to plane left handed as well as right handed or I am going to end up looking like Freddy Rodriguez's character in "The Lady in the Water".
I got the boards pretty flat and smooth. Not perfect but to the point where I was happy with them and I would be able to cut the joints and install the panels. So, I cut the rabbets and fillisters all the way around. I did this on the tablesaw with a dado blade and a sacrificial fence. This was the 1st time I have used this setup and I loved it. The boards planed to different thicknesses so I had to reset the blade for each board but this really was a fast way to make this type of cut. I can see how this would really be super fast for multiple pieces.
Here is my setup. The far push block is from Rockler and the near one is a grout trowel from Home Depot that cost about $3. I like the HD one much better because it's larger and has a better grip but it doesnt have an angled handle so it is difficult to get my hands close enough to the fence: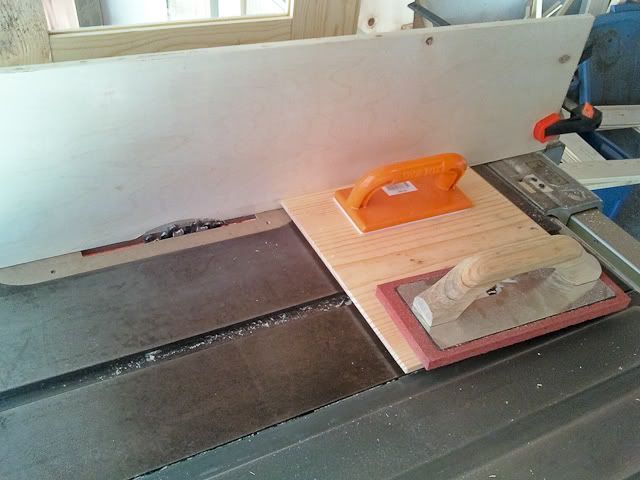 The next step was to test fit the panels into their sides and DOH! One of them was too small. Somehow I measured to the 1/16th on the wrong side of 1/2" so instead of 10-9/16 it was 10-7/16. It was just too narrow to really stay put correctly. So that was a good lesson in double checking my measurements. Even if I didn't check before I made my cuts I certainly should have checked before I spent the effort to flatten the board.
Anyway, at least one of the two came out the correct size, so I cleaned it up with some 150 then 220 sand paper to get rid of the plane marks and glued up the 1st assembly on this project. The miter slot on my table saw is proving to be very versatile. So far I have used it as a planing stop and now a support to hold up 3/4" thick pieces.
Finally some glue!

I'm not sure how much time I will have in the near future but I need to cut 5 more panels and flatten them and then glue up the other 3 sides so I can assemble this guy. I also need to break out the jig saw or my coping saw and cut out the feet.
I think a pair of gloves would be nice too. I wasn't really paying attention to what I was doing and I have a nice sized blister right in the middle of the palm of my hand where it was rubbing on the front knob. Apparently the brass screw stands proud ever so slightly as to be a nuisance.
-- Good Judgement Comes From Experience. Experience Comes From Bad Judgement.
---