Well, after taking all my rough cut boards and ripping them to final width and crosscutting them to final length on the tablesaw, and spending what seemed like hours (because it probably was) laying out all the cuts on all the pieces …

I fired up my new mortising router jig …

And cut my first mortises in all the stiles of the chest!

I then went over to the tablesaw with a Dado head and started to mill my 1st tenons and all the grooves for the solid panels: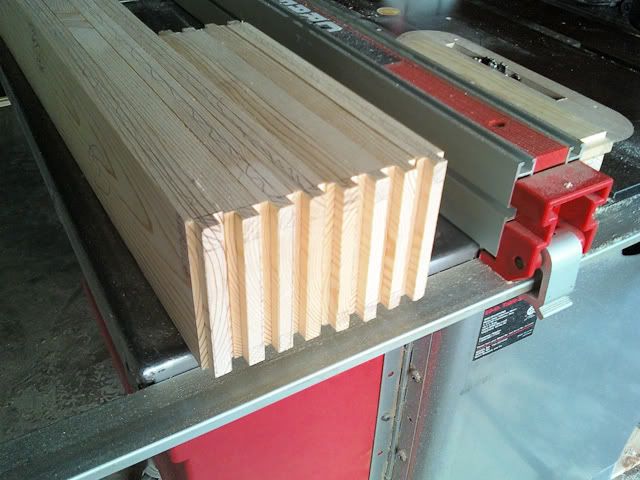 Things went well although not as well as I was hoping, but that's one of the reasons I picked this project. It was a chance to learn some new joinery in cheaper material. I managed to leave all the tenons a little thick so all I had to do was sand them down a touch to get a nice tight fit into the mortises. I also used a chamfer on the cheeks of the tenons to help control the fit into the mortises since the mortises had rounded ends from the router bit.
Here is a funny aside: I just finished reading "Hand Tool Essentials" and learned I had been trying to use my chisel upside down! I got a cheap buck bros 1 inch wide chisel years ago but never got very far with it even though it was sharp. I got it out even though it is now covered in rust and chipped and turned it over and it was so easy to use I think I will have to clean it up and regrind it. Who knew!??
Anyway, my main problem with the mortise & tenons and the tounge & groove joints for this project was poor tablesaw technique. From the results I am pretty sure several things were happening. First, I havent built a crosscut sled for my saw yet so I was just using the miter gauge to make the tenons. I am pretty sure the pieces slid along the miter gauge as I made the cuts because the shoulders on some tenons were angled and on some they were at different heights (so it is nice and tight on one side but a gap on the other). I did use a stop block on the rip fence to line up the cuts but I suspect movement. The "angled" shoulders were stepped, not really angled, so I think the piece was slipping as opposed to the miter gauge not being at 90° to the blade.
Second, I had inconsistent groove depth and tenon thickness. I am pretty sure that was a result of uneven pressure applied above the dado as I made the cuts. I guess it's time to make the auxilliary fence that I purchased wood for but never bothered to make so I can mount a featherboard or other hold down above the cut for next time.
Third, my wood was not a consistent thickness. So I have nice even coplanar faces on one side and a step on the other. I have started aquiring/asking for hand planes in an effort to learn how to fix this before I do the joinery on my next project. I quite like the idea of using hand planes and hand tools in general, so I hope it doesnt take me too long to figure out. I've used low angle block planes before but there is not much to them. I am enamored with the idea of learning hand cut dovetails.
So next step is to get everything test fit and then measure and cut the panels and start the glue up…
-- Good Judgement Comes From Experience. Experience Comes From Bad Judgement.
---