I started trying to make some zero clearance inserts for my saw so I can start cutting up the wood for the blanket chest I am working on. I have never done this before so I wasn't really sure what to expect. I looked around at premade inserts and could not find one specifically for the used saw I picked up. I did find some blank sheets of laminate coated phenolic made by Leecraft. The one I ordered was the Leecraft BK-1. It is about 1/2" thick and is 11" by 15". It is the same price as all their premade inserts only I can make 2 from the blank, so it seems like a good deal. If they had made the blanks 1 inch wider I could have made 3 inserts from it. Instead, I made 2 and have some left over material that I need to find something to do with.
The material looks great. It's black phenolic, which I haven't seen before, but it is rigid as heck. The plastic laminate is also great, although the pieces I got looked like someones old countertop. I wasn't expecting that. It sure is low friction stuff compared to the top of my tablesaw. This was the 1st time I worked with Phenolic and…
I didn't like it. Not one bit.
This stuff makes a lot of dust and isnt very forgiving. It really generates a lot more heat than I expected while drilling. I noticed it after trying to cut the finger holes with a spade bit and smelling something burning. I looked down to see embers smoldering on the wood I used to support everything. (I have since ordered a fire extinguisher).
Anyway, the stock insert fit terribly loose so before I used it as a template to route the new inserts I added masking tape along its edges until it fit nice and snug. This gave me a better template for the bushing on the router bit to follow. I have a really long flush trimming bit for a project I did a while ago so I thought I might save time by carpet taping two pieces of phenolic to the stock insert and routing everything with my hand held router at the same time. It worked, but the results didnt some out as nice as I was hoping. The sides were not straight and smooth and phenolic is tough to sand by hand. It was a bit dicey to control the router and the phenolic is tough stuff to cut. I was using a carbide bit.
I tapped 4 holes all the way through so I could put 1/4-20 set screws in the insert that would be adjustable from the top of the insert, similar to the setup on the stock insert. I also drilled the end of the insert and put a 10d nail into the hole and trimmed it with my dremel tool so I had a pin sticking out the back end. I had originally planned to also drill and tap holes in the side and front of the insert so I could adjust the fit to be dead on because I assumed there would be a gap. After routing the templates and then doing a bit of careful hand sanding and constantly checking the fit, there is no need for the extra screws as there is absolutely no gap.
While I was at it, I also made a few MDF inserts as well as an MDF template that I can use in the future. It was so much faster to create the inserts from MDF and I figure I can have them around for when I want to do non standard cuts. I will probably use the phenolic inserts for 90 degree cuts with my standard blade and my dado blade. To cut these, I used one of the phenolic inserts as the template. I also got my sanity back and used a much shorter 3/4" flush trim bit in the router. It was much easier to keep under control.
In the pictures below you can see 1 image of the phenolic insert installed and one with the MDF insert installed. I wasn't sure about tapping the MDF but the threads went well. Its not like it's a structural joint so I am sure it will be fine.
The next step is to get the elevating mechanism in my saw fixed and start cutting some slots for the splitter and the blade. I also plan to make a little aluminum splitter for non-thru cuts.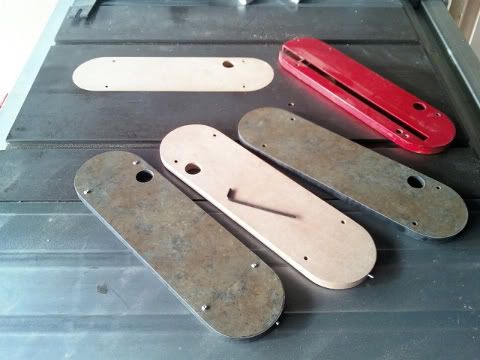 -- Good Judgement Comes From Experience. Experience Comes From Bad Judgement.
---