I finally made up my mind about what to do with the lumber rack in the last blog post.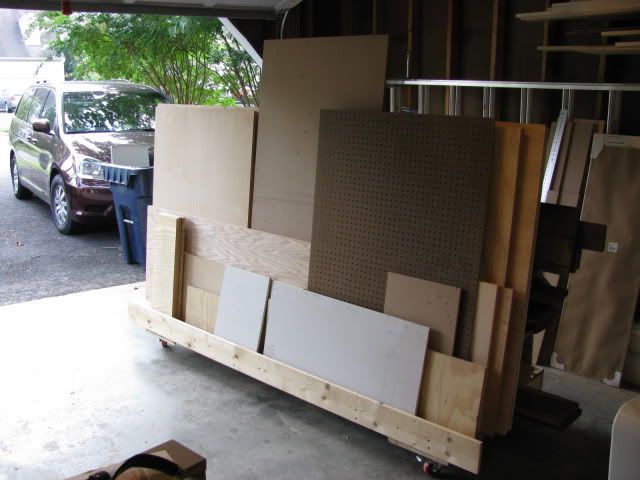 The theory was that the behemoth of a rack would sit in the right bay of my garage. When I wanted to do some woodworking, I'd pull my wife's car out, push the rack into her spot, and then I could work at my bench. I know you don't see it in the photo above, but the opposite side would hold tons of tools and clamps. That means that right behind me would be everything I needed at my reach.
Reality was very different from what I had envisioned. The rack ultimately ended up at about 1500 lbs and was difficult to move. It was also impossible to get anythign done if the car was still there.
I finally needed to make a change. As you've seen, I removed a triton lumber rack, built another of my own racks, and rebuilt the sheet goods storage. The first two items can be seen here:
http://lumberjocks.com/HokieMojo/blog/16458
The last change can be seen in this photo with the sheet goods upright. As a result of the rebuild, I got a lb of screws back and some scrap boards.

The sheet goods storage is satisfactorily stable, but I changed it to the wall just in case. I'll only unhook it when I need to get something off it. On the end I was able to some hardware storage (photo below) and on the back I leaned my pipes from my pipe clamps (no photo, sorry).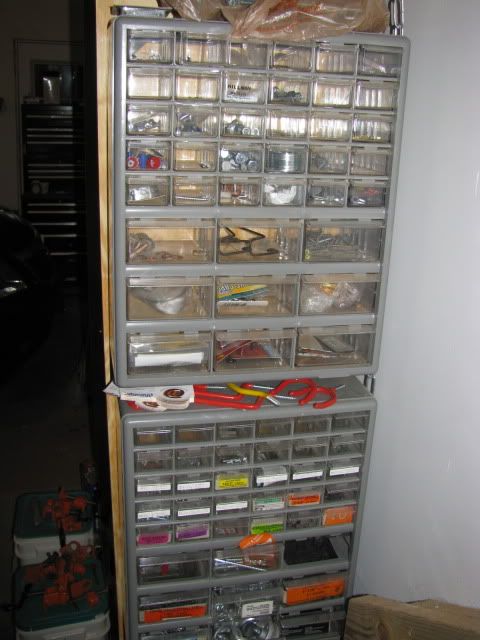 One final Bittersweet addition to the shop though. I've wanted a freezer for the longest time to lower our grocery bills while allowing us to buy some healthier food options in bulk. It hurts to give up so much shop space, but it is the only good place for me to keep it.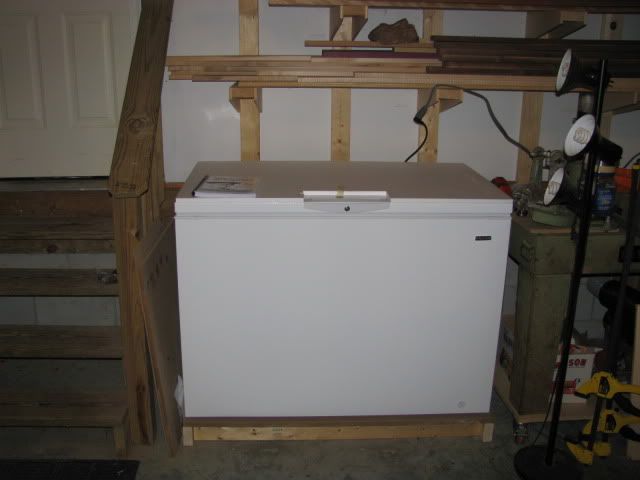 I hope you like the update. I will have a few more posts soon.
---