Sometimes, to go forward, you need to take a few steps back. The last couple entries documented the steps backward; removing fixtures from walls, piling everything in the center of the garage so I could work around the edges, losing my tools in the mess, etc. In this post I start to put things back together. Here is my updated to do list:
To Do (bold items are complete as of this blog posting):
1) Clean up and trash unused items/unusable scrap
2) Consolidate everything in the center of the garage
3) Rough in wiring and electrical
4) Get a sub-panel installed
5) Fiberglass insulation
6) Drywall and Mudding
7) Repeat step One
8) Prime (and maybe paint)
9) Install Fire Extinguisher
10) Add T8 light fixtures
11) Reattach hanging items that will be reused
12) Build a more substantial wall mounted lumber rack
13) Complete and re-purpose my mobile lumber rack/sheet goods storage
14) Take a hiatus from woodworking to hang out with the family
15) Build some small projects for gifts
16) Build shop cabinets, router table, workbench, miter station, etc.
This means I've added my insulation, put up drywall, did some basic clean-up and got my fire extinguisher in place. I didn't take photos of the insulation install. I really wish I did. IT would have been like having an X-ray of my walls available to me. Of all the steps to skip, this is the worst one, but I'm not about to remove anything to take pictures. I will explain what I did though.
1/3 of my walls were already insulated and dry-walled as well as the ceiling. These were the sections that shared a wall with the living space of my home. It was nice to not have to do these areas. In the spots that did need insulation, I used R13 fiberglass batts. The main problem with this is that I have 9 ft cavities to fill but the batts are 8 foot lengths. Also, MANY of the studs are less than 16 inches apart. Thsi meant LOTS of cutting. I borrowed my dads staple hammer though and got insulation in in about a day. Special thanks to my friend Randy who came over and was a HUGE help. What a generous fellow. Here is one bit of insulation I did get a shot of. I tried putting "great stuff" expanding foam around my door. I made a mess. Just a warning to others. Be careful. There really is no way to clean it once it cures.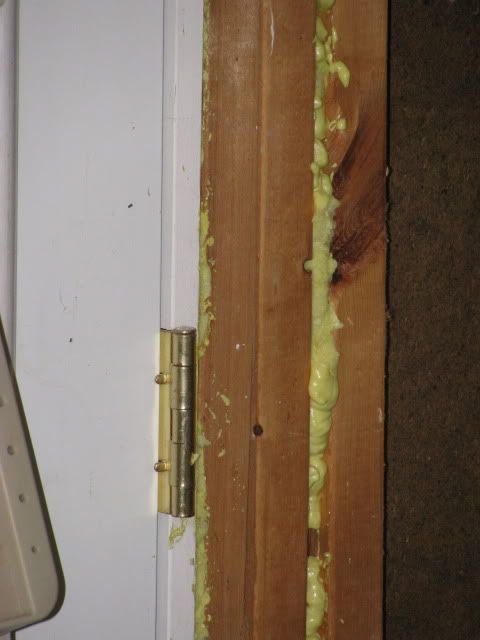 After this, I put up drywall. No pictures of the bare drywall, but I've got some after painting it (I just used primer). Here is a shot of the some outlets. As you can see, I had some trouble cutting the hole for the outlet on the left. Any tips for this?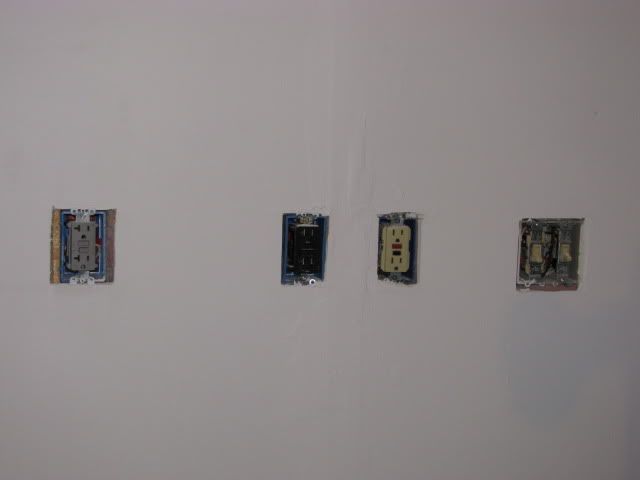 Here are a few more outlets, including the 240V: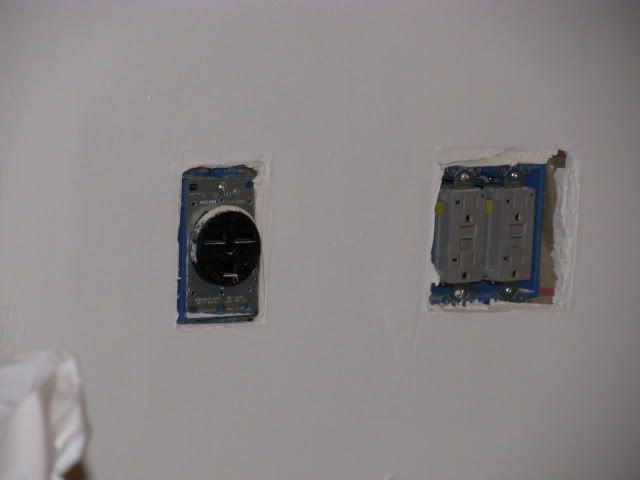 Here is the steal beam that spans my garage ceiling. Cutting around this was a bit tricky. I didn't do a great job, mostly because I had to wiggle the piece into place and damaged it a bit. while the dry-walled section of the walls are 9 ft tall, they rest on cinder-block walls that are another 2 1/2 feet high so I was trying to get this almost full sheet of drywall in place while on a ladder with no one else to hold it while I tried to screw it in place. I did it, but I'm sure the pros (and amateurs) out there would have had a laugh watching me try and do it.

Here is a nice feature that came with my house. Some big shelves that hang above the car bays. While they are pretty nice to have for light but bulky storage, they did make my work a bit more challenging. I basically had 14 sheets of drywall to cover my open spaces. Not bad, but after cutting them to the sizes I needed, I had used about 30 pieces total. In other words, I only installed 2 full size sheets of drywall on the whole project, and both of those had cutouts for outlets. I was pretty efficient though. Aside from one piece left to be installed near my electric panels (after I get some HVAC repair work done) I'll have about 3/4 of a sheet of drywall left over as scrap, even when I include all my tiny scrap pieces.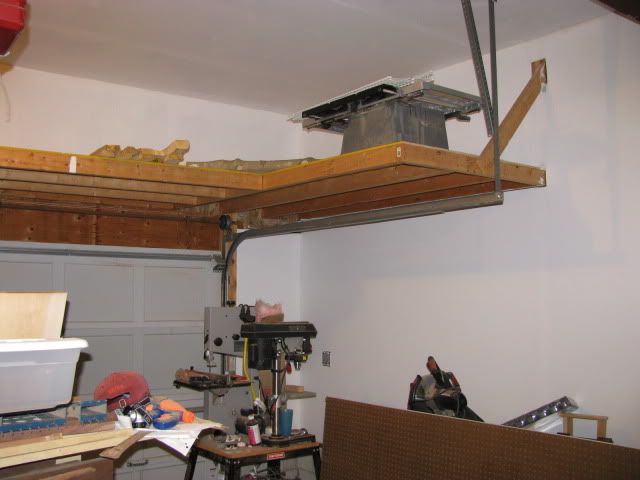 .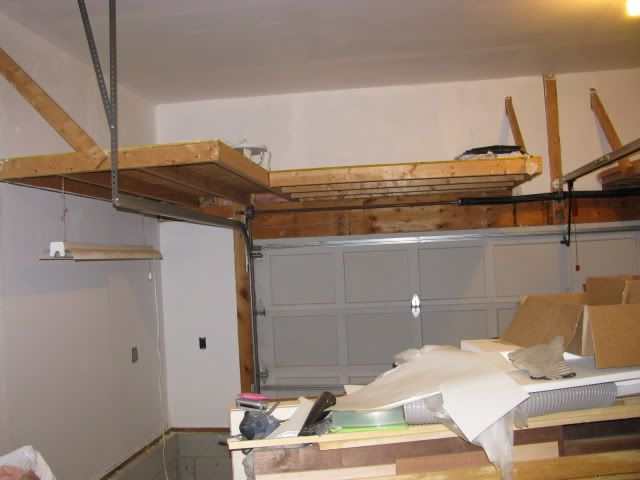 Here is a shot of how I did mudding/taping and a comparison shot of how the pros did when the house was built. Can you tell which was by the pros? They each have 2 coats of primer. I'm not saying I'm as good as the pros, but they did the bare minimum in the garage and it was functional and not ugly, so that is what I went for. Not trying to spend a week sanding and doing 3 coats.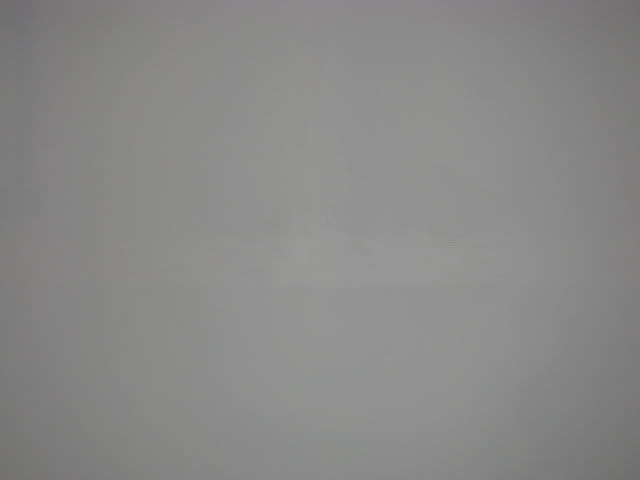 .

And here is the fire extinguisher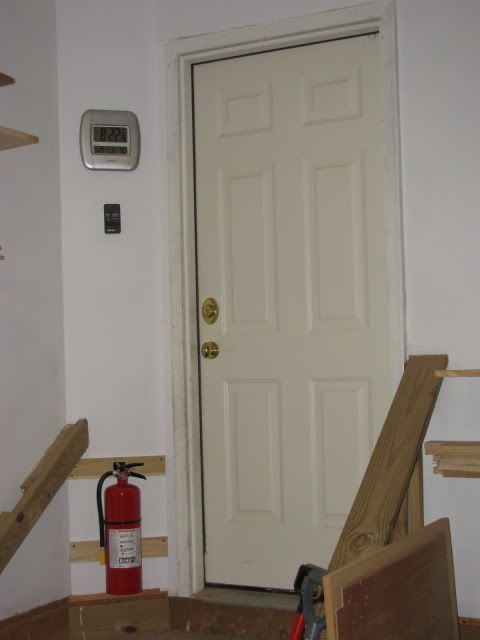 I've made good progress. Next I'll post some pictures of the lumber storage solution I've been implementing. It is slow going for now though. I'm really getting burned out from this project because even though I don't have many tools, I'm still having trouble coming up with good storage solutions for everything. I want to put more stuff on my walls, but I seriously worry about putting too much weight on them. I also do need to let my wife keep a spot in there. I made a promise and I do intend to keep it. Stay tuned. I'll have something new in the near future!
---