DISCLAIMER:
I did all my work with the wiring while it was not hooked up to any power sources. One I got to that point, I stopped and let a pro review my work, fix my mistakes and do any of the dangerous work like hooking it up to power. Mistakes might be in this blog, so don't take this as a how to. I'm just documenting my understanding of the process so you can see the progress. Consult with a professional to do any of your own work!
To Do (bold items are complete as of this blog posting):
1) Clean up and trash unused items/unusable scrap
2) Consolidate everything in the center of the garage
3) Rough in wiring and electrical
4) Get a sub-panel installed
5) Fiberglass insulation
6) Drywall and Mudding
7) Repeat step One
8) Prime (and maybe paint)
9) Install Fire Extinguisher
10) Add T8 light fixtures
11) Reattach hanging items that will be reused
12) Build a more substantial wall mounted lumber rack
13) Complete and re-purpose my mobile lumber rack/sheet goods storage
14) Take a hiatus from woodworking to hang out with the family
15) Build some small projects for gifts
16) Build shop cabinets, router table, workbench, miter station, etc.
I'll start off by saying I lost some photos, but I still have some good pictures to show you in this post. Just bear with me.
Also, I'd like to extend a special thanks to Alexander for his help getting me educated on the purchases I was about to make. It is a huge help when you know what you are talking about when speaking to the pros. They might not know woodworking so communicating your needs (and knowing what those are) is important. Thanks!
I moved all my stuff to the center of the garage. It gave me a whopping 3-4 ft of space all around the edg of the garage to install wiring. The flaw with this plan was that I learned on the job that I needed a lot more tools than I originally thought. Those tools were inevitably buried in the center most portion of the pile. Ahh, the fun.
As you might have seen in my last blog, the electrical box is in the back left corner of the garage. I needed add outlets to the front left corner, back up and over the garage door to the front right corner, and another pair of outlets to the middle right wall. At the middle right wall, there will also be a 240volt outlet to power my jointer and maybe a tablesaw in the future. Here is what the outlets each look like:
240 volt: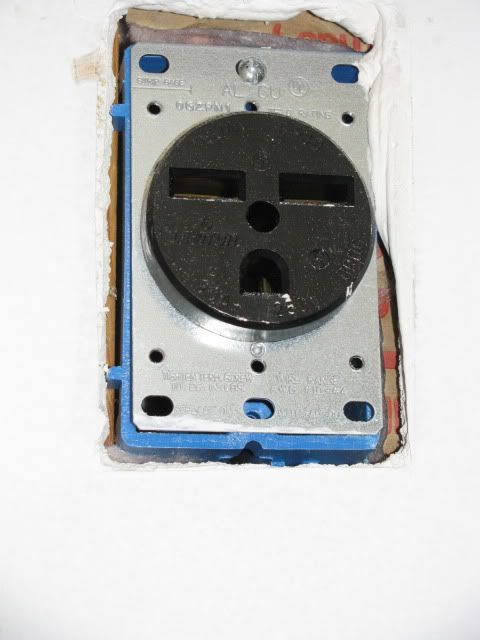 120 volt – This was the hardest part of the entire job. It was almost IMPOSSIBLE to get these THICK wires tucked back into the box. Just a warning in case anyone wants to use 10 gauge wire. If I were an electrician, I'd charge double for this.:

In total I'll have three circuits at each corner of my workspace: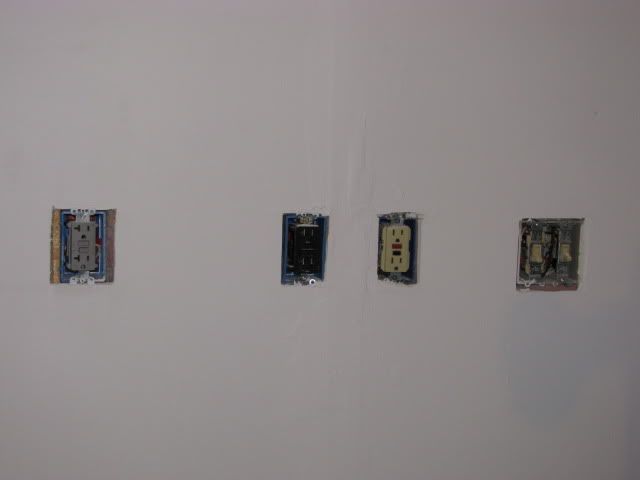 For each of these outlets, I used 10/3 wire. That is some really tough stuff to run. It might not be to bad to run it in a straight line, but when you need to zig zag around an I beam, the occasional exterior sheathing nail that is buried in the 2×4's, or shelving supports, it does make it a lot tougher to pull the wire. I did go with the heavier gauge because of the length of the run, the capacity to run large tools, and the ability to use it for my 240v outlet.
Here is a comparison of 14/2 (white) wire and 10/3 (orange). It probably doesn't look like much, but it makes a HUGE difference when trying to feed the wire:

After doing the rough wiring, it was time to get the sub-panel in. This was a job for someone who knew what they were doing, but I did know what I wanted. I went with a 100 amp sub panel. It is fed by 2/2/2/4 wire. I order the material and asked for a 6 foot length so that it would reach from adjacent spaces in the wall. Thankfully they actually gave me about 9 feet because I used almost all of it.
Here is a photo of the new box being installed:

If you are curious about the difference between 10/3 and the 2/2/2/4 (insulated sheathing was removed. The wire is actually all four wires in one), here is a photo. The wire is literally solid copper a little thicker than a garden hose!

The remaining things to be done are to add four 4-bulb T8 light fixtures. I'm going to do this by running conduit along the ceiling and calling a pro back. I will be getting a new heating/air handler system for the house so I'll keep the blower and build an air filtration box (I think this will require a 240 circuit). I want to add another 240 volt circuit in case I ever get any more big tools (I'm planning ahead by about 30 yrs) Finally (unrelated to shop use) we want to get a chest freezer so I'm going to need to add one more outlet for that. I need to get a pro back out here soon! (-:
---