In my first blog post of the series, I discussed some considerations for my garage. It didn't get a huge response, so this time, I'm posting PICTURES BELOW (-: My garage shop renovation has been underway for a couple months with me working every other weekend when time permitted. I've been trying to take occasional photos, but haven't really had a lot of time to keep up with a blog. Here is my retroactive attempt to get things up to speed. But first, here is my to do list:
To Do (bold items are complete as of this blog posting):
1) Clean up and trash unused items/unusable scrap
2) Consolidate everything in the center of the garage
3) Rough in wiring and electrical
4) Get a sub-panel installed
5) Fiberglass insulation
6) Drywall and Mudding
7) Repeat step One
8) Prime (and maybe paint)
9) Install Fire Extinguisher
10) Add T8 light fixtures
11) Reattach hanging items that will be reused
12) Build a more substantial wall mounted lumber rack
13) Complete and re-purpose my mobile lumber rack/sheet goods storage
14) Take a hiatus from woodworking to hang out with the family
15) Build some small projects for gifts
16) Build shop cabinets, router table, workbench, miter station, etc.
That's quite a list, but I've already done a lot. I'll show that in future blog posts. For now, here are some BEFORE pictures. Unfortunately, these were taken when my wife and I were looking to buy our house about 6 years ago. I wasn't woodworking until two years later and all I saw the garage for was a place to fit 2 cars. As such, I didn't take a lot of pictures.
This is from the garage door looking in. You can see a door that is a small closet. It's useful for a bit of storage but doesn't have a light so I don't care much for rummaging around in there. I worry what I'll find in the dark enclosed space.

Here is the furnace/hot water heater. Nothing exciting, but in the photo you can almost see the closet I mentioned. This is also one of the one and a half walls that are already drywalled (and I assume insulated)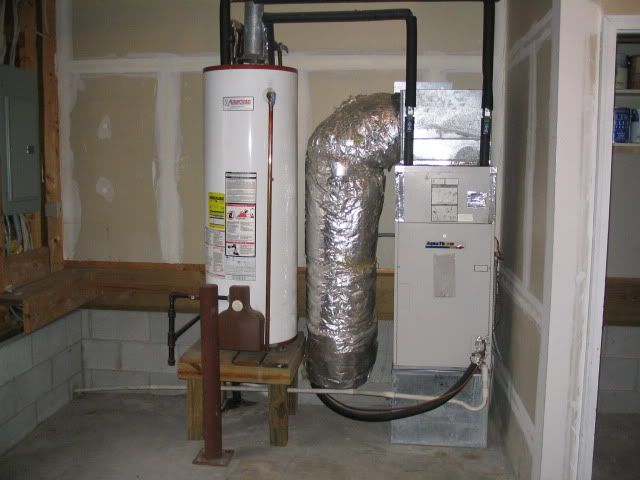 And here is a shot from the back of the garage looking toward the door. You can see some nice big shelves above the door. These seem nice, but I question how much weight they can hold. I know they each supported 200 lbs when I was putting in the insulation/sheetrock but I won't be putting much heavy stuff up there since i don't want it coming down on my car, no matter how little value it has. These shelves will also provide some real headaches for me when I try to drywall around the support brackets in future blog posts.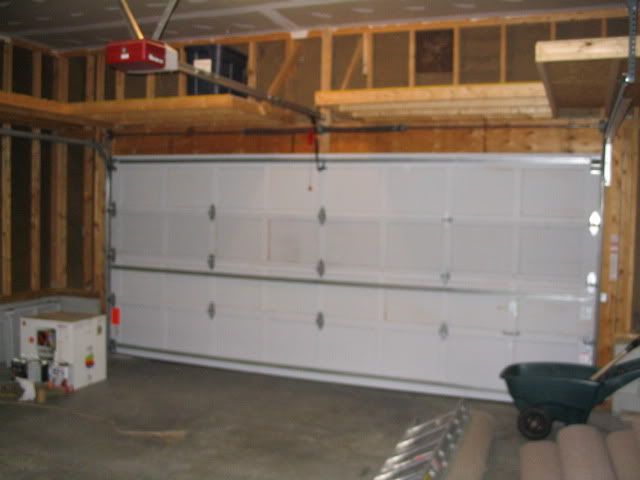 If you want a few more pictures, you can catch glimpses on another of my lumberjocks blogs by looking in the background of the photos. Basically, it is an unfinished garage. Nothing special. Hope you check out my future posts. More should be following in the next few days.
---