Before I start, if anyone has any suggestions to make my blog more readable, please let me know. I spend about an hour on each entry and I still feel that they are severely lacking. I can't do much about the topics since I only blog what I'm working on. I try to include photos too. I may be a bit long winded though. Any criticism would REALLY be appreciated.
I debated whether to post today because it doesn't look like I did much, although I think I did lots with few visual results. I committed to blogging this project through to the end since I think I can finish it on my week off, so I guess I should do it right. I should take one moment to say that my wife has been very good about taking care of our daughter during the day so I can work on this, but there is one catch. My daughter's playpen shares a wall with the garage. We are also trying to get her used to afternoon naps, so anytime it looks like she might zonk out, power tools have to go off. Inevitably she is ready to sleep anytime I finish laying out my cuts and have just put on my safety equipment. I spent 5 hrs working today, but probably could have done this in 3-4 if I was on my own schedule.
In the morning I ran some errands and one of those errands was to get 3" screws. That allowed me to firm up the base that I had just nailed together the prior day. I decided diagnal bracing with 2×4's wasn't necessary because of a couple design modifications (covered later).
Now that the base was nailed and screwed, I needed to add my wheel supports. These came from a 1'x4' piece. Here is is marked for cutting. Hopefully you can see the 8 triangles.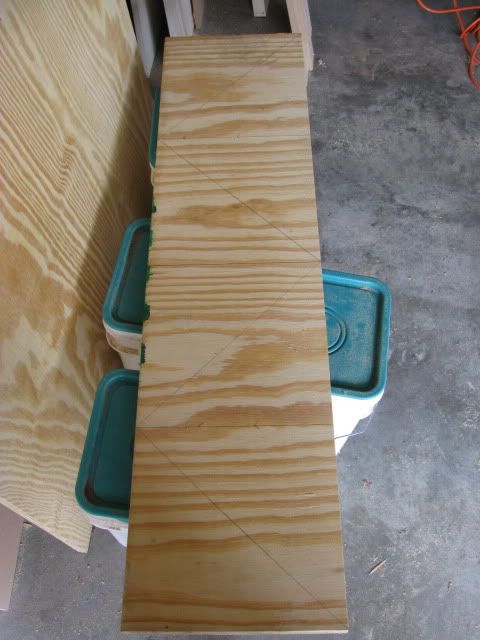 After cutting them I tried to double them up with glue. I know the clamping pressure is not sufiicient for that much surface area. I thought it would make it easier to assemble everything, but changed my mind after the first two.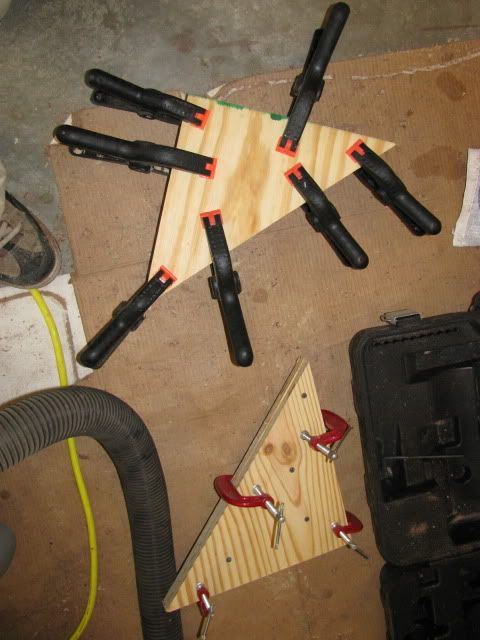 Now I've got somewhere to attach the wheels once I decide which to use. Here is what I've got
4 of these:

or two of each of these: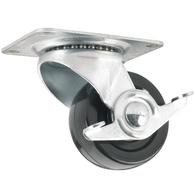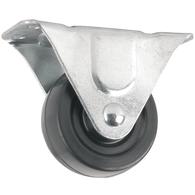 I've still got a day to think about the wheel choices. Now I flip over the base so it is right side up and start working my way upward. Here is the first change I made. I realized that while my design modifications would be fine for long lumber storage, I kind of need a floor to support the upright shorts. So, I'm swapping out a 2×4 from the original plans with a 1×6 to be used later. Now, the 2 pieces of 4'x6" plywood I cut yesterday are going to become part of the base. Here you can see it glued up. IT will serve as a floor for the cutoffs and will give an edge for the "A-frame" type structure to push against.

I also decided I'm going to use some scrap shelving to make a floor for the plywood. I'm certain that I could store the plywood across the exposed 2×4's but it might do some damage to the edges, particularly when trying to load and unload the 3/4" pieces. This is my 3rd cheat (1st was using old pegboard, 2nd was swapping out a 2×4 for a 1×6 (although the 1×6 was even cheaper)).
Now I need to start in on some of these large sides. I layed out the windows on the plywood support side. I plunge cut with the circular saw. This did scare me a bit because it feels like I'm cutting on a table saw without a fence or miter gauge. I'm not sure what the difference is except for maybe h.p.m but I guess it worked fine. here are the pictures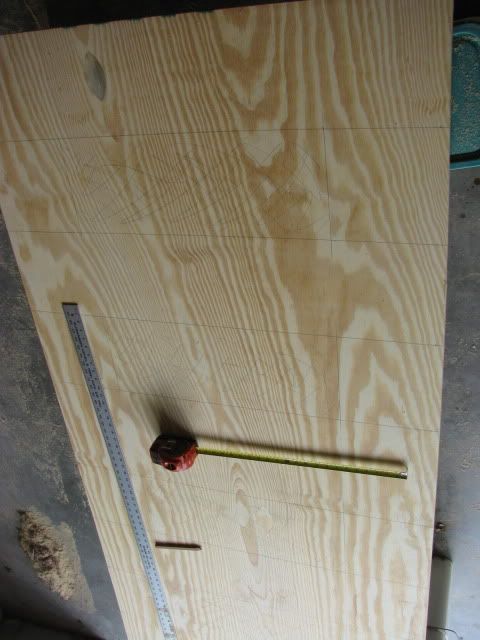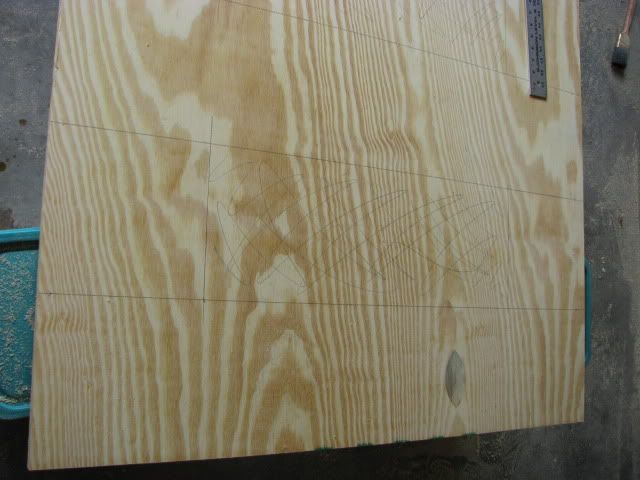 Once all is done, it looks like this:
So here is what I still need to do.
1 attach wheels
2 Attach the MDF to the base for the plywood storage side.
3 Attach the cleats
4 Cut the shelves to width and angle the edges to match the slant of the sides (the sides will be 18" apart at the base, with 3 subsequent shelves being 16", 14", and 12".
5 Attach the shelves
6 layout the dividers (unless you guys think my plunge cuts came out perfectly straight)
7 attach dividers
8 attach the front of the cut-off bin
---