I'm taking a few days off of work to spend some tiem with the family. I'm also trying to get a bit of work done on my storage solution. Today was a great day with my wife and baby daughter at the local farmers market and splurging on some pizza at a downtown restaurant, but after that and hanging around playing, I didn't start working in the garage till about 4:00. I didn't do much, but I cleared enough space to work (not easy when the space requires 3 full plywood sheets) and I started framing the base and cutting some panels. Here are some pictures of my work.
First I started framing up the base. I used 4 2×4's for this. Unfortunately, because of my current mess, I can't find my 3" screws. I did have my 3 inch nails though, so I used 1 at each joint to hold it together. I'm going to add the screws after a run to the store tomorrow. I was planning to nail anyway because it feels like they have better shear strength, but the screws really help keep things nice and rigid over time. Here is a shot of the framing.
On top of the base, you can see some plywood. those are the cleats I cut off. They are 3"x7'. Here is a closer shot of those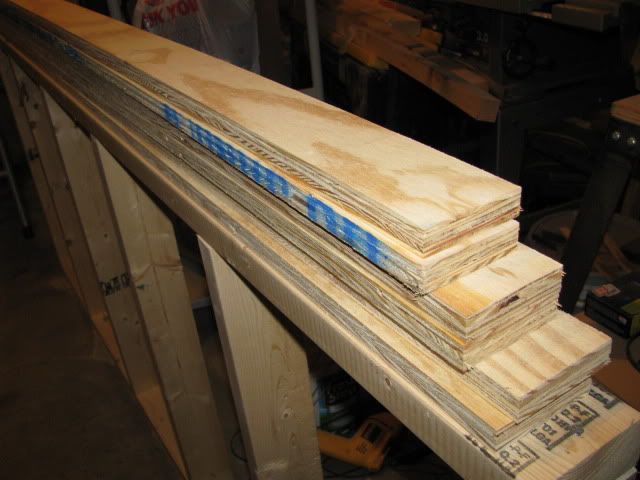 In addition to cutting the cleats from the long ends of the boards, I cut 1'x4' sections from the short ends. The remaining pieces are 3'x7'. These will be two of the sides and the last piece will be ripped into shelves. You can see that by removing only 1 ft from each edge, I reduce the sq footage from 32 to 21. That reduced the weight (and cost) by 30% without impacting the functionality. Here you can see the size difference. The pine ply I'm using is on the left and an uncut piece of polar is on the right.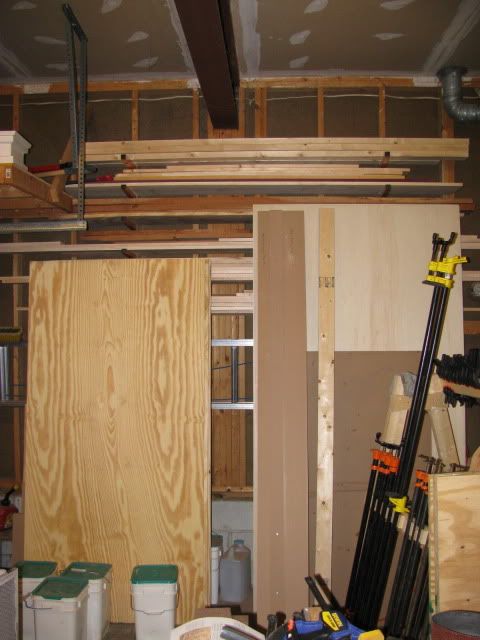 Finally, I did have one problem. The plywood is warping some. I planned on this maybe happening, but I didn't think it would warp quite this badly. Thankfully it is only one of the 3 sheets, and I think the design will allow me to easily force the materials back into place. here is a shot of the 3 1'x4' pieces. can you guess which will be cut into the 8 small triangles and which will be reserved for the larger pieces?
---