I'm planning to blog a VERY small project here but unfortunately, I need some help before I really get started. As an incentive for your assistance, I'm going to post a bunch of pictures which you will find below.
I recently purchased the material for my project from and individual on ebay. I basically bought a box of thins/cutoffs of various unidentified exotics. I need so help identifying what I've got (if you are up for the challenge.
Below is a photo of all the materials stacked by type. I'm not even sure I got this right, but I tried. Sorry for the mess. I'm in the middle of cleaning.

I was debating whether to post my guesses or not, but I might as well. I've linked to some of the ebay sellers other auctions. I know that he could potentially have somethign ID'd wrong, but he certainly sells lots of material and I feel like it should make comparisons easier than linking to other great sites like hobbit house inc. I'll also add that the seller really crammed the box full. After opening it, I could barely get everything back in. I ordered cutoffs and got a free puzzle.
Top row (left to right)
Padauk, Canary Wood, YellowHeart (maybe osage), ???, cocobolo
Second Row (left to right)
marblewood, paela, rosewood, zebrawood (maybe riftsawn causing the gaps in the stripes), bocote, redheart, ????, sycamore, chechen or zircote
Last board (center bottom)
limba
I know that a single photo is not the easiest way to go, so here are more detailed pictures. hopefully you can figure out how they relate to the picture above. I'll try to go in the same general order as i listed my guesses.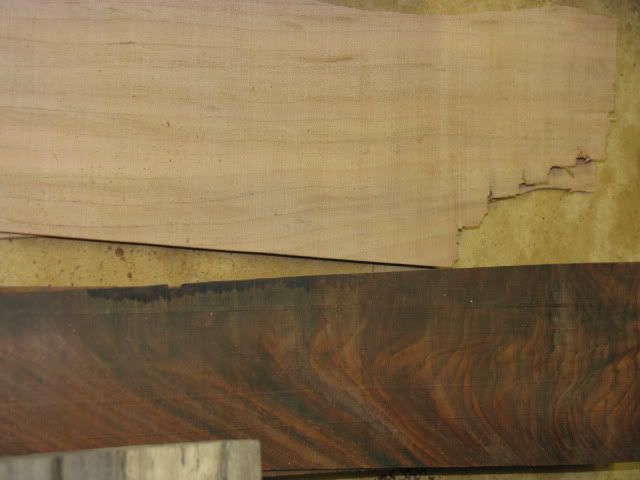 ---