Ok, spent last night and this morning tuning the saw. The nice thing about this saw is that everything I can think of that might need adjusting is fairly easily adjusted.
I followed the instructions on Rikon's site and was able to adjust the lower wheel so the blade now runs on the center of the tire. This involved loosening and tightening the bolts that hold in the prescribed fashion. I over compensated a little bit on the first try but hit it dead on the second.
I was able to square up the table to the blade using the trunnion micro-adjust screws as described in the manual. This involved loosening the main bolts and tweaking two 3mm hex bolts. now it is dead on.
After the tune up I decided to attack the ~6"x36" ash log that put and end to my Jet 12" BS and started me on this journey. The result?.....I was thoroughly impressed because it felt like the Rikon did not even know the log was there. This was especially impressive since I was using a TW 3/8" 6TPI blade that I had been using earlier when cutting some bowl blanks. I thought I'd finish the cut then switch the blade, however it cut so smoothly and easily i just finished the log with the blade.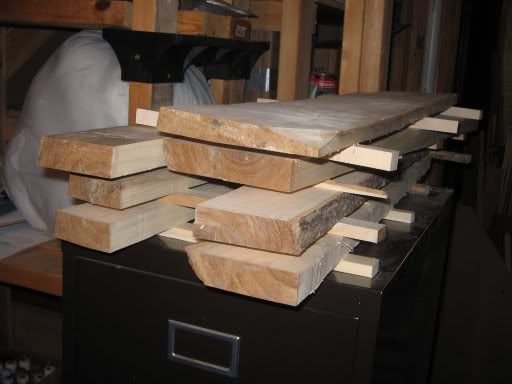 Thanks to everyone here for your previous reviews and tips. I know I am going to love this saw for a long, long time!
I will try and remember to update after I get more time behind the saw and let you know if I'm still happy but for now…..I'm thrilled!
-- John H. [To invent, you need a good imagination and a pile of junk. ~Edison]
---