Hello Fellow Lumberjocks! Welcome to my very first attempt at a blog.
Let me open this discussion by letting you know that I am a self taught carpenter, with a humble collection of tools and a humble little workshop. I truly enjoy the Lumberjock community because we are all made to feel as an equal participant of the group, regardless of our individual skill levels.
An important part of my growth in the wood art is to work hard at improving my skills and learn valuable new techniques whenever possible. This router technique and jig are an example of a skill that I have learned through others success.
Creation of this jig and its usage comes from the fantastic book "The Complete Illustrated Guide to Shaping Wood" by Lonnie Bird. I heartily recommend this publication as I learned some great techniques from it's pages, and use it as a reference for solving woodworking problems often.
You can view a selection from and find sales sources for this fine publication at:
http://books.google.com/books?id=4jtB-JVTerAC&dq=the+complete+illustrated+guide+to+shaping+wood&printsec=frontcover&source=bn&hl=en&ei=g57JSc7NMt7rnQec5MnJAw&sa=X&oi=book_result&resnum=7&ct=result#PPP1,M1
There are numerous woodworking applications that this jig can be used for. Circular tabletops, clocks, lids, etc. My initial experiments with the jig have resulted in a nested lazy-susan display stand, and several serving trays.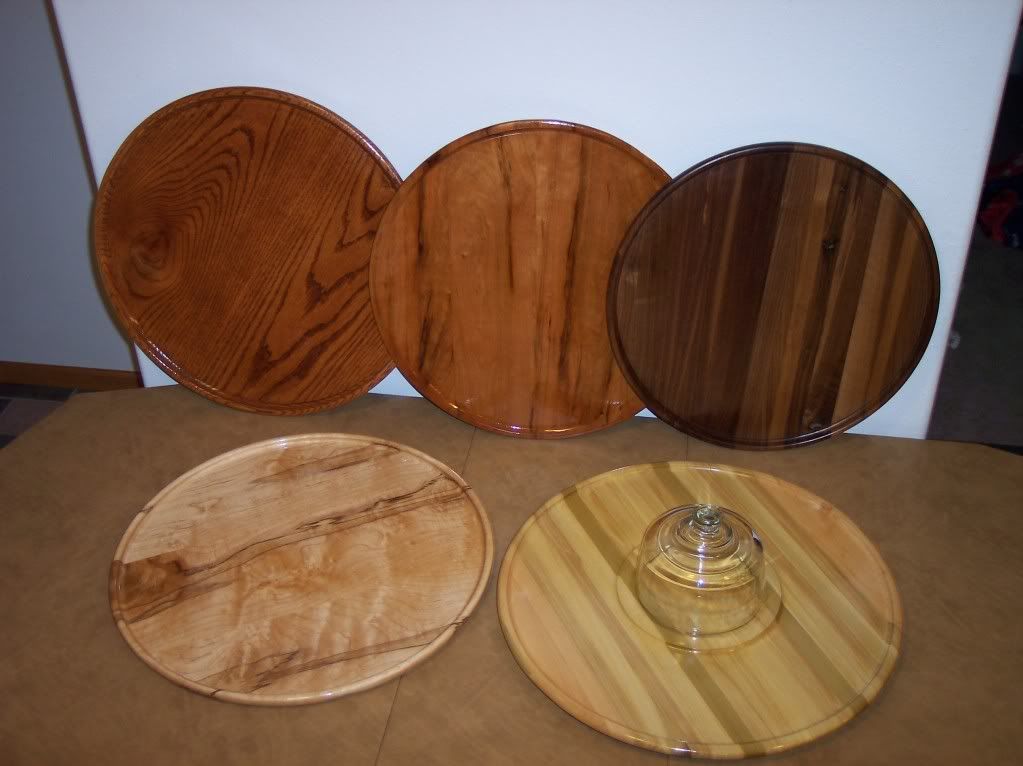 !
NOTE
It appears that my photos are not properly sized for the format of this blog. I have edited my posting to allow viewers to click on any picture and you will be given a full screen view of that photo.
This blog will be presented in a series of 3 postings
This initial posting will cover the overall concept of the jig and its application. We will also discuss choosing the proper router/router plate/ and bit combination, and a guide for creating a jig for your own use.
The second posting will cover creation of your wood blank, attaching the pivot point/axle to your blank, and putting all of the pieces together into a smoothly working assembly.
The last entry in this blog series will cover usage and proper operaton of the working assembly to achieve a perfectly round piece. We will also discuss properly dishing out the center of your blank, tips on how to achieve a eye catching rim treatment, and end our discussion with some finer finishing tips.
Lets get started.
Concept:
I would refer to this as a simple sandwich jig. The stationary upper and lower jig halves surround your work piece, and also cradle your router assembly above the work.
I shall refer to the upper half of the jig as the router sled, and the lower jig half as the sled base.
The router bit cuts into the wood blank through a slot cut into the router sled. The jig and the router remain stationary, as you spin the wood blank on a hub, centrally attached hub to the underside of the work.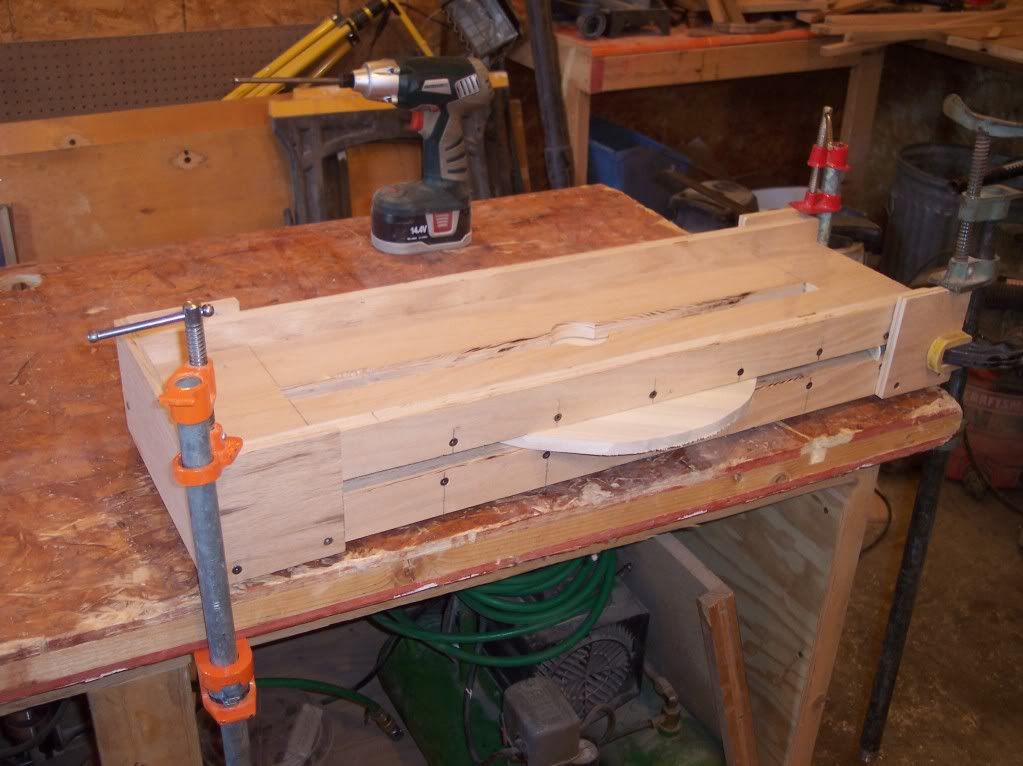 To use the jig, simply assemble the jig with your wood blank in the center of the "sandwich", clamp your router into position in the sled, and spin the blank so that your router cut makes a full circle around the wood blank. Move the router and repeat the process. Continue to repeat this procedure until you have removed the necessary material from the work.

Router Assembly:
While any router would probably work for this application, the construction of your jig will be based upon and built around a rectangular plate attached to a router. You can use a sturdily attached router table plate or attach a solid plywood base to your router. A dust port attached to a vacuum/ dust removal system is strongly recommended (more on this later).
In my application and in all references to follow in this entry, I decided to use a router from my arsenal that already had a router table plate attached to it. It is not my biggest, strongest or most accurate router, but it worked perfect in this application.
For you application, temper the work process and depth of your cuts by keeping in mind the capabilities of your router. I will also add and I implore you to use all safety precautions at all times. Proper router knowledge, eye and ear protection, and a clean work environment can prevent a devastating accident.

Router Bit:
In order to cut the outside circular edge and remove the vast majority of the center material (for a dished tabletop or tray) a straight cut router bit is necessary.
Mr. Bird recommends a spiral straight bit to eliminate chatter and to also achieve a cleaner cut. I would also add to that recommendation that a spiral bit would aid in debris removal, allowing for easier rotation of your blank.

Unfortunately, for my application I have yet to purchase a spiral straight bit, and have been making do with a standard ½" straight bit. I plan to upgrade bits as time allows.
Router bit selection for creation of the edge and rim treatments are virtually unlimited. I feel the selection of these bits are totally dependant upon the artistic tastes of each individual craftsman. Ogee, round-over, cove, core box, and bevel bits (as well as many others) will create pleasing edges.
Jig Construction:
I created my jig from pictures viewed in Mr. Bird's book. using odds and ends of ¾" and ½" plywood, 2×4 lumber, and screws that I found laying around in my shop. I found this to be a cheap jig to construct. During assembly, I felt like it was important to maintain strength of construction through-out the jig, so I used strong screws placed fairly close together.
Below you will find a simple (crude) construction drawing that I have created. Please make note that this drawing is based upon the 8" wide router plate that I selected to use in conjunction with this jig. If your plate is different, please adjust your measurements.

Strong 2×4 lumber is attached to the underside of the jig, to aid in stability and strength.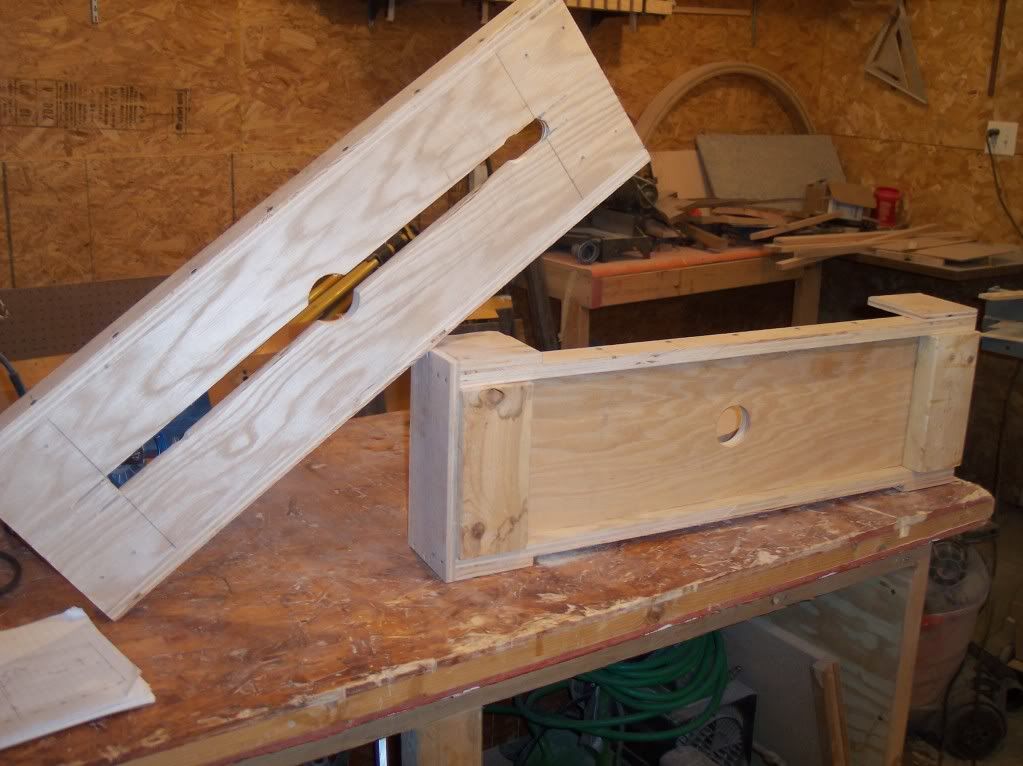 Center Hub:
One of the most crucial aspects of your jig construction is proper fitting of the center hub and axle.
The pivot point for your work will be the center hub cut into the sled base and a matching "axle" attached to you're your work piece
In my case I used a 2 3/16" hole saw to cut numerous "axles" from some ¾" scrap hardwood. I then used an oscillating spindle sander to cut an exactly fitted hub into my sled base. The tighter the fit of your axle/hub combination the truer your circular cuts will be.

I hope that this initial installment of this blog has properly conveyed my introductory thoughts for this fun technique and I am looking forward to presenting to you the next phase of this series.
Please feel free to correct any glaring errors that I have made in instructing, and I will try my best to answer any questions that you may have.
So, until the second blog post is ready for release, I hope that you have the occasion to begin construction of your own jig assembly.
Respectfully submitted.
Trevor

-- Trevor Premer Head Termite and Servant to the Queen - Heirloom Woodworking
---