I have done it hundreds of times—making repetitive cuts on table saw—and I am sure you have too. But NEVER get complacent using a table saw!
There I was cutting a doado in a length of soft cedar, guiding it on past the blades, when it bound up and shot back! When it did, it not only broke my newer fetherboard, propeled the board back into my truck tailgate, but it also drew the push block—with my hand—back over the spinning dado blade.
Here is the board.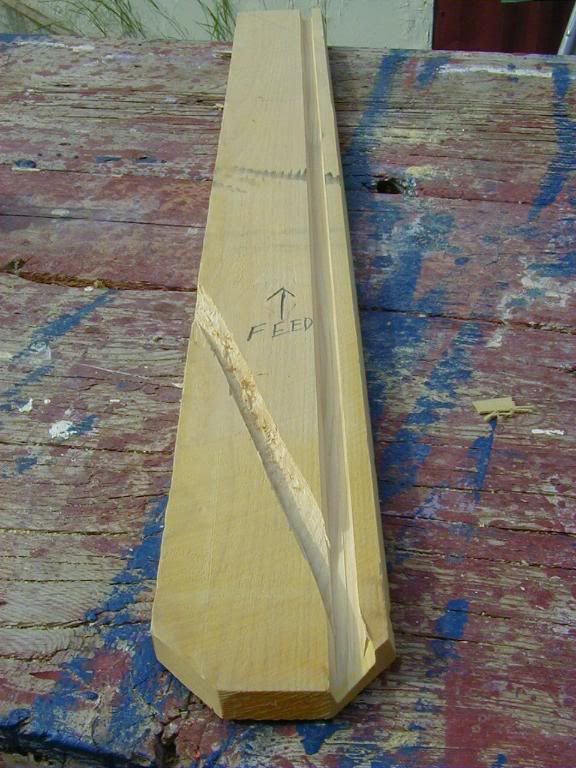 I was using a featherboard to keep board against fence and using a pushblock to apply pressure as it went over the dado blades. I was at the end iof the board and I hesitated just a moment, trying to figure a way to keep the board from falling down to the dirt when all hell broke loose. The board flung back and I thought I felt it hitting my little finger on my left hand. I was noy until I was picking up the pieces of my broken featherboard that I noticed blood on the ground. I looked at my finger and it did not look good!
Here's what my finger looked like at the site:

Here are the new featherboard and the push board. (Note groove in push board. This is what gave me the first inkling that the blade, not the board had hit my finger.)

Well, after being told by the local ER that it would be about 5 hours until they saw me, I had my son drive me 30 miles back to Bisbee, and I was seen in 10 minutes. After the wound was soaked and cleaned of all teh blood, you could tell that the dado blade had hit it for sure!
Here's what it looked like at the Emergency Room: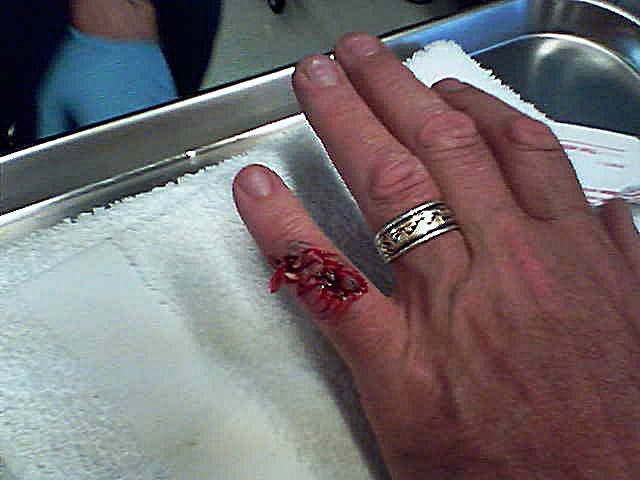 I still will cut al the daoes in the wood to fill a project I contrated for, but I will make me a "safer" push block, sorta like the medievel sword shields, and keep my hands in front of the blades whenever I cut dadoes!
I can only thank my Lord for protecting me from really serious injury! God is so Good!!
Anyway, I have 9 stitches and will have to use a splint on little finger for about a week or so. So, nothing too serious. Just another lesson of hard knocks. We all have them to share!
Be Carefull!
God Bless,
Hawg
-- Saving barnwood from the scrapyards
---