You asked and i'm going to try to explain how I make my inlay strips.
After many trial and error attempts I found it easier if you make a glue up jig shown here.


I used prefinished plywood and made a 1" caul to aid in even clamp pressure when glueing.
Next step would be to choose the types of woods to be used . I typically use a maple/ walnut mix for my diamond center as to get a good contrast of colors. I use a plywood base to act as a zero clearance throat and cut the strips 1/8" to 3/16". An even/odd number of each wood will be needed which wood and how many makes no difference. If you have 6 walnut strips you will need 5 or 7 maple,you will see why later.

After completing the strips its time for glueup. Begin by waxing the glueup jig and caul.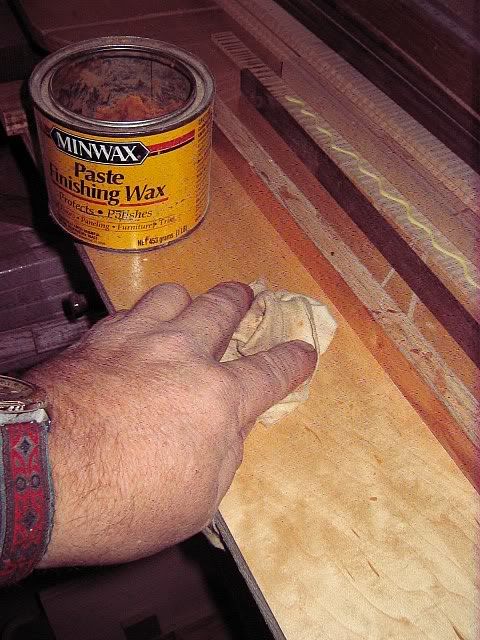 Any good paste wax will work. Let wax dry and buff off wax.
Now start the glueup. Begin with either the dark or light wood, doesn't matter which and alternate each layer with the opposite color. Note: if you start with a dark wood you will need to finish with the light colored wood, thus the odd/even numbers of strips mentioned above. You will see why later. I actually have dark wood on both the outside edges in the pictures. I cut one off later.
Use the caul and clamp the lamination evenly along the glueup. I usually let the glue dry overnite as the glue under the strips takes a while to dry. Unclamp and pry the strip from the jig.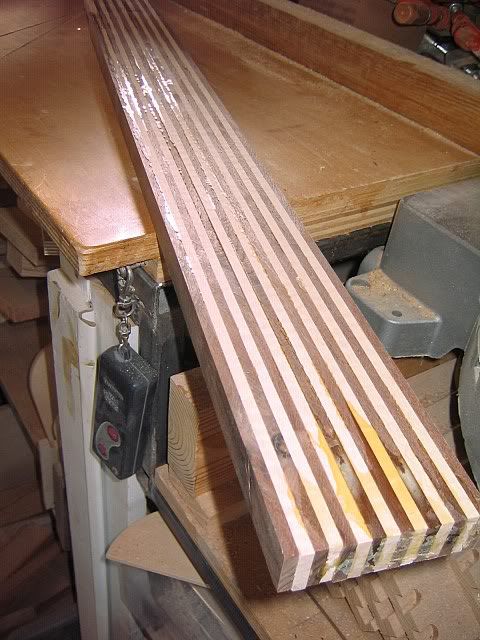 Finished layup.
Join or sand one face of glueup flat and square to one edge, not really too critical. This just gives a flat surface to saw from.
Next step is to start cutting the diamond glueup strips. I made a tablesaw sled that works great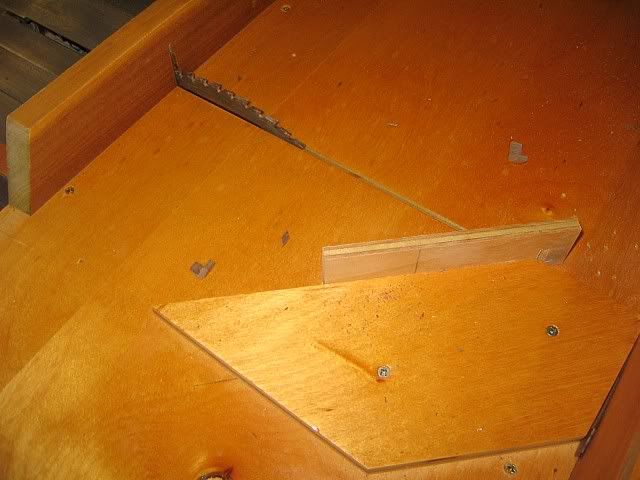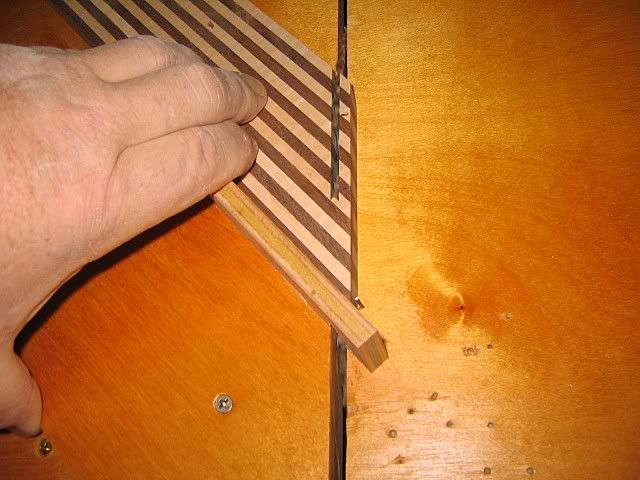 There is a small finish nail used for a stop on the strips. The trick here is to cut the slices exactly so if you reverse the strip and hold it against another in reverse each layer lines up perfectly, this assures an actual diamond. It takes a little trial and error.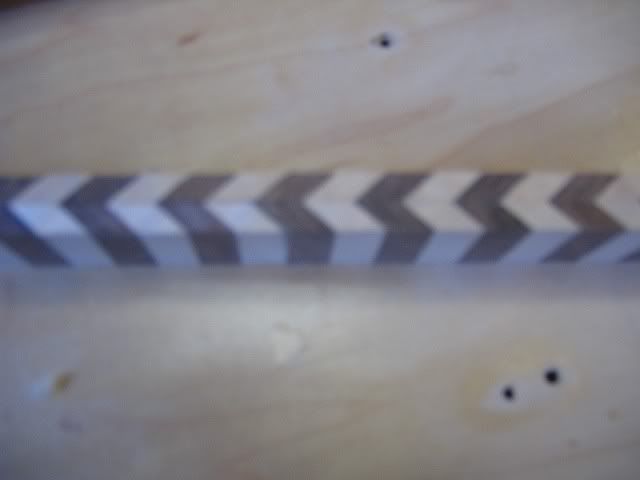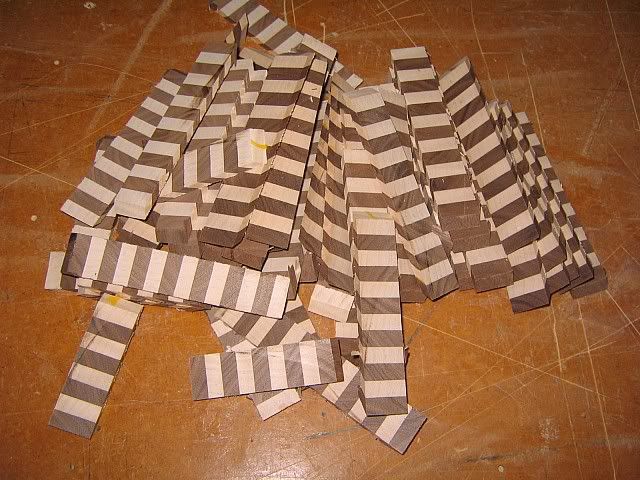 Finished strips and more glueing. Using the glue jig again arrange your strips for glueing. This just speeds things up. I start with 6 or 8 strips and clamp for about 20 min then add 6-8 at a time until to the length I want. This incremental glueup makes it easier to handle the strips as they will want to start sliding and moving on you.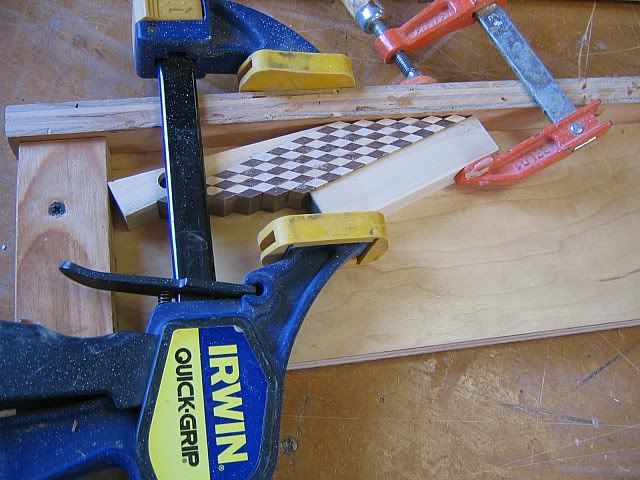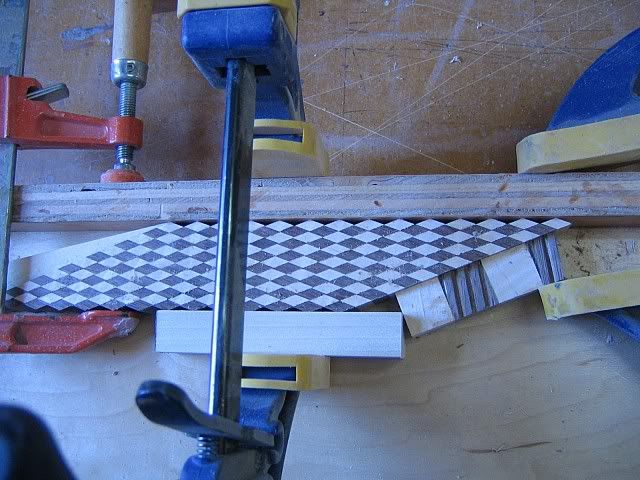 Finished glueup
Back to the jointer to flatten one face and even edges. the edges will be stepped and will require flattening to the exact edge of the adjoining layer. this will assure a perfect diamond.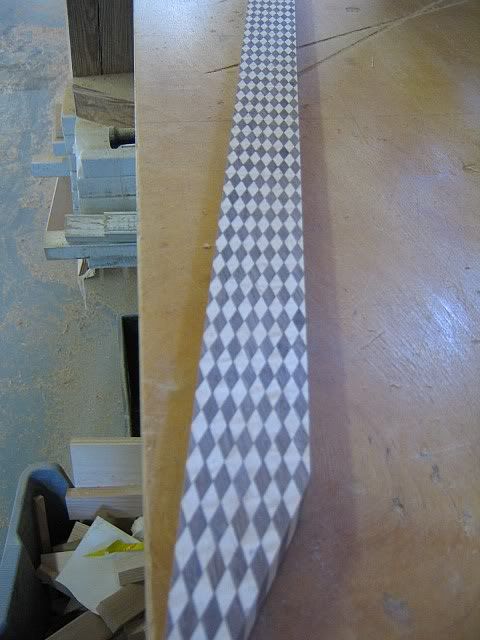 Closeup of straight edge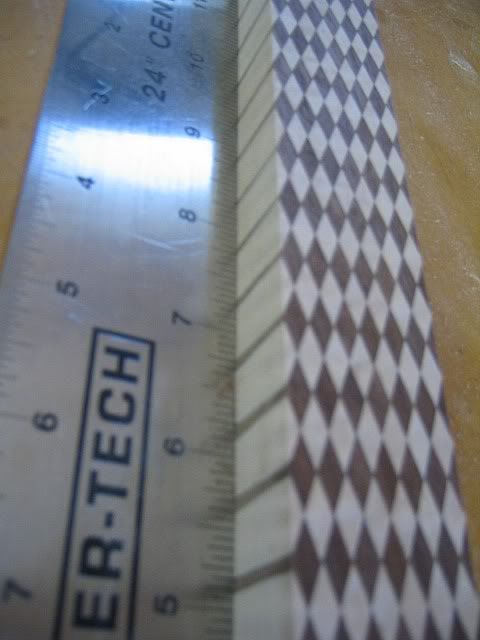 Ok, Almost done with the hard part. Decide wheter you want dark or light diamonds or both. Cut strips from your newly made lamination to your desired design. I use a bandsaw because there isn't as much waste and probably is a bit safer. Cut the strips to exactly touch the adjoining color as in working the edge.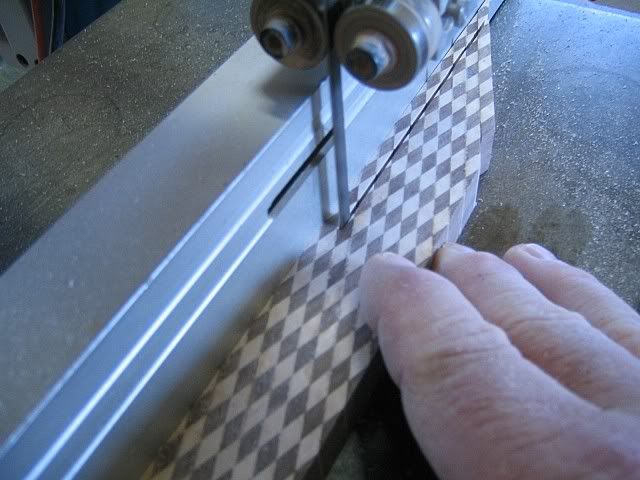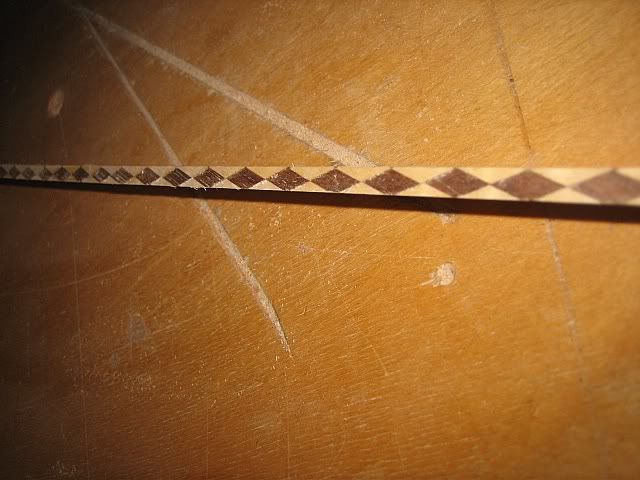 The finished center diamond strip
Ok class almost done. Choose your outer layers to complement the center strip.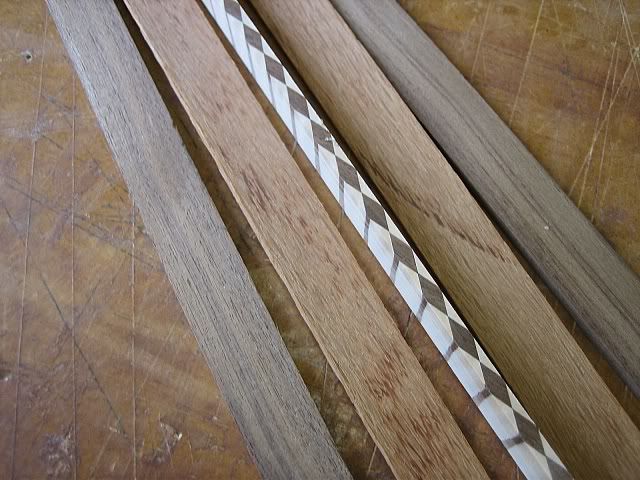 Back to the glue jig and laminate the final glueup.
All that's left is to flatten the bottom of inlay strip, rotate 90 degrees and slice your finished product. I usually cut mine between a 32nd and a 16th.
Hope this helped and added a little clarification to the construction and steps required to make the inlay strips. I don't believe there is a right way or wrong way to do this, just do what works for you. I like experimenting and coming up with unique patterns. Have fun!
-- Gotwood1962, If sawdust were valuable... I'd be a millionaire
---