Yesterday I cut the side verticals of both the left and right cabinets. I then matched them up as to what sides I wanted for the inside and outside of each cabinet and routed 1/4×3/8 rabbits on each piece for the backs.
Then I cut all of the dividers and shelves to width and length.
Since I am making some alterations to the plans to accommodate my antique doors I wanted to see how things were going to look. These cabinets are too narrow to use a double door and too wide for just one of the leaded glass doors so after studying on it for a while I have come up with what I think is going to be a pretty good solution.
I am going to use one door on each cabinet and so as not to have a face frame with a 4" wide stile I am going to make a frame for each door so that the doors will look like they are in a picture frame. If I attach a frame 1 1/2 wide around the entire door the proportions will remain the same but the door will be 3" larger in both directions and I can then make a face frame that will me normal size and I can make use of the full interior of the cabinet.
I am going to have 3 drawers that are 5 1/2 deep in the bottom of the cabinet with a slide out tray above them. I will then have a 10" open shelf and above that a 3" deep jewelery drawer just below the upper shelves that have the door on them.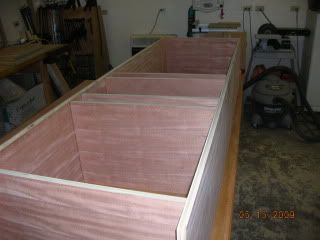 Should be a challenging project as this will be my first attempt to actually design something and make a major alteration to a plan.
-- Gene Miller - it only took me 3 days 9 hours and 28 minutes to get that top flat!
---