Today I applied the finish coats of lacquer to all of the pieces.
After a couple of hours of drying time I put all of the hardware pieces on, installed the legs as well as the center fake legs/ pull handles.
I have come to the conclusion that I need a lot of help with using a spray gun. I either left out a step or do not have the settings right but even though I got a pretty nice finish it is not a really really nice finish that I have achieved with my hand applied finishes in the past. I know that the mahogany is an open grain and maybe I need to apply a sanding sealer after the stain before I started with the lacquer but I do know that it just isn't quite right in my mind.
Anyway here are a couple of pictures of all of the parts with the hardware installed and ready to carry in to the house and assemble in the bedroom.
I hope that maybe I will get some help getting the bed up to the house tomorrow from my neighbor.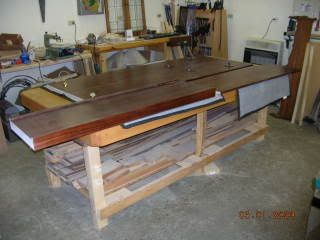 -- Gene Miller - it only took me 3 days 9 hours and 28 minutes to get that top flat!
---