After a couple of days of getting my nerve up to tackle the spraying of lacquer I made the plunge today.
I am using ML Campbell's Pre-Cat Lacquer with a Wagner HVLP Conversion Spray Gun.
I did a little practice on a large piece of cardboard and then some more on the inside of the bed frame that will never be seen by anyone. After some tinkering with the controls I finally got a pretty nice pattern.
I then sprayed the outer case, headboard, and header with one coat on each side. After that I put the frame down and sprayed the outer face with one coat. I let it dry for a couple of hours, even though it was dry to the touch in about 15 minutes, and then buffed it with #0000 steel wool.
I then sprayed a second coat on everything which is what you see in the pictures and I think because of the open grain of the Mahogany it is going to take a couple more coats to get the finish I am looking for, nice and smooth.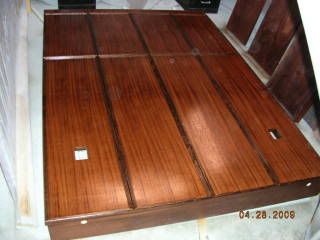 I will not be able to work tomorrow but by the end of the week I hope to have the bed finished and ready to assemble.
Now I have to figure out what to do with the bedroom suit that is now in the room I am going to put the Murphy Bed in.
-- Gene Miller - it only took me 3 days 9 hours and 28 minutes to get that top flat!
---