After a couple of days of mowing grass, moving all the plants out of the greenhouse/paint booth and cleaning up things I managed to get back in the shop and do some work today.
After all the clean up I took the assembled frame and moved it to the cleaned out section that I have up front in the shop. I originally enclosed a 10×10 section with heavy plastic so LOML can bring her plants in to winter over.
I then proceeded to cut the outer Cabinet Verticals, Headboard and Header Board to size.
Then I added some hole locations to my universal jig that I have built for future jobs and located holes for the Bed Stops, Upper Ball Plates and the Main Pivot Plate.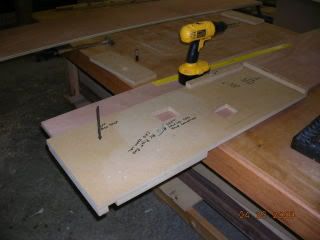 I then Edged Banded the front edges of the Cabinet Verticals and located and drilled all of the required holes.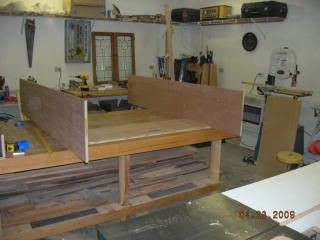 I then took my Headboard piece and strayed a little from the instructions.
The instructions say to locate and drill pilot holes and screw from the outside face of the Cabinet Verticals at the time of assembly, but I didn't want any excess screw heads exposed on the outside so I put biscuits in the headboard and the cabinet verticals and then located and installed pocket holes from the back side of the head board.
I think that by doing this I will still be able to locate the headboard easily and with 6 pocket hole screws will have all the strength that I need.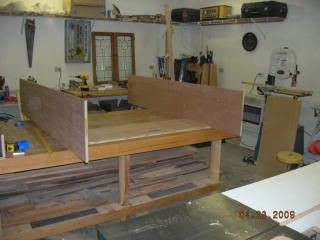 Once I had the headboard done it was time to move on to the header which holds the top of the cabinet verticals together as well providing a place to attached the bed cabinet to a wall when installed.
Again I strayed from the instructions a bit. Their directions said to glue and nail the front rail to the header board but I did not want to have to deal with finish nail holes to patch and sand so I got the kreg jig out again and put in pocket hole screws from the side that no one will ever see.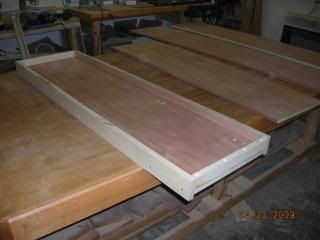 (Note: I think my pictures needed to be smaller so I have tried to reduce them for this entry. I am still in a learning curve with photobucket.)
-- Gene Miller - it only took me 3 days 9 hours and 28 minutes to get that top flat!
---