Hooray, just in the nick of time I got these cabinets finished and in the room.
Tomorrow is the start of rice harvest and I am going to be tied up for quite some time frist with hauling rice then it will be soybeans so will not have much shop time for the next 6 to 8 weeks.
At frist there wasn't much need to worry about when I got them finished but it seems that our granddaughter is going to be staying and going to school here for the next coupe of years. So all of a sudden we needed storage space and quick.
I am happy to have them done to this point and they are usuable with the only thing left to do is installing crown and base molding. That can be done after harvest. LOL
Over all I am pretty pleased with the outcome of this entire project. I hindsight I would make a couple of chages.
The first would be to adjust the bed to make it higher off the floor when opened, second I would make the case for the bed deeper so as to be able to handle a headboard shelf and by doing that I would be able to make the cabinets deeper and then one of or even both could have a clothes rod for using with hangers.
The way it is now the cabinets are about 2 inches shallow for using clothes hangers.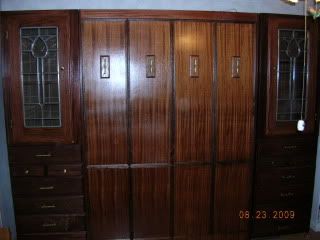 I am very happy with the way the old leaded glass doors worked on this project and how it adds to the look of the whole bed and cabinet combo.
I have enjoyed making this and as I said I have made a number of notes so that the next one ( which I am sure there is going to be, I have lots of relatives) I can improve on the over all function of the bed and cabinets.
Thanks for all the comments and look forward to what I might build next as always.
-- Gene Miller - it only took me 3 days 9 hours and 28 minutes to get that top flat!
---