Well I am making some progress abeit that it is slow. I was in limbo wondering what I was going to do for the false drawer front material. I am trying to keep my cost down and really didn't want to purchase mahogany to make the fronts out of. I was browsing around one of the hardwood stores that I purchaase from over in Memphis and got to talking to one of the sales reps and told him what I was trying to do and he put me on a species of wood that I had never used before and said that after I stained it would be hard to tell from real mahogany.
The wood he suggested is obechee and since the price was only $.95/bf I figured I could not go too far off giving it a try. I purchased enough to do the upper face frame, and all of the drawer fronts for less than $20.00. First thing I did when I got it home was get a small piece and put some mahogany stain on it and I think I am going to like the final result.
So after milling up what I needed I cut an ogee profile on the front of each blank as well as around the face of the leaded glass doors and got busy putting them on.
I also finished up my sliding pull out tray/writing table and only have to get a 1/4" piece of glass to go on the top of the piece that slides right and left.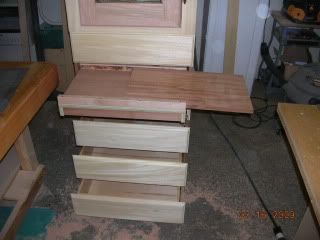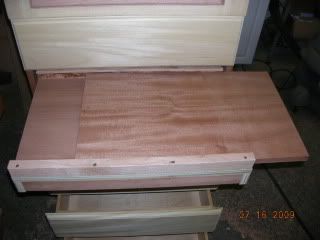 I still have to edge band the upper adjustable shelf and cut the back along with making the front for the pull out sliding tray.
I am going to have to glue up a piece for the sliding tray false front but kind of planned on that from the start since I didn't want to buy another board. I wil have enough from the cutoff of the drawer fronts to make those fronts.
All in all I am pretty pleased with the outcome. Once I get the back cut I can move this one to a corner and start assembling the other one. I have been cutting blanks and for the second one as I go but do not have room to assemble both units at the same time. Boy how I wish I had made the shop twice as big as I did. LOL
I am sure that the second cabinet will go together faster since I have been making spacer blocks and guages as I went on the first one. Maybe by the first of the week I will have both assembled and can get the sanding done and start cleaning up so I can finish these babies.
-- Gene Miller - it only took me 3 days 9 hours and 28 minutes to get that top flat!
---