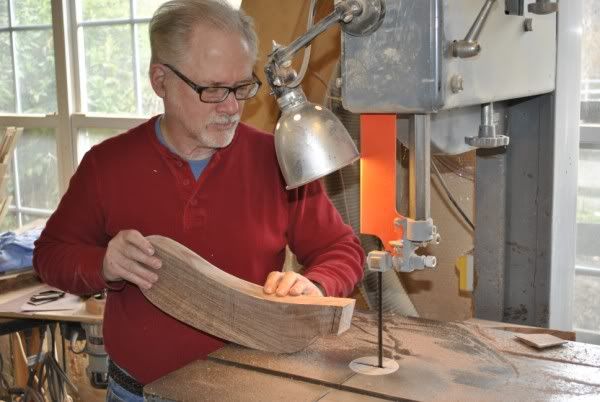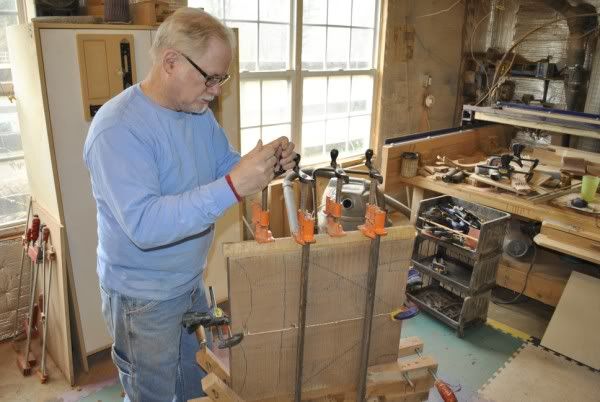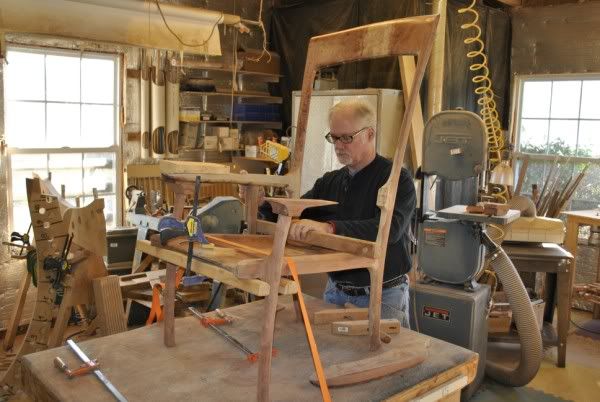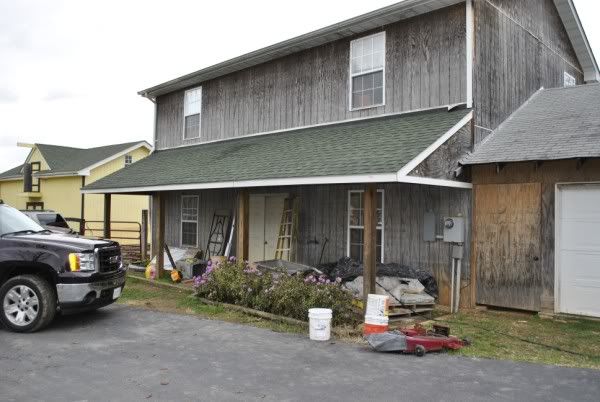 From the first time I saw a sculpted rocking chair, I loved the look, but never dreamed I would have the skill or patients to build one. The more I looked at the different chairs, the more I realized that there are a lot of rocking chair builders out there. The most frequent names that kept coming up were Sam Maloof, Hal Taylor, and Scott Morrison. The more I looked at the different designs, the more I was drawn to Hal Taylor's chairs. Paul & Joel from Canadian Wood Works in Acton Ontario (Fellow Canadians) build beautiful chairs, and mentioned Hal's influence, so I started to research Hal's work and found myself wanting to build his design with the flexible back braces. I took the plunge and ordered a set of plans and the back brace template from Hal. The package arrived a few days later with a hand written note from Hal thanking me for the order, and telling me to call him if I had any questions, he would be more than happy to help. No prewritten form typed letter, no photocopied "Thank you" letter, he actually took the time to write it himself. I was impressed, but after meeting him, I realized this is just who Hal Taylor is.
Not long after, I started wondering what it would be like to spend some time actually working with Hal in his shop building a chair. Get the answers to questions as they come up, actually see how he lays out his chairs, etc. Stuff you just can't get from a book.
I fired off an email, and after a few emails back and forth, we had set a date for me to attend "Rocking Chair U" in Hartwood Virginia.
The drive from my house to Hal's was just over 600 miles. The morning I had waited for finally came. I pulled in the lane at Hal's beautiful country home, and he was outside talking with his daughter Rachel. After the introductions were made, we made our way to his workshop situated behind his home. It is a nice shop in a country setting, two story barn style shop with a horse barn beside it.
The day I arrived, Hal was in the middle of building a chair from an exotic wood that had the most beautiful colors through it. The legs and seat were assembled and sculpted, so he was working on the head rest and arms. We (Hal) worked on this chair for the first two days, explaining every step of the process, and the reason's "why" he does it the way he does.
The third day was something I never expected to experience. Hal was starting to build a chair that had been ordered by a physically small customer. A customer who would require a chair smaller than his petit design, yet larger than his kid's chair size. He did not have a chair design for this size, and would have to actually design a new chair to fit this customer.
We spent the next three days designing and building this chair. It would require different rocker length, different back brace size, seat, headrest, etc. This was an incredible experience as I watched his thought & design process, and watched how he worked through issues that were two and three steps ahead of where he was in the design based on the changes he was making. My one regret was having to leave at the end of the week, so I never got to see the finished chair.
I spent 5 days working with Hal, and it was an experience I will not soon forget. He took the time to ensure I understood what he was doing, as well as why he does it this way. His attention to detail is incredible, and I can see why his chairs are so beautiful.
My family was traveling with me, as we were heading to Florida for vacation when we left Virginia, so Hal invited us to have dinner with him and his family. They are a very close family, and we shared a lot of laughs over dinner. The chemistry he has with his family in itself speaks very loudly about his character, and family values.
I could not begin to list everything I learned with Hal, but building a chair was only one life lesson I left with.
The best way to finish off this experience is to say to everyone out there even remotely thinking about building a sculpted rocking chair, you owe it to yourself to check out Hal Taylor's "Rocking Chair U" and see what he has to offer.
You will not be disappointed.
And to Hal,
To say "Thank You" just does not seem to be enough. I went to "Rocking Chair U" looking for the knowledge required to build a rocking chair, and left with so much more.
Gator
-- Master designer of precision sawdust and one of a kind slivers.
---