In this installment I will machine the outside edge
The first thing I do is break out my large circle cutting jig. It's set to give me a 34" circle. Then I drilled a 1/4" hole 3/8" deep into the center of the top to use as a pivot point using a 1/4" dowel. (Don't go any deeper. This will be machined out later to remove all traces of it.)
After that is done I mark up the top into 8 pie sections and carry the line over the edge a little ways.
.


.
While it's set up I make a blank template from the corner from a piece 1/4 MDF. I just flipped the jig upside down and fed the part. Make sure that you feed it against the rotation of the bit!
.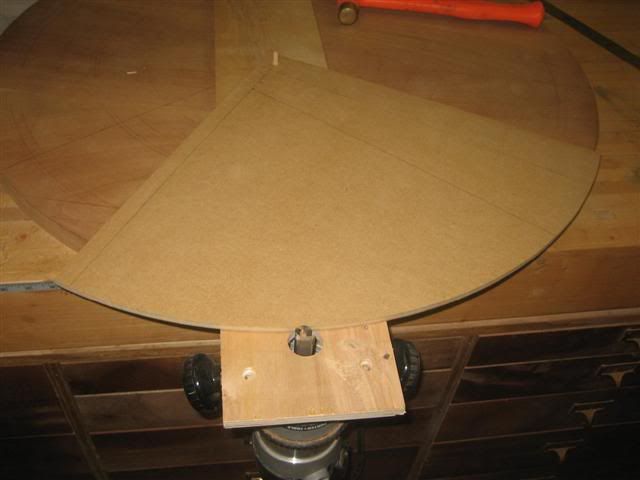 .
Then I assemble my Paper patterns. You can download it HERE in pdf format.
.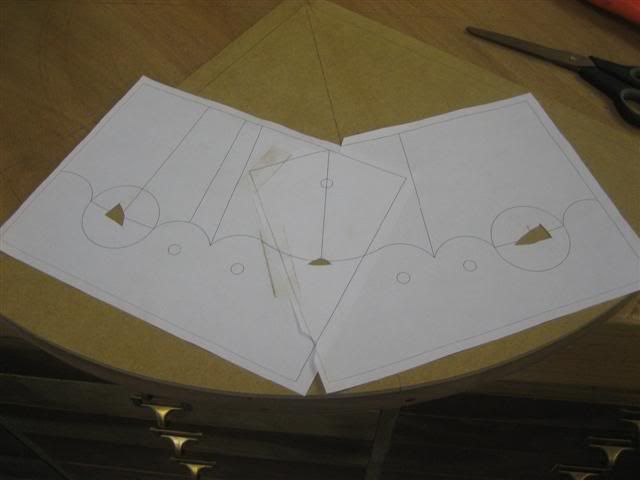 .
I then marked 3 lines on the MDF matching those I previously drew on the top, again carrying the line over the edge, and then drill a 1/4" hole where they meet.
Then carefully cut out your pattern as shown in the next picture.
Then I lined up the pattern to the edge of the top and the lines drawn as shown. Then tape it down and trace the pattern to your MDF. Then you need to carefully cut out and sand your template. This will give you a template that will allow you to route 1/8th of the top at a time.
The reason I only put the pattern on half of the MDF template is that it allows you to clamp the other half to your top out of the way of your router.
.


.
Here is the bit I used for my first pass. That's a Porter Cable trim router.
.

.
Then just line up your lines and add a clamp and you're ready to route.
.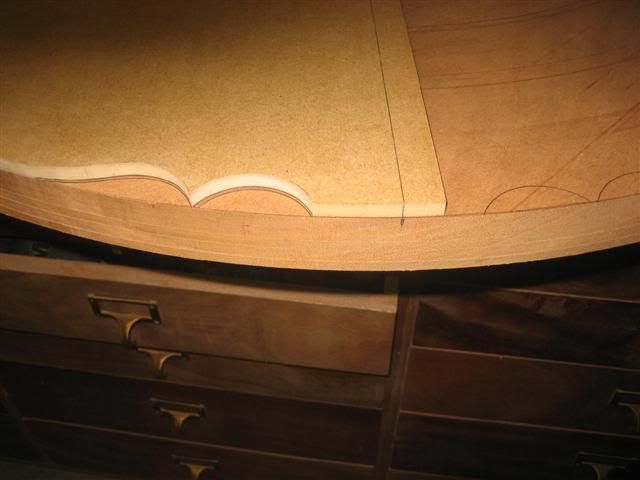 '
Here it shows the cut
'


.
Here is the first pass complete.
.


.
1/8 of a section complete.
.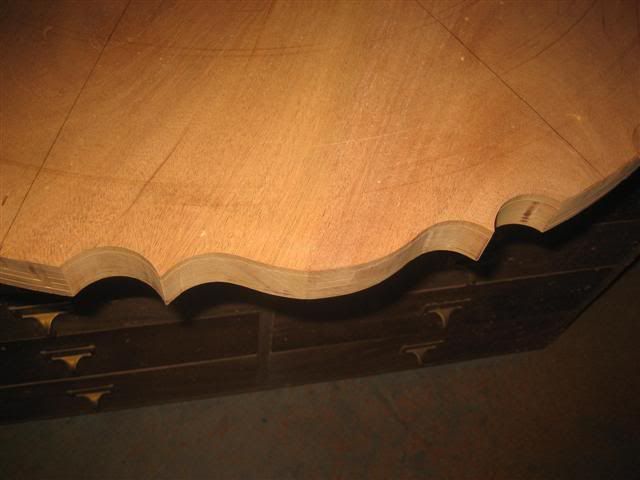 .
.
Here I want to add a few comments about routing it. Be very careful of chipout on the sharp points. It turns out that small diameter bit work best. Pay special attention to the grain direction.
I used a 3/4" bit and had some chip out. This required that I reduce the diameter of the top to 33 3/4". I just used the same template and moved it in 1/8" from the edge and routed it again. Oh, well. Live and learn.
.
.
Here's quick video of that broom I reviewed. You can see just how nice it is to use and how well it works.
.

-- Gary - Never pass up the opportunity to make a mistake look like you planned it that way - Tyler, TX
---