Ok. It's time to place the Workmate aside and build a real bench. Don't get me wrong, the Workmate served me well these few years, and it still has its place (wrapping newspaper comes to mind). Time to build a real bench. I've done the research, read the Schwarz, and even helped a friend build his bench. It's my time!
So I went to the Woodworking in America show in Valley Forge PA last October and as luck would have it, there was a company offering kiln dried Ash 12/4 on down specifically cut to size for the Holtzapffel bench. I really stepped in it for sure.
So first things first. The layout for the top. I have 4 planks of Ash for the top. They are 3" thick, 76" in length and ~7" in width. I will side glue these 4 planks after planing and jointing or course.
There are a few different layout configurations I was thinking of. If you have any advice, please post.
I know I want the top to be 24" wide. I am leaning toward cutting each piece to 6" widths. But another way would be to use as much of the full width of each board and make up any difference with the last board. If you have an opinion, please weigh in?
Also, please take a look at the way I've laid the boards out. There are 2 darker planks. One I would consider medium in color, and one that is obviously lighter. How would you configure these 4 planks so that they would look good aesthetically? The layout in the picture is what I'm thinking of going with.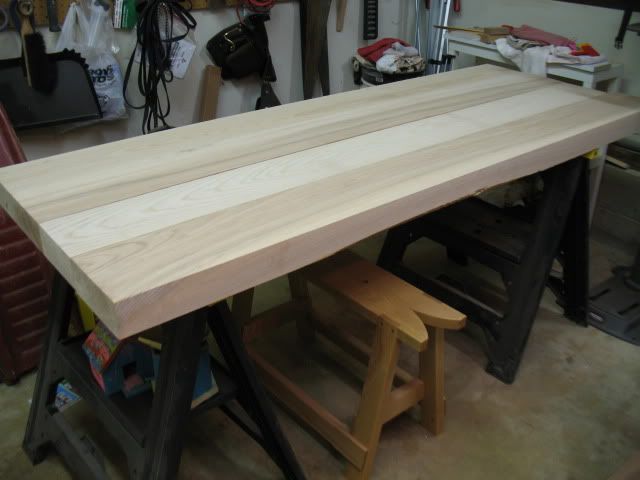 So the first actual step is to make a set of 3 wooden cauls that will help keep the planks even during the glue-up. I'll post here on the process of maiking them.
Thanks for you input.
---